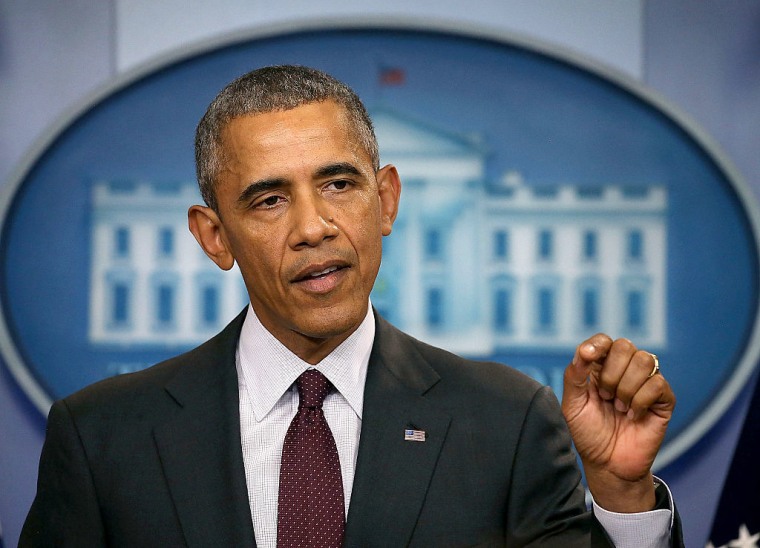 President Obama has moved to dismantle a national registry program known the National Security Entry-Exit Registration System, or NSEERS, before Donald Trump takes office, The New York Times reports. The program, which has been inactive since 2011, was a registry for visitors from countries with active terrorist groups.
The registry was created during the George W. Bush administration, following the terror attacks on September 11, 2001. During his campaign, Donald Trump suggested that he would consider relaunching the registry program. Kris Kobach, the Kansas secretary of state and member of Trump's transition team, has been a major advocate for bringing back the registry, which he helped create while at the Justice Department.
"D.H.S. ceased use of NSEERS more than five years ago, after it was determined the program was redundant, inefficient and provided no increase in security," Neema Hakim, a spokesman for the Department of Homeland Security, said in a statement. The statement also called the program "obsolete" and "outdated." The Department of Homeland Security submitted a rule change to do away with the program on Thursday and it is expected to be published in the federal registry on Friday.
The blueprint for the national registry program dates back to the Gulf War, when immigration officials began requiring the registration and fingerprinting of visitors from Iraq and Kuwait. In 2002, the federal government formally launched the program, requiring special registration requirements for visitors from Iraq, Iran, Libya, Sudan and Syria. The list expanded to 25 countries, most in the Middle East, by 2003.