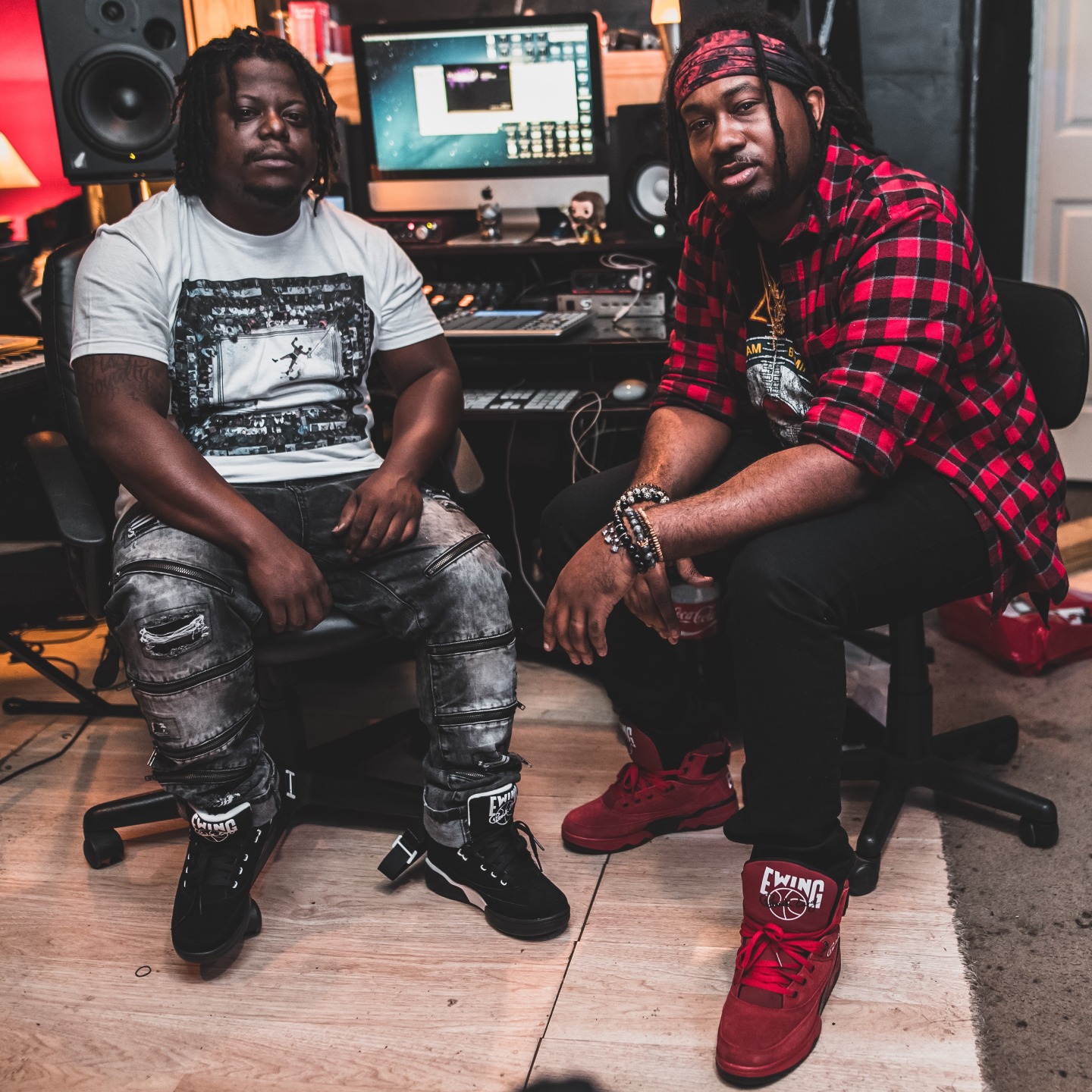 James "Nard" Bernard Rosser, Jr. and Brandon "B" Rackley, who produce together as Nard & B, have seen Atlanta flourish since they got their start with T.I.'s Grand Hustle label in 2007. Since, they've become known for triumphant, melodic instrumentals, including fan favorites like Future's "Straight Up" and, more recently, "Inside The Mattress."
Nard & B met while students, and over the years they've maintained a consistent connection to their city's underground scene; in 2016, they executive produced projects for up-and-coming rappers like Skooly, Zuse, and Spodee. Over the phone from their studio in Atlanta, Nard & B spoke on how they formed alliances with their city's big stars, what distinguishes their work, and why Atlanta no longer has just one core sound.

How did you two meet?
B: We met at an audio engineering school in Atlanta. You know, everybody starts out as bedroom producers and what not, but fortunately for us, we both garnered a passion for production and for music early on. We went to school to sharpen our skills and to learn to work the tools to mold and shape our sound the way we hear it and the way see it.

How did you decide to become a production duo?

Nard: We were in different classes at the school, but we would run into each other in our off times. When we had breaks, we would go to the studio at the school and do music together. There were a couple of artists there that we used to work with but, after a certain point, we would just do our music together.

Then I got into a situation doing audio engineering and interning at Grand Hustle. I had a little studio in downtown Atlanta. B and I would go to that studio every day, and I would also be at Tip's house recording him all night. We didn't want to hound Grand Hustle about using our production, but got to the point where they just didn't have any beats one night. When that opportunity presented itself, we were right there waiting.

What were the results of some of those early Grand Hustle sessions?

Nard: Our first track — we did a song with Big Kuntry [King] for DJ Drama's Gangsta Grillz. That was our first time hearing ourselves on the radio. From there, we got a few placements on T.I.'s No Mercy album.

B: After that, they signed us to a production deal.

Do you think that opportunity was mostly about being in the right place at the right time?

B: The one thing that really separates the Atlanta music scene from a lot of music scenes around the country is that everyone really works with everybody. There's no "I have more" status. There's no "I've been working longer. I'm hot and my buzz is bigger." Everybody comes together. If something sounds dope, if this artist has a wave that they're on and wants to collaborate and build, then that's what everyone does.

Nard: Being in the right place at the right time is a big deal in Atlanta because we all do work together. But the people that really flourish are the ones that are more consistent. People that are really consistent are the people that really flourish out of Atlanta. It's always a mix.
You two were some of the first producers to work with Future and those collaborations always seem to be fan favorites. How do you y'all build up that chemistry?
B: When we first met Future, "Racks" had been out for probably three months and was bubbling in the city. We were working with Rocko, and Future was always there in the studio. Around the time that he had "Racks," we reached out to him to come to the studio – I was working at 11th Street studios at that time. He was working on Dirty Sprite and we ended up getting a song on there called "Splashin." We've been locked in with him every year since.

Nard: When we first met Future, we set up our equipment and made a beat on the spot. Future was mumbling the hook as we were making the beat, and that ended up being "Feeling I Get." If I go anywhere in the city, really anywhere in America, people are always like "I still watch that video all the time." That was our first official collaboration, and the vibe was so crazy that we just kept going. We both put our all into that session.

"A lot of people like to call us "studio rats." I understand where they're coming from because we're more focused on the craft."

When you're working with an artist with their own distinct sound like Future, how do you bring out their sound while also putting your own stamp on the track?

B: Future has a stable of producers that all serve a purpose. In order for us to really do our part, we give him our sound. We're not gonna give him what Metro gives him, we're not gonna give him what Southside, or what Sonny, or what TM, or what Zaytoven gives him. So we stick to our sound and what we do best. We're melody driven. We like to play emotional chord progressions, and those things allow him to dig deep as far content.

A lot of those other Atlanta producers have become huge stars in their own right in recent years, but it seems like you two are more comfortable behind the scenes.

B: We really enjoy the actual craft of producing. When you get to work with an artist that's fresh, that's hungry, that's not too tainted by the industry, that's when you're able to really lock in and build something from the ground up. A lot of times when you connect with artists that are already established, and have been on Billboard, and accomplished X, Y, and Z, those privileges aren't on the table. That's why we lean more towards the underground and the local side of things.

Nard: A lot of people like to call us "studio rats." I understand where they're coming from because we're more focused on the craft as opposed to marketing yourself and those other things. We've always focused on the musicianship of producing more than anything. I'm not gonna say that we shouldn't do more promoting. But, since we're independent, we'd rather do that from the ground level than to try to latch onto someone else's momentum.

Has producing on your own, as opposed to producing under a label, changed the way you work?

B: It's just allowed us to have completely control over the creative process: the sound we want to make, the artists that we want to work with, the complete projects from top to bottom. We're able to put our entire vision out there without any side notes or opinions.

As the Atlanta rap scene has continued to grow, how have artists are adapted?
Nard: The opportunities that people have out here have definitely gotten broader. So many people look to Atlanta for the core sound now. That said, there are so many different types of rap music in the city now. I don't know if you could call them different genres but there are definitely different waves. I think the more the world looks to Atlanta, the more opportunities there will be for different sounds and avenues to emerge.

Have you seen Donald Glover's Atlanta series? Is its depiction of the city's rap scene accurate, or relatable?

B: I would say it's relatable. I guess the people that live here would notice this more, but it's not really a lot of sprawling ghettos or hoods in Atlanta. It's more of a lifestyle. You have people that are from the suburbs or people that are from low income housing that pretty much live the same lifestyle.

Nard: The show makes me feel like I live in Atlanta. I'm happy that somebody came out with a show like that.
B: Like, in episode one, when it comes on and you hear OJ Da Juiceman playing.
Nard: They're bringing out that culture and not in a bad way either. People want to be a part of it.