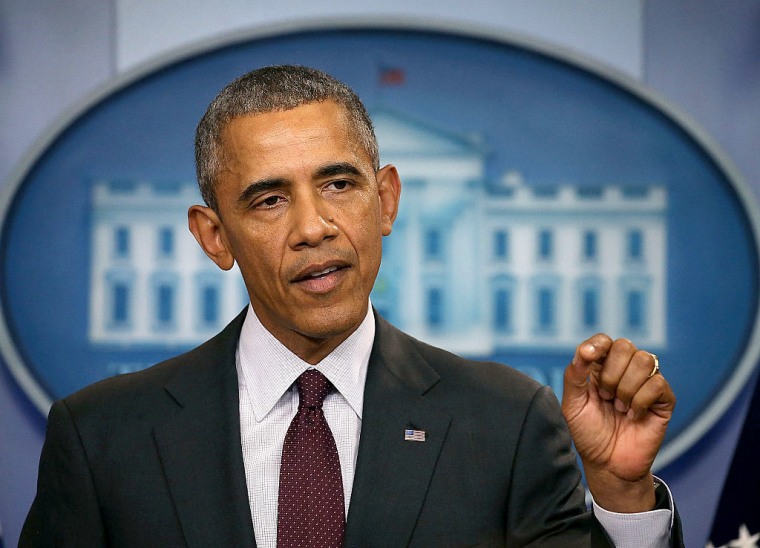 President Obama has announced a series of sanctions against Russia, following a series of cyber attacks against the Democratic National Committee and Hillary Clinton's campaign chairman leading up the election, Reuters reports. The Obama administration plans to levy sanctions against two Russian intelligence agencies, shut down two Russian compounds in the U.S., and expel 35 Russian intellgience operatives.
"These actions follow repeated private and public warnings that we have issued to the Russian government, and are a necessary and appropriate response to efforts to harm U.S. interests in violation of established international norms of behavior," Obama said in a statement on Thursday. It remains unclear what form the sanctions will take and if President-elect Trump will impose the measures when he takes office on January 20.
In a statement provided to BuzzFeed News, Trump said that it was "time for our country to move on" with regards to the cyber attacks. "Nevertheless, in the interest of our country and its great people, I will meet with leaders of the intelligence community next week in order to be updated on the facts of this situation."
Earlier this month, Obama ordered a full review of election-related hacking, dating back to 2008, to be completed before he leaves office. Senior intelligence officials in the U.S. have issued statements claiming that Russia was behind the cyber attacks against the DNC and the Clinton campaign, saying that these attacks would have had to be approved at the highest levels of Russian government.
Moscow denies any involvement in the cyber attacks and a spokesperson for Russian President Vladimir Putin told BuzzFeed News that they are considering retaliatory measures.