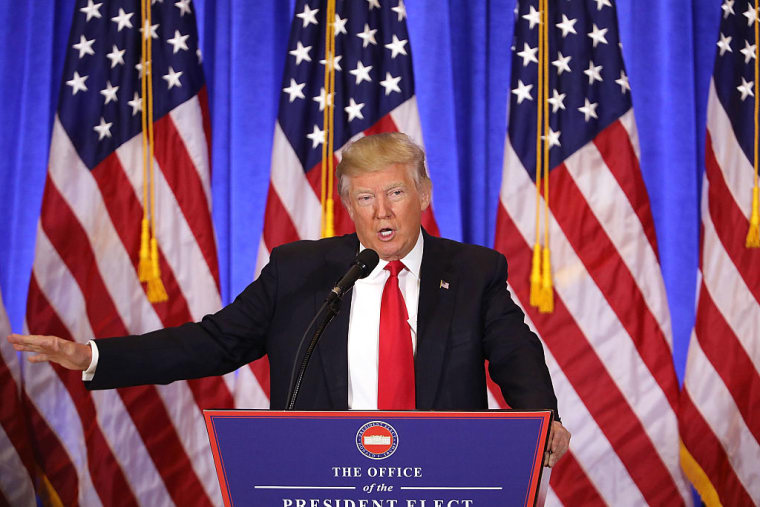 On Wednesday morning, Donald Trump addressed the press for the first time since being elected President of the United States. During the conference, which took place at Trump Tower in Manhattan, Trump responded to allegations contained in a recently published unverified dossier, finally admitted that he "thinks" Russia hacked the DNC, and reiterated his position on not releasing his tax returns. Below are the most important things that happened at Donald Trump's first press conference.
Mike Pence called the release of the dossier a media effort to "delegitimize this election"
Before Trump addressed the media, vice president-elect Mike Pence responded to an unverified report, published on Wednesday by BuzzFeed News, an effort to "demean" Trump.
Pence said that media organizations were irresponsible for publishing the "the false and unsubstantiated report, when most news organizations resisted the temptation to propagate this fake news."
Trump said the dossier may have been released by intelligence agencies.
At the beginning of the press conference, Trump suggested that the dossier may have been leaked by intelligence agencies, saying that it would "be a tremendous blot on their record" if they were the cause of the leak.
"I do have to say that, and I must say that I want to thank a lot of the news organizations here today because they looked at that nonsense that was released by maybe the intelligence agencies, who knows, but maybe the intelligence agencies, which would be a tremendous blot on their record if they, in-fact did that, a tremendous blot, because a thing like that should have never been written," Trump said. "It should had never been and it should certainly never have been released."
Trump also called the reports in the dossier "fake news" and "phony stuff."
Trump said the lewd acts outlined in the dossier couldn't be true because he's a germaphobe.
In further response to the dossier, which included a description of lewd acts that the Russian government may have allegedly used to blackmail the president-elect, Trump cited his germaphobia as a reason why the allegations were untrue.
"Does anyone really believe that story? I'm also very much of a germaphobe, by the way, believe me," Trump said.
Trump said he is signing "complete control" of his businesses over to his sons.
Noting the stacks of papers that had been sitting beside him during the press conference, Trump explained that the documents were signed papers that turned over his business empire to his sons, Donald Trump Jr. and Eric Trump.
Trump's lawyer, Sherri Dillon, then took the stage to explain how Trump's business interests will remain legal despite his office. Dillon said that Trump will resign from running his business and that his business assets will be conveyed to a trust prior to his inauguration on Jan 20, though he refused to divest and sell the brand.

Trump's lawyer says he will donate all hotel profits paid by foreign governments to the U.S. Treasury.
Trump yelled over CNN White House correspondent: "Don't be rude... you are fake news."
Trump refused to field a question from a CNN reporter during the press conference, repeatedly telling him "Don't be rude." Earlier in the conference, Trump also referred to BuzzFeed News as "failing pile of garbage."
Trump says he plans to "repeal and replace" Obamacare with a program that is "far less expensive and far better."
Trump's message to Putin on DNC hack: "He shouldn't have done it. I don't believe he will be doing it more now."
In response to a question about the hacking of DNC servers, Trump said that he "thinks it was Russia," but mentioned that other recent hacks had not drawn as much news coverage.
"Russia will have much greater respect for our country when I'm leading it than when other people have led it," Trump told reporters. "We're either going to get along or we're not. I hope we get along, but if we don't, that's possible too."