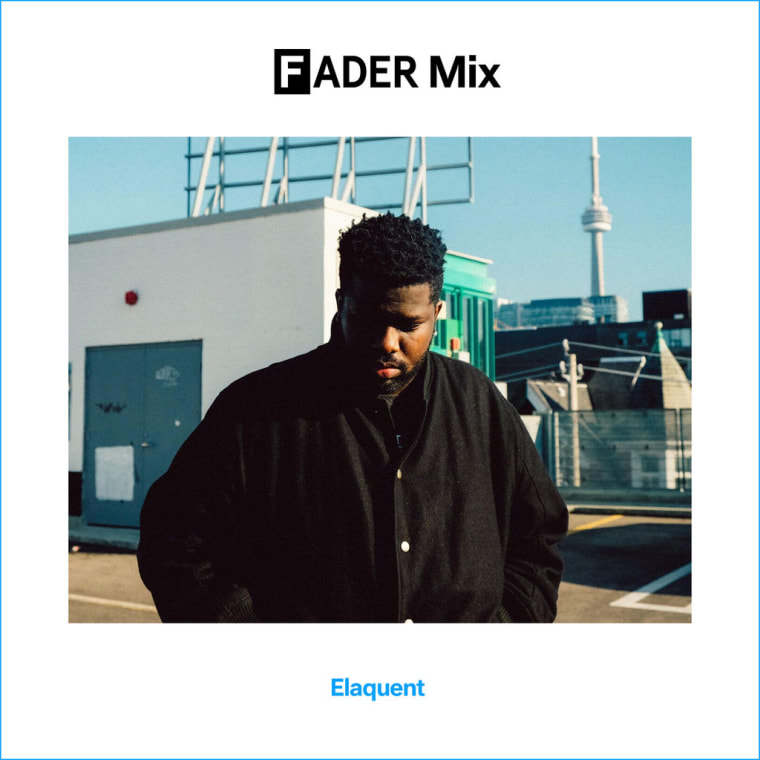 A lot of people from north of the border talk about the effect that cold weather has on the creative psyche. Whether you're in Toronto, Montreal, or anywhere in between — like producer Elaquent's hometown of Guelph, Ontario — the forced hibernation of wintertime, as well as the cathartic release that comes with spring, undoubtedly changes the way we think about the world. Even if it's just for a few months.
For his first-ever FADER mix, Elaquent hunkered down in his bunker, a basement studio, to create a mix for that particularly January form of solitude, when you're taking a break from social commitments and staying in to study, recenter yourself, or just get your housekeeping game back up. Elaquent's been a fixture on the Toronto-Montreal beat circuit for a minute, but this mix features contemporaries from across the scene like Tall Black Guy, NxWorries, and Mndsgn. There are also contemplative cuts from his latest album, Worst Case Scenario, which, as Elaquent lets us know in the Q&A below, isn't death by winter boredom.
Where are you right now? Describe your surroundings.
In the middle of a snowy night in Guelph, Ontario. I'm in my secret hideout, in the center of a room filled with video games, computers, drum pads, keyboards, records, and a vast selection of DVDs. I also refer to it as home. For the time being anyway; looking forward to another adventure soon.
Tell us a bit about this mix — what do you imagine people doing while listening to it?
The mix is more or less a collection of mostly chilled out late night vibe-type songs that I'm feeling. I imagine people would be studying for an exam, writing a term paper, meditating, folding laundry or ironing t-shirts while bumping it. Anything to soothe.
What is the beat scene like in Canada versus other parts of the world?
It really varies. It's much bigger in terms of scale in many places in the U.S.; California, for example, has a lot more like minded artists. That said, I find the most enthusiasm in general throughout Europe, in terms of the style of music I make. Tokyo too. There's no place quite like home though, and it's amazing to see all the talented producers in Toronto, Montreal, and beyond finally getting due recognition. Luckily, with the internet, you can find lots of great artists in every pocket of the world.
The name of your latest album is Worst Case Scenario: What's your worst case scenario and why?
I suppose the worst case scenario would be if I got hit by a bus tomorrow. LOL. If I did, at least I'll have compiled a discography and small legacy that will live on, and I did all the things in life I set out to do. Here's to hoping that bus doesn't hit me though!
What's the last book you read that had a big impact on you? And why?
Finally got around to re-reading the Tao of Jeet Kune Do by Bruce Lee. I find it fascinating to understand the way he philosophized combat and martial arts as a form of expression rather than a manual of techniques. I read it earlier when I was in my teenage years and much like most other aspects of my life, it took on a new meaning as I got older.
And finally, what's your favorite dish to cook and how do you make it?
My fav dish is hands down my moms Jolloff rice. That being said, my mom is secretive of the recipe, I failed miserably trying to make it once. LOL.
Tracklist
Tall Black Guy - Peace and Love (ft. Masego and Rommel Donald)
Tek.lun - Plum (ft. DrewsThatDude)
Nowfolk 2 - Bedroom Eyes
The Legacy - Why Bother
devonwho - Trio
NxWorries - H.A.N.
J'Von - Seattle girl
Elaquent - Shibuya (ft. Budamonk)
Ivan Ave - Forks
10.4 Rog - Such Ease
Suff Daddy - Piano Joint
Samiyam - Mirror (ft. Earl Sweatshirt)
Elaquent - Spur of the Moment
Mndsgn - Vague/Recalibrate
devonwho - andthentherewas