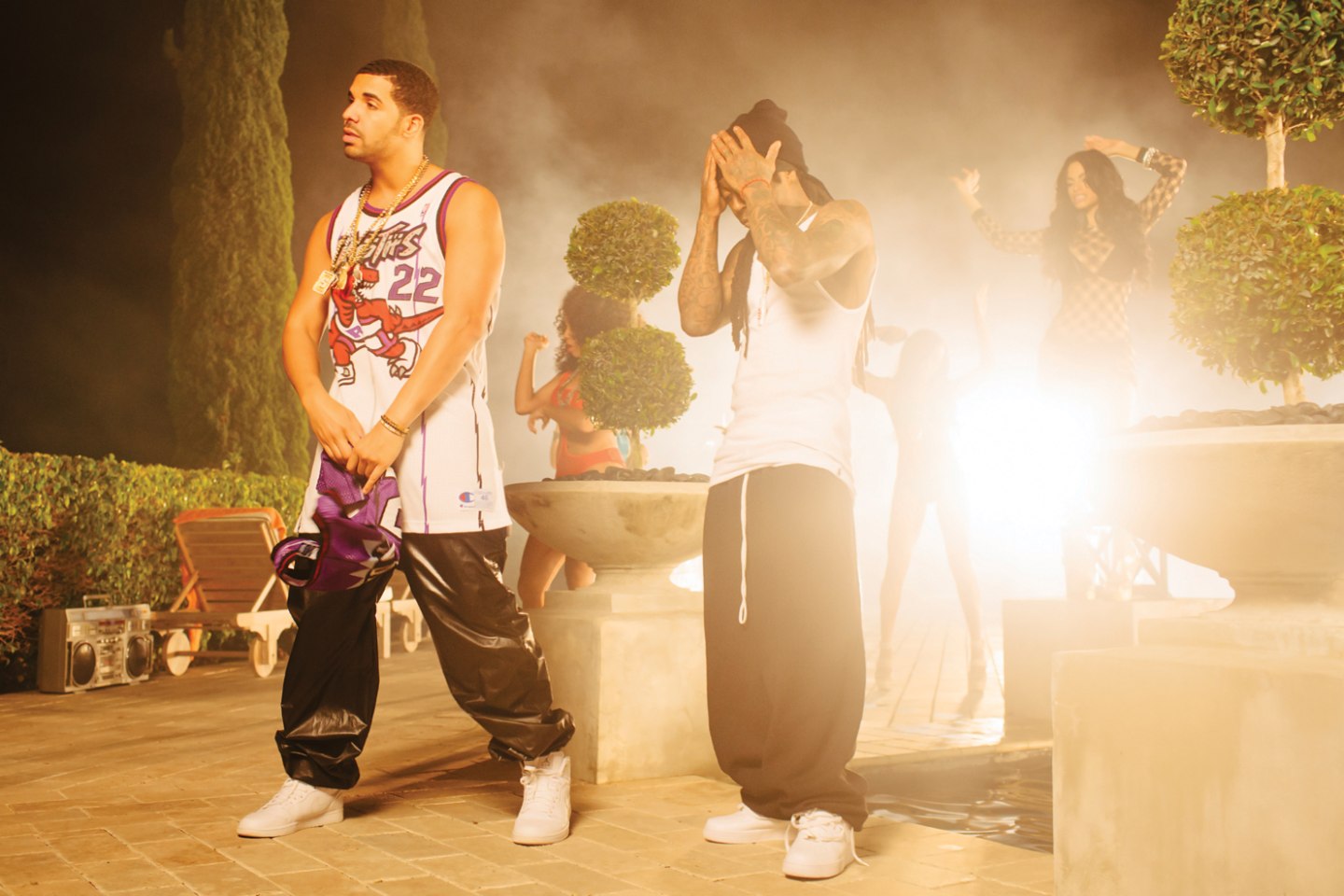 Lil Wayne and Drake might now be more peers than anything else, with their own histories and legacies of personal influence, but their relationship is a crucial example of how patronage functions within hip-hop. In Drake, Lil Wayne not only found an investment but a collaborator who could translate his explosive mid-aughts rap career into the kind of mainstream that wasn't yet open to the idea of rappers as all-American celebrities. Rap is obsessed with lineage and family, and despite being from different places — and climates; the muggy heat, contrasted against the deep cold — Drake and Wayne innately understand how to use that mythology to their advantage.
Collaborations long played a role in Wayne's prolific output. Extra-regional linkups with artists like Outkast, Fat Joe, and Playaz Circle, gave Wayne — who was, it should be noted, already a rap star — added heft in neighborhoods beyond the Bayou. But before signing Drake to Young Money/Cash Money Records in 2009, most of his commercial guest verses were focused on urban-pop through records like Destiny's Child "Soldier" remix, Lloyd's "You," or incongruous collabs with Fall Out Boy and Enrique Iglesias. Wayne was famous, but his image hadn't yet transcended NOLA gangster rapper.
And for that Wayne, Drake was a boone; the young rapper who appeals to endless tiers of consumers, but required something of a surrogate "rap dad" — a more strategic relationship than Baby was to Wayne — in order to maintain a link to the genre and world that birthed his career. Drake is so keenly aware of that mutability, the Degrassi-honed inner actor and pretty boy saleability, which makes me wonder if dark-skinned, dreadlocked Wayne (who made "Bitch, I'm me!" one of his unofficial tags) saw himself as somehow immutable.
This is significant because, despite the fact that Drake has always shown fealty, their relationship has been mutually beneficial from jump. (And profitable: All six of Drake's commercial releases since 2010 have been number one records, in 2014 the two went on a 31-date joint tour). "Forever" might be the most obvious example of this peer-to-peer patronage in effect. The 2009 track featured three of rap's biggest personalities and talents, Lil Wayne, Kanye West, and Eminem, as well as the relative newbie, Drake. The song technically belonged to the Drake but, for many listeners drawn to the fantastical come-up story, it's been recast as the posse cut featuring a notably under-established rookie. It's not the best record that both Wayne and Drake have been on together — for me that's "Ignorant Shit" — but it was a significant alley oop, courtesy of Wayne. It didn't just net them both a casual hit; it lobbed Drake into the "Top 5" conversation, in the first major year of his career. And unlike Wayne's relationship with Nicki or Tyga, or Drake's own positioning of his OVO cabal, a move like that wasn't benevolent faith; it was a business transaction between the new old boys.