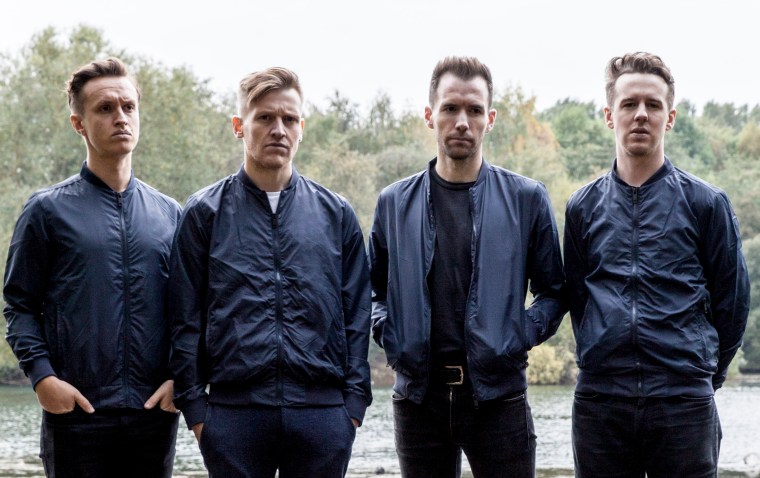 Dutch Uncles are back with more meticulously crafted pop music. "Oh Yeah," a new song premiering today on The FADER, opens with colorfully flashing synths reminiscent of a Sonic The Hedgehog level, the first of many curveballs the song throws as it builds a bracing and propulsive shot of new wave.
Reached over email, two members of the band wrote about the song's origins. "As soon as you are back to an emotional zero, BAM! Opportunity knocks," says DU's frontman Duncan Wallis. "Perhaps not in the way you thought it would, but a connection all the same, and the realization genuinely carefree times are right there in your palm." Robin Richards, the bass player and principle songwriter for Dutch Uncles, got more technical in his description. "As well as aiming to write the fastest Dutch Uncles song to date, I wanted to experiment with subtle key changes guided by erratic synth stabs, contrasted with legato string lines. Constantly moving guitar and bass lines run throughout to not only keep us on our toes and hopefully the listener on theirs too…"
Big Balloon, the new album from Dutch Uncles, is out February 17 on Memphis Industries. Preorder it here.
Dutch Uncles tour dates
18 February – Manchester, Piccadilly Record Out Store @ Low Four Studios
20 February – Nottingham, Rough Trade In-store
21 February – London Rough Trade East In-store
01 March - Edinburgh, Electric Circus
02 March - Newcastle, The Cluny
03 March - Leeds, The Wardrobe
04 March - Nottingham, Bodega
06 March - Birmingham, Hare and Hounds
07 March - Sheffield, The Plug
08 March - Oxford, O2 Academy2
09 March - Bristol, Fleece
11 March - Brighton, The Haunt
12 March - Southampton, Talking Heads
13 March - London, Village Underground
15 March - Manchester, Dancehouse Theatre