FADER Mix: Austra
A bold techno mix from the Toronto musician who wants to challenge the way you think.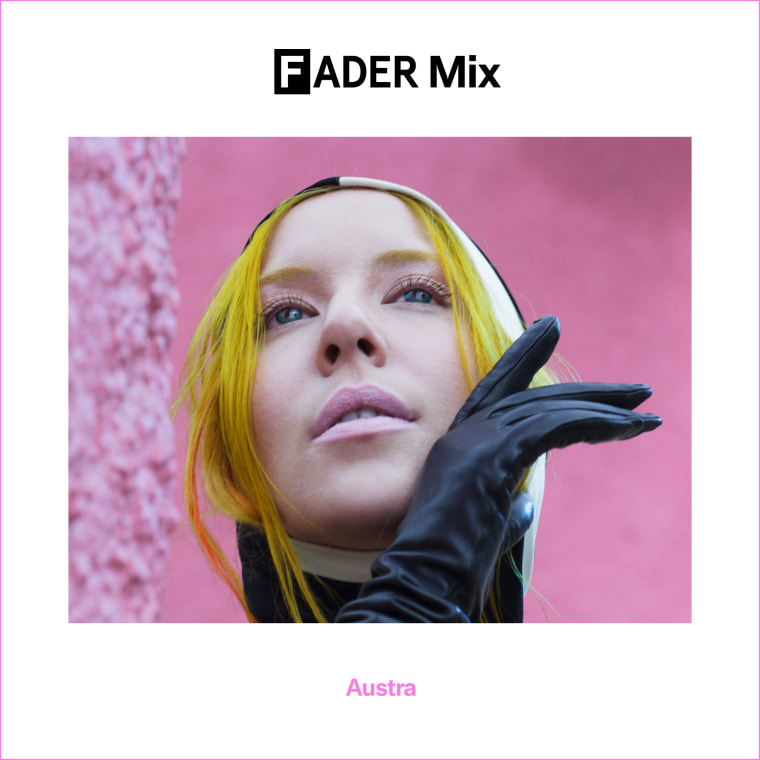 This week, Toronto's Austra will release a new album, Future Politics; its title invokes an interesting tension, caught between the fraught nature of the world today and the ability (or not) of politics to resolve anything. Perhaps, the perfect album title for a project that has always communicated — stylistically and thematically — that it takes a thoughtful, but no less compelling, approach to dance music and pop.
For this week's FADER mix, Austra's front person Katie Stelmanis curates a mix of dark and multidimensional techno that speaks to the uncertainty of today's in-between world, as well as some of the ideas listeners might have about the project's influences and intentions as a dance pop project. The mix mirrors Stelmanis's ideas about Future Politics as an album; it has the potential to change the way you think.
Where are you right now? Describe your surroundings.
I'm sitting in my childhood bedroom, which my mom has decorated with framed pictures of me, and my dad painted to match the jacket I wore in the "Lose It" video. They are pretty enthusiastic about all of it, I guess. The jacket was pink though and so the walls are red, which isn't the best color for making a zen space; in fact it's kind of stressful.
Tell us a bit about this mix — what do you imagine people doing while listening to it?
It's definitely a dance mix. I'm really into DJing and wanted to make something that would actually reflect what I would play if you asked me to DJ your party. I guess because the music my band makes is kind of pop electro people always assume I would DJ the same, but I prefer to play stuff that's a lot weirder than the music I make.
Your new album is called Future Politics; what does that mean to you?
Future Politics is about changing people's personal politics. It's about changing the way people think, and about encouraging people to dream up new ideas for the future that don't exist yet because anything that can be imagined can be real.
When you were young, how did you envision the future?
When I was young I lived in a little bubble and thought all the woes of the world were in the past. I guess that's the result of growing up during the height of neoliberal prosperity. I assumed I'd be able to achieve everything my parents did (and also very naively that things like racism and sexism didn't exist anymore). As soon as I got a bit older I realized that nothing of what I thought was true, and that reality becomes more and more obvious the older I get.
What's the last book you read that had a big impact on you? And why?
Marge Piercy, Woman on the Edge of Time. I got really into reading about the future and about peoples ideas for what would come after capitalism, but more recently what fictional writers thought might come about. Woman on the Edge of Time is a feminist sci-fi book about a Latina woman in New York who is admitted into a mental hospital against her will. She is fighting against the people who oppress her and ignore her in real life while telepathically visiting another future world in her spare time that seems pretty perfect in contrast. It's a really beautiful book written in the 1970s that feels crazy relevant today.
And finally, what's your favorite dish to cook and how do you make it?
I get obsessed with certain dishes that I cook obsessively for a few months then I get sick of them and never cook them again. I guess the one thing I always come back to is spaghetti 'cause I'm Italian so it has some pretty deep-rooted sentimental value. And as much as I like to think I feel better not eating wheat or whatever, I always feel amazing after spaghetti. I recently started making it the traditional way again where you brown some pork shoulders in a pan then add them to your onions, garlic, and olive oil, throw in tomatoes and water and tomato paste and let it all stew together for like 4-6 hours. The results are pretty heavenly.
Tracklist
Recondite - Warg
Avalon Emerson - The Frontier
Dj Python - Ciudado
Kornel Kovacs - Josie's tune
Scenedrome - Fire Hazard
Pearson Sound - XLB
Nicola Cruz - SEndero
Arma - Jungle Dreams
Tahres One - Entre Recuerdos
Die Vogel - Blaue Moschee
S:VT - Urgency Grip
Mater Suspiria Vision - Book of Eibon (Parasols Remix)
Resla - Nitro
Rrose - Waterfall