Days before his inauguration, the front line of Donald Trump's war with the free press is a roped-off sliver of the gilded lobby of Fifth Avenue's Trump Tower. On a recent weekday morning, the scene there is the same as it's been every single morning since Trump was elected. A pool of hardened reporters — armed with chargers, power strips, and Starbucks parfaits — has gathered directly in front of the elevator banks to monitor his comings and goings and to lob questions to his steady stream of minions or ring-kissers.
Alphabet Executive Chairman Eric Schmidt, anti-Islam national security adviser Michael Flynn, newly established trustee of the Trump Organization Donald Jr.: everyone gets photographed, everyone gets questions. "Don! You wanna talk about the new gig?!" a reporter shouts. Stonily, he walks by. The reporter deadpans: "That's a no."
Looking ahead, Trump has made noise about booting the press pool out of the iconic James S. Brady briefing room and, eventually, potentially off White House grounds altogether. That'd be a walkback of what The New Yorker calls "one of the great modern traditions of American democracy — the fact that any reporter, upon request, can walk through the White House gates and into the building to ask the press secretary for an on-the-record response to anything on her mind." Trump then backtracked, ominously, to say, "We'll have to just have to pick the people to go into the room." If he wants to start stuffing his briefings with Breitbart and other Trump-allied outlets, there is no legal recourse.
But right now, in New York, the press pool can't be shaken off. Trump Tower is a public building, and these reporters are as close as they can physically get.
Marine Le Pen, the extremist French presidential candidate, is in the basement food court, trying to avoid the gaggle. Rudy Giuliani, in a baggy pinstriped suit, happily trots in front of the pack to read the official announcement naming him an unpaid "cybersecurity expert" for the administration off an iPad. Jim O'Neill — a libertarian associate of Peter Thiel's who has been floated as the new head of the FDA despite not actually believing in drug regulation — nearly walks by unmolested.
Then a quick-acting reporter, holding a laptop up to eye level, yells to her peers, "I think that's Jim O'Neill. I think that's him if he lost some weight." She stares unblinkingly at a page of Jim O'Neill Google Images results. "I think that's him if he got skinny." No one acts. "Just yell Jim," she snaps. She waits half a beat, then executes the plan herself: "Jim. Jim! JIM!" Hell of an effort. But the newly svelte O'Neill walks on.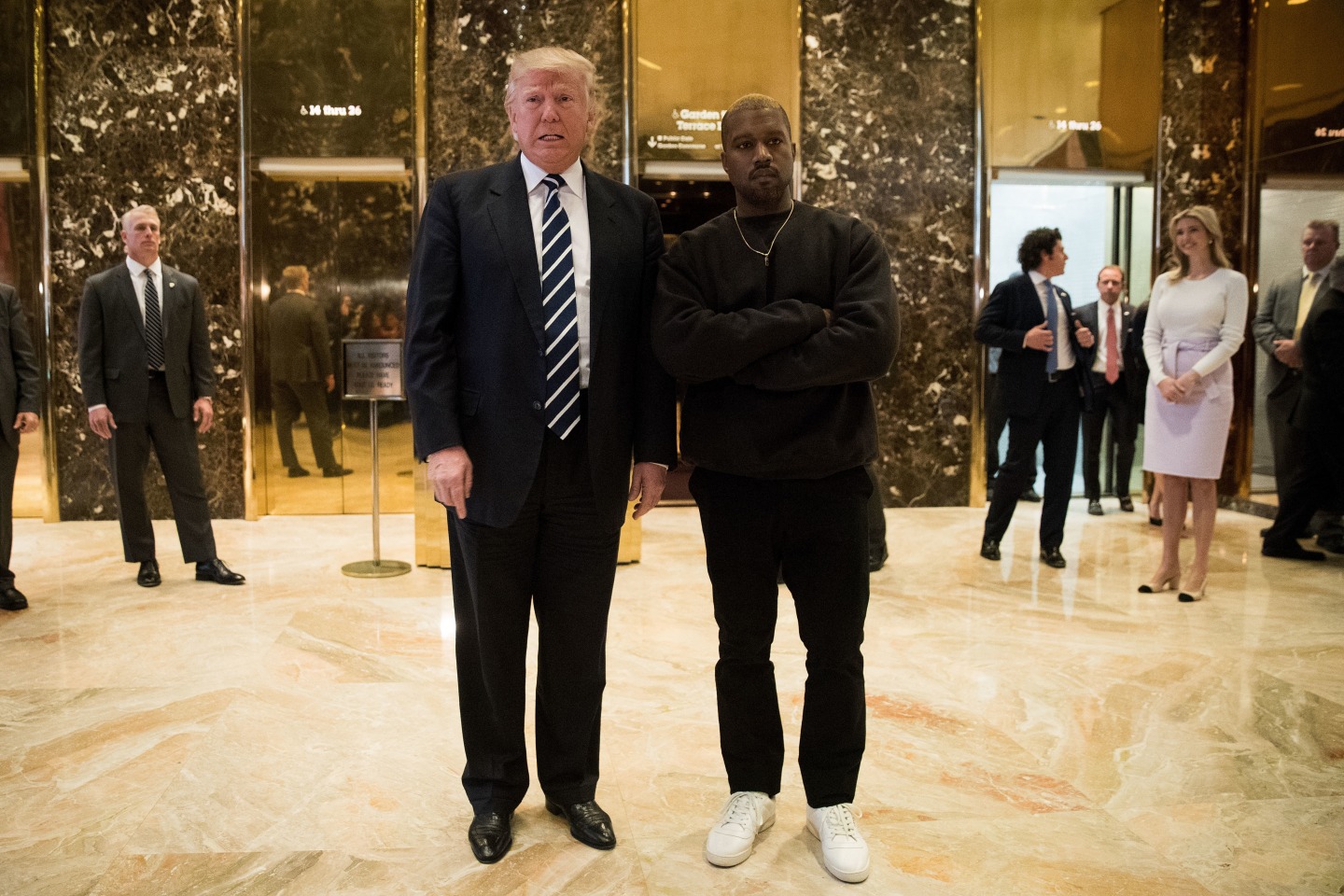 Also here: private security guards with hand tattoos in black suits and tactical suspenders that hold big walkie talkies and small knives; tourists with elaborately garnished breakfast beverages making faces at the news cameras. (In a shocking development, not a single teen dabs). A small crew of activists from a group called Learn As Protest take turns reading passages out loud from Elie Wiesel and Men Explain Things To Me. The Naked Cowboy sashays by, in custom robe.
Inside the Tower there is a Niketown, a Gucci, and an outpost of Ivanka Trump's jewelry line. Display cases show Trump's bibliography — Art of the Deal, Crippled America, Trump Never Gives Up — and his catalog of scents: Success By Trump, Empire By Trump. In one corner, there is an obscure document: a book called Trump Tower, billed as "the sexiest novel of the decade." It was, it turns out, at one point slated to be Trump's official debut as a fiction writer. A telling sample: "[Donald] said that when he was single and running around with some of the most beautiful women on the planet, absolutely gorgeous girls, he used to get laid all the time."
In the basement, the Trump Cafe at Trump Tower offers Trump Reserve Premium Coffee. A Trump Ice Cream Bar goes untended. A tchotchkes shop offers Trump caps and T-shirts as well as Trump pins, Trump paperweights, Trump "crispy milk chocolate" bars, and stacks of Trump dollars. Business, the unenthused clerk reports, is "OK." In the public bathrooms down the hall, the toilet paper offered is that industrial big-roll cheap stuff.
Out front of the building, NYPD cops manning checkpoints battle boredom. Inspecting my backpack, an officer with a Brooklyn accent spots my copy of a Stalin biography, and banters.
"Is he Italian?" she asks.
"He was from the Soviet Union," I say. "He was a dictator."
"Oh! Like Mussolini!"
"Yeah. Although Mussolini killed less people, probably."
"Probably liked a nice plate of macaroni," she cracks.
I concur, and offer, "Maybe Italians aren't as mean."
Hearing this, her NYPD partner is moved to interject. "Italians aren't mean?! Go to an Italian's house on Christmas Eve! Meet my fiancée's family!"
Inside, hours go by with no action. Cub reporters in suits eat sandwiches off wax paper standing up. The national news station cameramen play video poker on their phones. At one point a pair of older white men in suits walk by, and the press pool perks up: hopefully, these are obscure Trump toadies?! Then the old white men take out their phones for selfies to send to the folks back home. False alarm.
Meanwhile, everyone's waiting for Le Pen to come back down the elevators, and to answer some questions. "My biggest fear is that the delivery man is gonna come and she's gonna come to the mics and my allegiances will split," a reporter announces. "Like, do I listen to Le Pen speak?! Or do I get my lunch?!"
By the afternoon, word comes down: Le Pen is gone; supposedly, she wasn't even meeting with Trump anyway. The pool thins out, but the hardcore remain, waiting for Trump's press rep to call a "lid" on the day, meaning there are no more scheduled meetings or movement. As Mike Pence's press secretary stops by to chat, I sit on the back benches with John, a photographer with curly hair and a salt-and-pepper beard.
It's a tough assignment, he says, of the Trump pool. Every day is the same unless, like, "Kanye West comes down to the lobby." You have to wear comfortable clothing, and be careful about how much coffee you drink. But the worst part? "It's the floor, man. It's like torture."
The landing in the lobby is marble, and, when standing around all day, it is apparently very hard on the feet. "The arch and the heel get affected the most," John says. "Then it's cramps all the way up to the knees." He's currently got on a new pair of Clarks Desert Boots but "I've tried everything, man. Air Force Ones, Nike SBs, New Balance. And I just got these crazy insoles. My buddy at Reuters told me about them. Superfeet. They're like some advanced Dr. Scholls. The Lamborghini of insoles!"
One of Trump's primary campaign gambits was using the press as a scapegoat: happily, he'd whip his audiences into an anti-media fervor. Now he's days from assuming power, and so days away from the ability to unleash a sprawling catalog of anti-press actions. It's terrifying: the grinding away of press liberties — not just for the White House press corps, but for reporters everywhere — starts right now.
On one point, though, John thinks Trump might be sympathetic to the press — that he might even see the pool's point of view. "Maybe we should tweet at him that the floor is hard," John said. "If you asked him to put a carpet down here, I bet he would!"