South Florida Likes It Fast
In Broward County, sped-up versions of regional rap songs and national hits are more popular than the originals.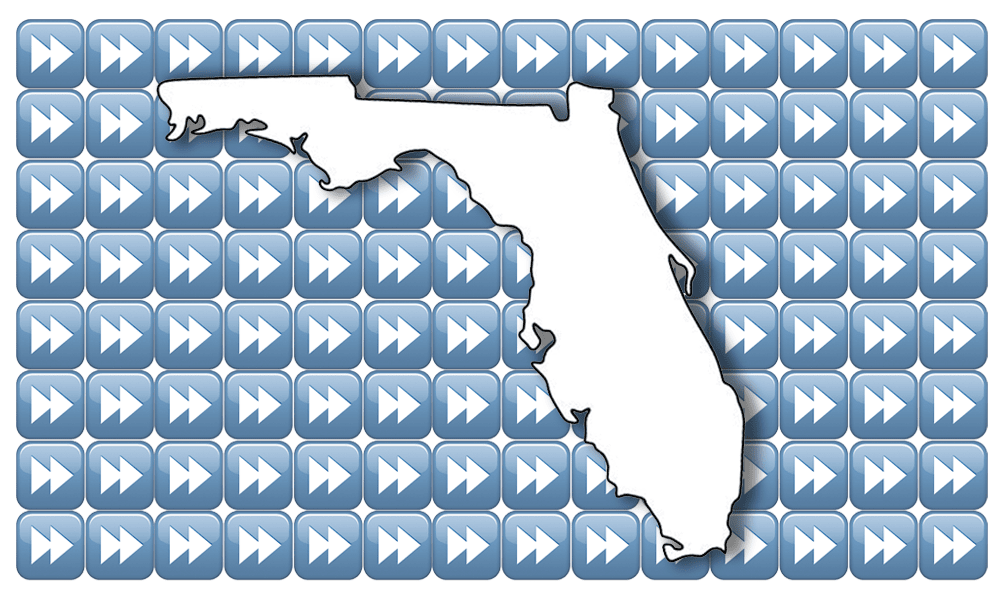 In Broward County, Florida, DJs have been using a simple technique for decades to give local favorites and national hits their own distinct sound: they speed them up.
DJ Nasty, who hosts a radio show on Miami's 99JAMZ station, says "fast music" has been around since at least 1996, when he first started DJing in the region. "Every part of the country has their own style, their own swag," he told The FADER over the phone in January. "In Broward County, that's their thing." According to DJ Nasty, the sped-up style developed in Broward to unify the tempos of popular rap songs from around the country with Miami bass, the fast-paced and X-rated subgenre that came out of the city in the late '80s. "With the age of bass music, and Miami having an uptempo sound, Broward just felt like, "Why not just take regular records and speed 'em up?'" DJ Nasty said.
"We like everything so uptempo because it adds more rhythm to the song," Lajan Slim, a Lauderhill, Florida rapper who recently signed to Def Jam, told The FADER last October. "A lot of people I know will say, 'Why you don't make your music fast?' They'll hear the song slow and be like, "I only liked it when I heard it fast." They'll know that song regular but only like the fast version." Broward rappers like Lajan Slim and Kodak Black have earned national recognition in the past year, and the sped-up versions of their songs receive hundreds of thousands of plays on SoundCloud and YouTube channels that consistently upload fast versions of rap songs for their followers.

Woods, a Lauderdale Lakes native who has been running the FastMusic954 SoundCloud and YouTube accounts since 2012, says his cousin was the first person who he ever heard playing "fast" versions of songs. "He sped-up all these songs, but he was the only one that listened to it, he'd never put it up anywhere," he said. Woods and the other members of the FastMusic954 crew use Virtual DJ to speed up songs, usually uploading a version that's about 15 beats per minute faster than the original.
"It's everywhere in this part of Florida," Woods said of fast music. "You can't come here and not hear it." He credits some of their online following and popularity in Broward to their instantly recognizable tag — which features Broward rapper TeeJay declaring, "FastMusic954, let's run it" — as well the region's propensity for the sort of hyperactive regional hits that once inspired dances like jookin' and wig'n (changing the tempo of a song can also help avoid detection on YouTube and SoundCloud's copyright ID systems). The sped-up songs, previously relegated to pirate radio stations and local parties, now seem to be largely circulated through online channels like FastMusic954.
DJ Nasty sees fast music as one of the oldest musical connections between Broward and Dade County, neighboring regions that had previously remained completely separate. "Now, with the new generation that's coming out, I see a lot more camaraderie," he said. "I see people from Broward working with people from Dade. It's not segregated the way it was before."
In recent years, subgenres of rap that have long existed on the margins, popular only in the regions that birthed them, have garnered national attention. Houston's chopped and screwed found a new generation of fans through A$AP Rocky's breakout hits, and New Orleans bounce artist Big Freedia was featured on Beyonce's zeitgeisty 2016 single, "Formation."
With it's pitched-up chipmunk vocals and frenetic tempos, it's hard to imagine Broward County's fast music breaking into the mainstream any time soon. But, as DJ Nasty said, the microgenre will always remain a South Florida staple: "A sound like that will never go away, it'll never die."