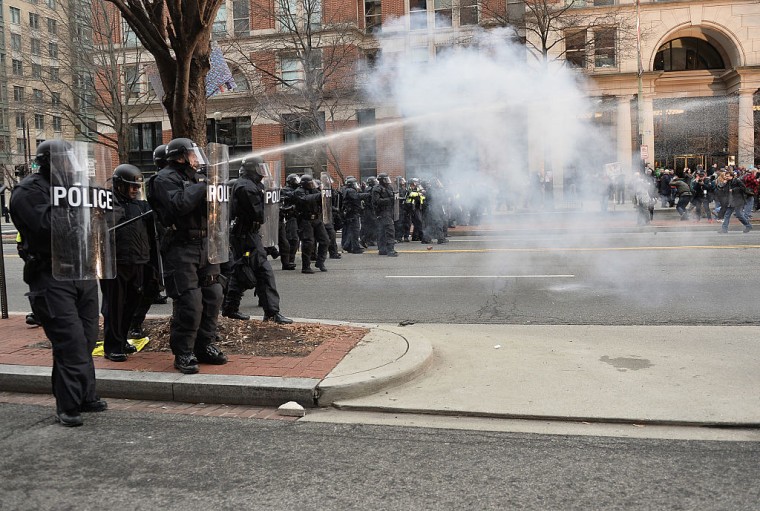 At least 95 people have been arrested and three police officers have sustained minor injuries during protests in Washington D.C. surrounding the inauguration of Donald Trump, a representative for the Metropolitan Police Department confirmed to The FADER.
Acting D.C. Police Chief Peter Newsham told CNN that a group of several hundred protesters confronted police near 12th and K streets, while thousands of other individuals demonstrated peacefully. According to police officials, a group of protesters engaging police were throwing rocks and bottles. "Pepper spray and other control devices were used to control the criminal actors and protect persons and property," police officials told CNN. According to BuzzFeed News police have been using sting ball grenades, which include flash, rubber pellets, and tear gas, to disperse protesters.
Ahead of Trump's swearing in on Friday, multiple groups held organized protests in order to block viewing access to the ceremony. Approximately 50 protesters sat down in the street to block a viewing area and a group of over 150 protesters, organized by DisruptJ20, attempted to block an entrance near the Canadian embassy, according to CNN. Following the ceremony, a group of protesters made their way onto Interstate 395. As the inauguration parade began, a group of protesters smashed the windows of a parked limo before setting it on fire.
Update at 10:03 PST: CNN now reports that 217 protesters have been arrested, and six police officers have been injured. The report notes that two of those officers were taken to the hospital.