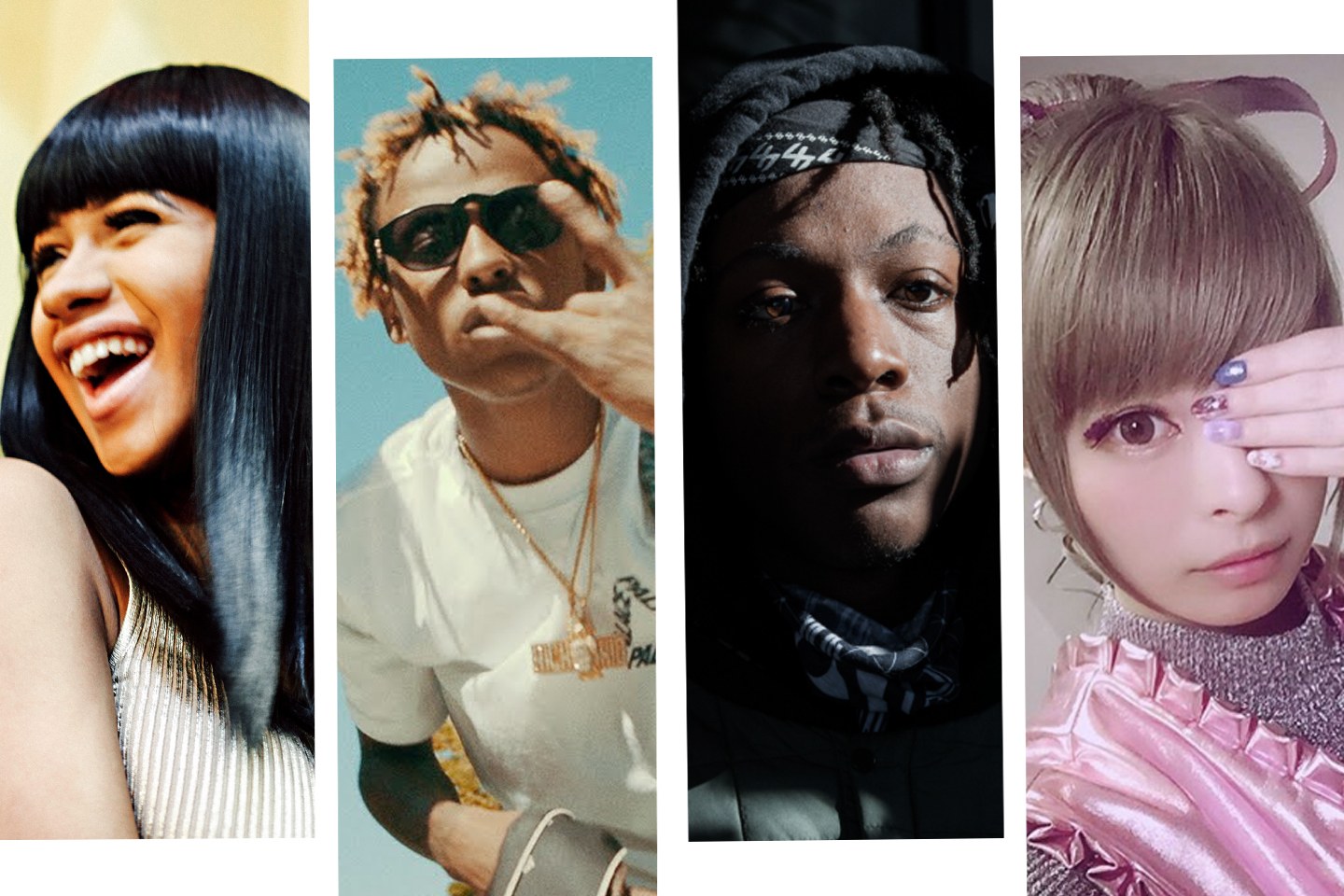 1. Cardi B's Gangsta Bitch Music Vol. 2 tape is hot from top to bottom. The steamiest slapper might be "Back It Up," a twerk-inducing dancehall track featuring Konshens and Hoodcelebrityy.
2. Migos's latest is "What The Price," which begins with a Hendrix-like riff before morphing into a subtle trap anthem.
3. On inauguration eve, Joey Bada$$ confronted the incoming administration with "Land Of The Free." "Obama just wasn't enough, I need some more closure/ Donald Trump is not equipped to take this country over," he raps over a sweet, synth-y beat.
4. "They hating on you, they don't want you to win/ Rich forever, we done did it again," goes Rich The Kid on his remix verse of Jay Critch's steady-paced "Did It Again." This one's for popping in the group text after you get some. 😉
5. Japanese producer Yasutaka Nakata got bubblegum bigwigs Charli XCX and Kyary Pamyu Pamyu, together to make "Crazy Crazy," a characteristically infectious frenzy of neon pop.
6. "Diamond In Da Ruff," the first single from Matt Martians's debut solo album, is all low-key instrumentation and imbued with the funky coolness of co-producer Steve Lacy.
7. 21 Savage and Metro Boomin keep it sparse on "X," so when Suicideyear remixed it, he used it as a baseboard and looped distorted vocals over the track. Now it sounds like there are digital flowers blooming up from 21's flow.
8. "911," by TeeJay, a South Florida singer who grew up with Kodak Black, is a ballad about heartbreak, but the twangy guitar and steady beat add some joy in the mix, too.
9. Rumbling with frustrated energy, Kelly Lee Owens's "Anxi.," featuring Jenny Hval, sounds mystical and mad.
10. Beijing producer Howie Lee is fascinated by the way money makes the world go 'round, a concept he explores in the dizzying video for the equally dizzying "Bankers."
11. Philly's GrandeMarshall just dropped an EP, and the standout is the downcast "2nd Chances," a somber, Tunji Ige-featuring reminder that you only get one shot.
12. Over the weekend, neo-nazi leader Richard Spencer got punched in the face (and then memed relentlessly). Comedian Tim Heidecker wrote a song dedicated to the horrible man, who most definitely deserved a K.O. It's hilarious and, more importantly, cathartic.