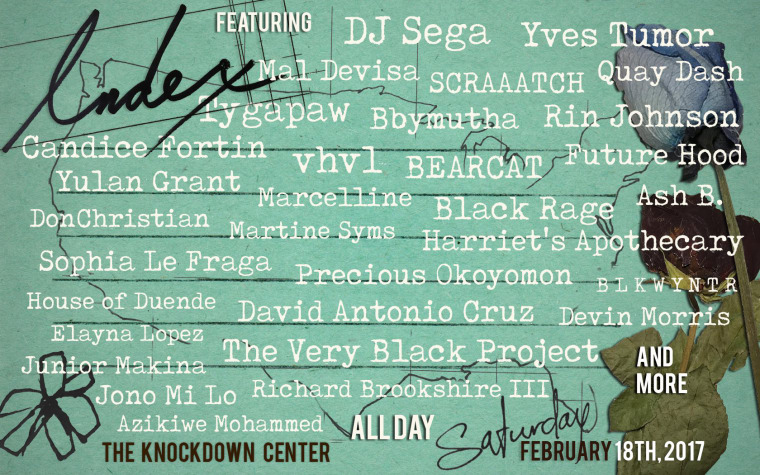 To celebrate Black History Month this February, Brooklyn artist Richard Kennedy — who is one of FADER's artists to watch in 2017 — and rapper/singer DonChristian have organized Index Art & Music Festival, a new event celebrating black and Latinx artists and ideas. The line-up includes Northampton bluesy folk artist Mal Devisa, Philly electronic duo SCRAAATCH, and Bronx rapper Quay Dash. Providing visuals will be psychological painter David Antonio Cruz, #KUNQ co-founder and radical video artist Yulan Grant, and more. See the flyer above for more details — grab tickets here — and read on to find out more about the festival.
Why did you set up Index?
Richard Kennedy: I've spent a substantial amount of time at art fairs and music festivals over the last few years. There's always problems with representation and in thinking critically about solutions Index was the best answer. I really enjoy creating space for the community and Index will offer something for everyone! It is important that we have space to tell our own stories; Index is about amplifying silenced voices.
DonChristian: I just want to have space and time for inter-cultural, intergenerational art and engagement. There's much to come from leaving our bubbles, and experiencing new voices, new narratives; pioneering ones at that. It's time to start taking ownership over our own histories and representations, in the continued fight for our rights.
Could you tell us a bit about a couple of the bookings and who you're excited to have on board?

Kennedy: The line up is so exciting! We have been working on bookings for about a month and I'm so glad the secret is out. If I had to choose I would say Mal Devisa. My friend put me on to her this summer and I have been trying to book her in Brooklyn ever since. I'm also excited for the intersectionality of the festival; to witness Quay Dash performing next to a piece by Martine Syms before listening to Precious Okoyomon share the truths of her world is an experience I anticipate greatly.
DonChristian: I would buy DJ Sega mix CDs on Chelten Ave in Philly as a kid, so he's a legend to me. Yves Tumor's album Serpent Music is phenomenal. Bbymutha's music and voice is important as fuck. Also the art and panel adjacent to the market will be dynamic, with collaborators like The Very Black Project and Harriet's Apothecary.