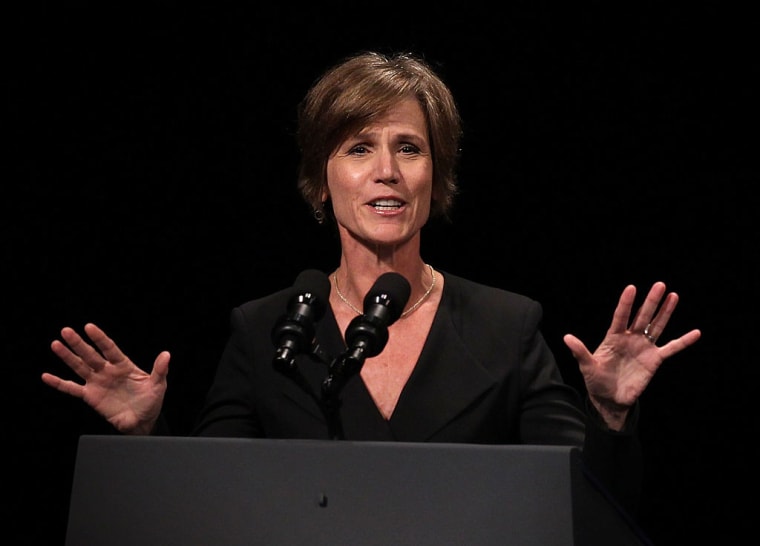 Acting Attorney General Sally Q. Yates, who continues to serve in her position pending Jeff Sessions' confirmation, has instructed the Department of Justice not to defend Donald Trump's ban on immigration and refugees, The New York Times reports.
"I am responsible for ensuring that the positions we take in court remain consistent with this institution's solemn obligation to always seek justice and stand for what is right," Yates explained in a letter to Justice Department lawyers. "At present, I am not convinced that the defense of the executive order is consistent with these responsibilities nor am I convinced that the executive order is lawful," wrote Yates.
The letter instructs the DOJ not to make legal arguments on behalf of the government defending Trump's order. At the moment, cases have already been filed protesting the consequences of the order in at least five states, including California, Massachusetts, New York, Virginia, and Washington.
"For as long as I am the acting attorney general, the Department of Justice will not present arguments in defense of the executive order," Yates ensured in her letter. Yates, an Obama appointee, is unlikely to hold the office for much longer, as Jeff Sessions is likely to be confirmed sometime in the coming weeks.
Read the full story here, via The New York Times.
Update: January 31, 08:31 a.m. Sally Yates has been fired by Donald Trump after defying the travel ban
The White House said late on Monday that Sally Yates had "betrayed" the justice department by refusing to enforce the ban on people entering the U.S. from the seven countries listed in the executive order.
Dana Boente, U.S. attorney for the eastern district of Virginia, has been drafted in to replace Yates as acting attorney general. Anti-immigration hardliner Senator Jeff Sessions is expected to be confirmed as attorney general by the Senate shortly.
A statement from the White House press secretary's office said: "Ms Yates is an Obama administration appointee who is weak on borders and very weak on illegal immigration. It is time to get serious about protecting our country. Calling for tougher vetting for individuals travelling from seven dangerous places is not extreme. It is reasonable and necessary to protect our country."