Last Wednesday night, I went to Manhattan's Washington Square Park for a rally. It was a pop-up event swiftly and efficiently organized by the New York chapter of the Council on American-Islamic Relations in response to news that President Donald Trump was planning on signing an executive order that would temporarily ban immigration into the U.S. from seven predominantly Muslim countries and blockade all Syrian refugees indefinitely.
Within the creeping dystopia, with helicopters motoring above, the rally in New York was a placid bit of sanity. Cries of "a salaam alaikum" were answered with hearty "alaikum salam." A rep from a local Buddhist organization led a group breathing exercise. "Eyes closed. It's quiet moment." A clergywoman did impromptu crowd work. "We were trying to answer this question backstage, we were having a debate about it, maybe you guys can help us answer it," she said. "Cheer if you think there are more people here than were at Trump's inauguration."
Over and over, speakers identified themselves. What they did for a living, where their families had immigrated from. And over and over, they wrapped up with some version of this: But most of all, what I am is a proud New Yorker. It gave me chills. I was proud, as I often am, to live in this city. By the end of the night, there was an announcement: Trump would not be signing the executive order, at least not that night. I walked away able to breathe fresh air.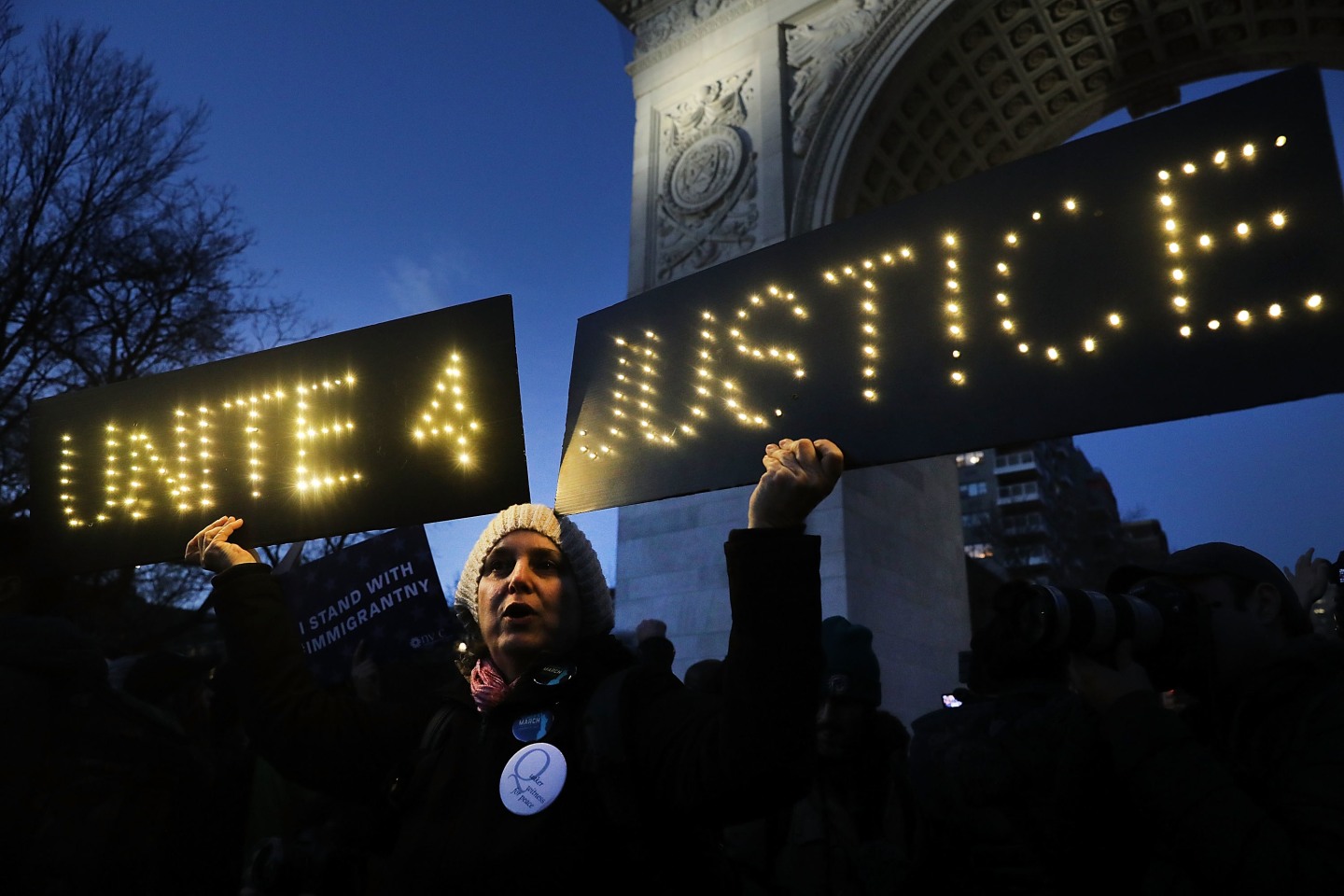 Two days later, on Friday afternoon, Trump signed the dreaded E.O. — and the damage was immediate. Refugees that had believed they were days away from a new reality had their lives upended. Permanent American residents were refused the right to return to their homes.
At JFK airport, an Iraqi man named Hameed Khalid Darweesh was detained. For over a decade, under mortal risk, he had worked as a translator for the U.S. Army in Iraq. On Saturday, after 18 hours, he was finally released and greeted by a cheering swarm of protesters of Trump's muslim ban.
"What do you think of the US?," a reporter shouted at him.
He didn't hesitate. "America is the greatest nation, the greatest people in the world."
By the end of the day, similar protests broke out at airports in L.A., D.C., Boston, Chicago, Denver, San Francisco, and Seattle. In Brooklyn, the National Immigration Law Center announced that there would be an emergency hearing to figure out the status of the detainees. The ACLU had brought the case (the named plaintiffs were Darweesh and another Iraqi detainee, Haider Sameer Abdulkhaleq Alshawi, who was on his way to Houston to reunite with his wife and young son). Out in front of the United States district court in Cadman Plaza near the base of the Manhattan Bridge, another pop-up rally materialized.
First there was a hundred people, then there were a thousand. The hearing was open to the public, but space was limited. A court employee with a walkie talkie and a semi-translucent pencil moustache worked the doors, letting groups of ten or so people in at a time. There was a shout of "let attorneys and press in!" and I wormed my to the front, holding my FADER business card in the air as a makeshift press ID. Then moustache man shut the glass door in my face. The courtroom was full.
From inside, word trickled out. The judge was Ann Donnelly. "She's an Obama appointee!" the lawyers in the crowd declared, to approving murmurs. Someone had found the Twitter account of a National Immigration Law Center analyst named Jackie Vimo, who was inside the courtroom; we huddled around one phone, reading Tweets. A national politics TV host arrived late, as did a reporter from a well-known liberal news site. While asking to be filled in, the latter admitted he'd already had a few drinks that evening.
Inside of fifteen minutes, we heard the news: the judge had issued a stay for specific elements of the executive order. It was a narrow and specific victory: specifically, it stated that all those being detained because of Trump's order should not be deported. It's a temporary decision, and it's just the very beginning of what will be an extensive, arduous legal process.
But on Saturday night, it was news enough for a celebration. ACLU lawyers calmly explained the ruling to the crowd. Someone else just shouted: "The stay has been granted!" Hollers erupted. "Fuck yeah Judge Donnelly!!!" a young woman bellowed. Seeing me react, she locked eye contact and let me know: "That's my friend's mom!!!"
The men and women that had just entered the courtroom for the hearing trickled backout. As they filed out in single line, raising and pumping fists in joy, their fellow demonstrators parted to let them out, then cheered them on as if they were a conquering army. There were chants of "USA! USA!" and "Thank you! Thank you!" and "Hands too small!/ Can't build a wall!"
Anthony D. Romero, the ACLU's executive director, was clapped on the back and saluted, and couldn't help but grin (Later, he'd write, "Tonight was one of the most incredible experiences of my life.") New York Congresswoman Nydia M. Velazquez followed close behind. She'd come from JFK, where she'd helped to have Darweesh released. I asked her what she was looking for people to do.
"Just to resist! To organize! To fight back. To push back. Because this is wrong," she answered.
As for the response so far, she added, "I'm so excited and so thrilled to see the response. But it's a dark day for our country."
After the news, the crowd did not disperse. Surely, they had not forgotten that the executive order was not suddenly going to disappear — that in the days and weeks and months to come, only more people who most need American help would be shut out. But for right now, there was a small little victory to celebrate.
Stacks of Domino's take-out pizzas were handed around. A giant Costco-esque cheese plate made the rounds as well. Trumpets and drums materialized; songs rang out. "Jesus, what it is, a thousand people out here?" a man next to me commented. "We're twenty days from Tahrir Square." Nearby, an eleven-year old boy in a hoodie — perhaps hopped up off the news, perhaps just happy to be out this late — lept over a low guard-rail. In mid-air, in his squeaky high-pitched voice, he let his opinion be known: "Trump sucks!"