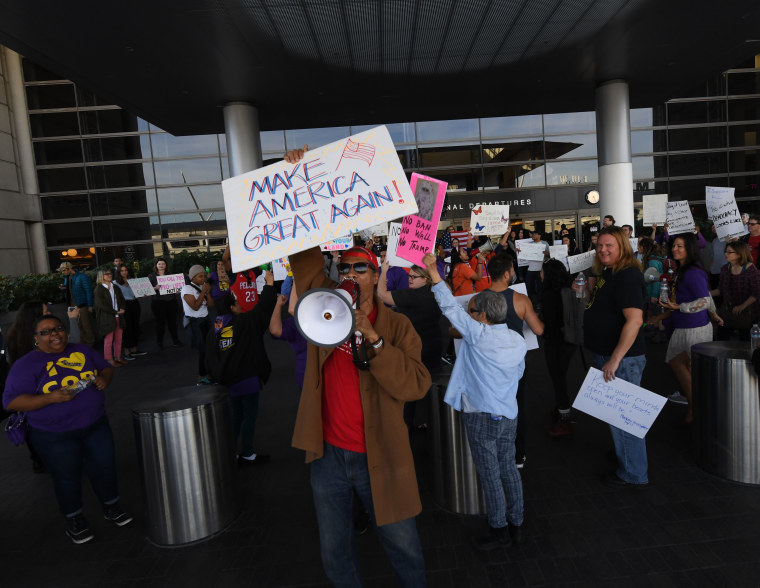 The Trump administration is considering two executive orders that, if implemented, would target the United States's poorest populations of prospective and current immigrants, according to drafts of the orders obtained by The Washington Post.
The first order would allow for the profiling and rejection of prospective immigrants likely to require public assistance, as well as the deportation of immigrants who live in the United States using these social services. The second order aims for a "substantial shake-up" of the country's visa system.
Both orders are apparently still under consideration. The White House did not respond to the Post's requests for comment.
The orders represent a significant expansion in the bans on foreign travel and immigration President Trump signed last Friday, with an executive order that immediately barred travellers from seven Muslim-majority countries, spurring confusion amongst customs officials and protests around the country. That decree was a reflection of Trump's campaign promise to prevent "terrorism," though nationals from the banned countries have not killed a single American on U.S. soil between 1975 and 2015. The new orders target immigrants the Trump administration accuses of becoming "public charges," or dependent on publicly-funded programs like welfare or social security.
One of the drafts, titled "Executive Order on Protecting Taxpayer Resources by Ensuring Our Immigration Laws Promote Accountability and Responsibility," claims that "households headed by aliens are much more likely than those headed by citizens to use Federal ­means-tested public benefits," without providing any evidence.
The second draft is called "Executive Order on Protecting American Jobs and Workers by Strengthening the Integrity of Foreign Worker Visa Programs." According to the Post, "it seeks to rescind any work visa provisions for foreign nationals found not to be in 'the national interest' or found to be in violation of U.S. immigration laws."
Angela Maria Kelley, an immigration expert at the Center for American Progress, blasted the drafts. "[H]e's aiming at U.S. citizen kids who have an undocumented parent, and depending how broad the reach of his order, he could deport kids who have received reduced lunches in school. It's stunning the depth of disruption and chaos he seems hellbent on inflicting on our communities."
There are many roadblocks in place preventing immigrants in the United States from accessing social services. The "public charge" law permits authorities from deporting immigrants who become dependent on these programs, and any immigrant bringing non-citizen family members into the United States is required to sign an affidavit saying they have enough fund to support their relatives. The signees are also bound to repay any social assistance their relatives use once they emigrate.
In 1996, President Bill Clinton signed the "Personal Responsibility and Work Opportunity Reconciliation Act," otherwise known as welfare reform. The bill codified further restrictions on immigrant access to social programs.
Steve Bannon, a booster of white nationalism and Trump's chief strategist, is known for his hostile views on immigration.