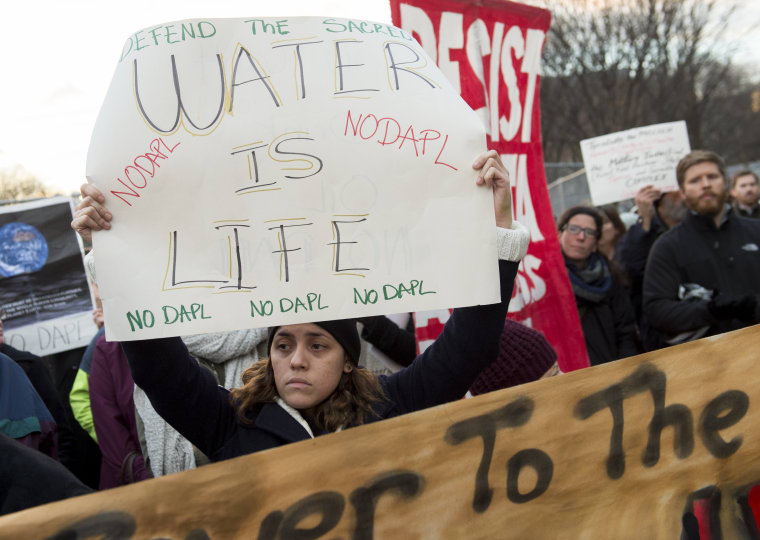 As Donald Trump's unjust executive measures gain traction and intensity, you might feel tempted to hit the "donate" button for wide-reaching organizations like the ACLU and the HRC. While that's still a great thing to do, there are a ton of localized efforts that need your assistance, too. Here are a few organizations that fight issues like racism, xenophobia, sexual violence, and global warming on the front lines of major cities.
A collective, New York-based organization committed to empowering low-income people and people of color who are transgender, intersex, or gender non-conforming. Donate here.
On January 31, it was announced that the Army Corps was directed to notify Congress that it is granting the final grant of passage for the Dakota Access Pipeline. The Sacred Stone Camp has called for all those who can to stand with them as the struggle to block DAPL becomes evermore dire. You can donate to their GoFundMe here.
Headquartered in Minneapolis, this student-based organization empowers and trains its members to advance the public interests of its state, spearheading causes like corporate accountability and environmental justice. In the 1990s, the organization notably put a halt to dumping of low-level radioactive waste in landfills and incinerators, passed the Minnesota Pollution Prevention Act to reduce toxic air emissions. Donate here.
The Flint Water Fund campaign of United Way of Genessee County has sourced "more than 11,000 filters systems and 5,000 replacement filters, [and] ongoing sources of bottled water to the Food Bank of Eastern Michigan," but they still need your help to to detoxify Flint's water. Donate to the fund here.
Callen-Lorde (named after musician and community leader Michael Callen and lesbian feminist activist Audre Lorde) provides health related services to New York's LGBTQ communities regardless of their financial circumstances. The organization notably hosts educational and outreach programs like Health Outreach To Teens (HOTT), which serves LGBTQ youth ages 13 to 24, including homeless youth. Donate here.
This volunteer-based organization is focused on issues concerning the U.S.-Mexico border through several advocacy approaches. In addition to educating folks on border policy, groups notably trek into the Californian desert to place water along migrant routes. Donate to one of their many causes here.
Grounded in human rights and harm reduction, The Sex Workers Project provides legal and social services to individuals engaging in sex work, regardless of their circumstances and centering their needs and experiences. Donate here.
The AAA focuses on providing resources like DACA services, law enforcement accountability, and United States Citizenship Exam to New York's Arab communities. Donate here.
As one of the most rapidly-gentrifying cities in the country, San Francisco's homelessness rates are only increasing. Project Homeless Connect is a volunteer-based organization that serves the city's most vulnerable populations. You can donate here, or if you're locally based you can contribute to the item drive.