Sonia Calico Is Defining Dance Music For Taipei's New Generation
The Taiwanese producer and DJ shares a breakbeat number featuring Mandarin-speaking rapper Poetek from her new EP, Fake Jewelry.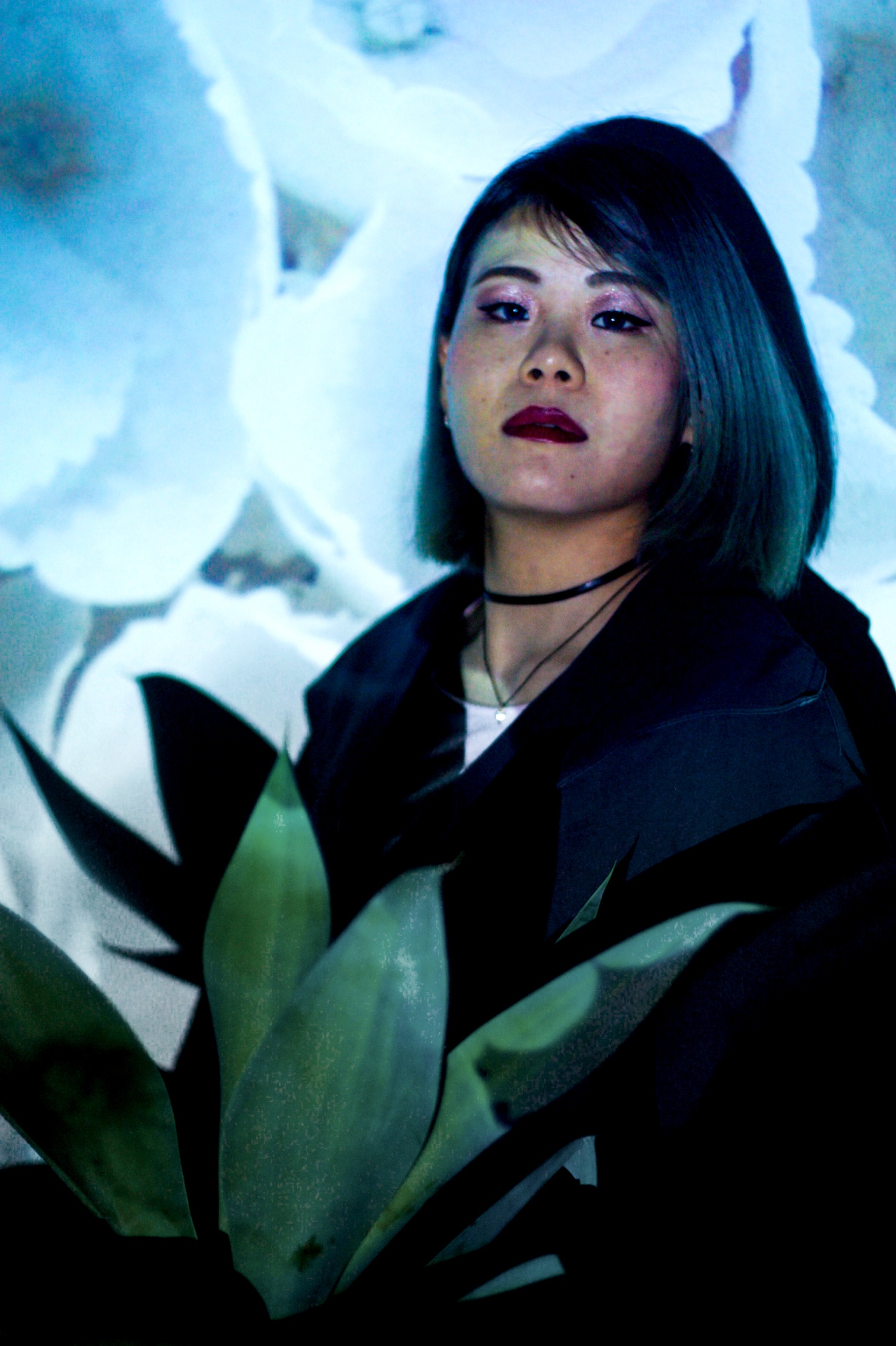 Dance music is Sonia Calico's raison d'être. The Taiwanese producer and DJ is known in underground circles across East Asia thanks to her continual experimentation — one day she's doing Tokyo bass, the next it's juke, and, just to keep you on your toes, high-octane vaporwave the day after that. Yet two elements unify her music: a feel-good gravitation towards a fast BPM, and the incorporation of Taiwanese culture into her artistry, be it through Ang Lee film samples or transmuting Mandarin pop acapellas — referred to as Mandopop — into feverish club hits.
Calico grew up in Taipei, where she's still based today. When I spoke to her over Skype, it was 11 p.m. at night in the Taiwanese capital, and 9 a.m. in the morning on my side. Relaxed in a cozy gray hoodie, she told me about her start in music and it quickly became apparent that her hometown is what drives her sonic exploration. Taipei, to her, is more than just a city. While it lacks a thriving underground dance music culture of its own, Taipei is an open space in which artists are able to forge tight friendships based on the relative rarity of finding like-minded creators. As a result, Calico has collaborated with producers across Taipei (some of whom she's released on her label UnderU), as well as in Beijing, Tokyo, and further afield. Together, this network of artists form a sonic map that speaks to an aesthetic that's distinct from western dance music. Back in 1994, Ang Lee's film Eat Drink Man Woman — which Calico samples on "Fish Dish" from her forthcoming Fake Jewelry EP — addressed Taiwanese society's cautious acceptance of modernity in the face of tradition. Over 20 years later, Calico understands cultural identity continues to be a balancing act: she embraces contemporaneity, but is mindful of incorporating her take on her Taiwanese heritage into her musical palette.
Today The FADER is premiering "Choose Love," a highlight from Fake Jewelry, due out February 3. The breakbeat track launches with a Mandarin verse featuring the rapper Poetek, and throws piano notes at the listener like stalagmites to be dodged on the dance floor. "Choose what you love/ Love what you need," Poetek relentlessly repeats. It's a translation of a Chinese proverb that encourages the pursuit of one's passion, and feels especially poignant given that Taiwan is on the cusp of becoming the first East Asian country to legalize gay marriage.
In the interview below, Calico talks about where underground dance music is heading in Asia and why it's important to embrace local culture in the music you make.
What sounds inspired you for "Choose Love"?
I was into U.K. music, like recent breakbeat, Amen break, and labels like SWAMP81, and producers like Tessela and Addison Groove. They kind of fuse old school breakbeat with U.K. bass and grime. After I gave up on a continuous thematic idea [for the EP] of genres that I was into the past few years, I decided to do all kinds of genres and make one track for each, so I did a track with a breakbeat vibe [and] that's "Choose Love."
What are the lyrics for the track about?
The first verse [is in] Mandarin. [Poetek] is my good friend. Every time we work together he always raps so much. I said I only wanted three words from [him] but then he still recorded a whole verse for me. [The lyrics are] about a guy who couldn't sleep at night and he has the idea to speak out his voice, and so he started to open [his] laptop and plug in the sound card and [began] to speak about what's [on his] mind. [The other verse] is a Chinese saying, "choose what you love/ love what you need." We talk about if you really want to do music, you should do music. But it applies to everything, you know?
What are some of the sounds on your debut EP, Fake Jewelry? For example, there's this splashing sound on "Fish Dish."
[For] "Fish Dish," I used a movie. Do you know Ang Lee? [The sample is from] his earlier work, Eat Drink Man Woman. It's actually the sound of the father preparing the fish for his daughter to come home to eat. He's [scraping] off the scales and cutting the fish. I think he was making fish soup so there's a water sound.
"The Beat" [samples] a Japanese drama, Tokyo Love Story. I made [the track] pretty juicy and romantic, so I felt like, oh I need a Japanese, very cliche drama to feel the track. I'm really into fully textured sounds on this EP that [are] more cinematic.
In your Boiler Room Taipei set, you turned Mandopop songs, like the David Tao one, into dance bootlegs. What inspired you?
The track is called "Ye Lai Xiang" (夜來香) and it's been a classic so a lot of people have covered it. David Tao's was more like an acapella thing. I think why I did this track was because at the time, I was really into Jersey Club, and a lot of producers use '90s and 2000s R&B vocals in their tracks. Before David Tao, I was using Motown samples and then I started to think, if I keep using western R&B vocal samples, it would be cool but it would be the same as everybody else. I felt like maybe I should try to dig [into] something actually from my memory. Taiwan is [about] mainstream music, they always follow the wave [and] how the pop music world is. We have a lot of ['90s] R&B singers in Mandarin too. I was listening to David Tao's album one day and I felt like, oh, maybe it can work. I DJed with this track and it got a response beyond my imagination. People who go to clubs in Taiwan [are still] mostly listening to western music, [so] when they heard this track on the dancefloor, they felt good and sung together. I guess that's why American producers use '90s R&B vocal samples, I think it [has] the same effect on the crowds 'cause [people] know the voice, they know the track, but they can still dance [to] the new elements.
It's pretty exciting, I guess, to the dancefloor. When they heard this track, I got a lot of, "hey, can you do another Mandarin pop track?" They would give recommendations all the time. I think it means a lot more to me to make songs with those vocals 'cause I know it's part of our local culture, you know? I feel like it's important that even though we're making dance music and [listening] to western electronic music, we still want people around us to get involved or get to know what we're doing. It's definitely more fun to use these Mandarin vocals.
Does Taipei have a dance music scene? Or is there a wider regional scene?
I think it's really hard for artists doing their thing but not [be] in any scene. If you have a scene, you can have the feedback, you can know where your position is and it's very important for us to know what step we should go next. Of course you can say, "I'm an artist, I just do what I want." [But] you're a human being, you need some feedback to keep you going. I think in Taiwan, there's no scene, but I'm trying to build one. But it's not like, if I want to build one you will have one. It's not like that.
But I'm glad that in these last few years, I started to meet a lot of producers around Asia, like in Beijing and Seoul and Malaysia and Singapore and Japan, Hong Kong, and Shanghai too. Their groups [are] very small in their cities, but I feel like if we connected different cities, even though each of us are small, we actually can make a scene through it. 'Cause in Asia, we're pretty close, we can tour within the cities. I think it's a little bit like in Europe [where] if you're not the majority underground music label, you will connect with other labels in [different] countries or cities. I think [it's] important for an artist [to] feel like you're supported by your families overseas. In the meantime, I'm still trying to make Taipei have a bigger scene.
"I was using Motown samples and then I started to think, if I keep using western R&B vocal samples, it would be cool, but it would be the same as everybody else."
Could you tell me about your label, UnderU?
UnderU is my label [that] I started with Veeeky, my DJ partner from before. The label's members come and go through the years. We started as a promoter [and] threw local DJ parties. Now we're starting to become more like a music label 'cause I host a beatmaker gathering in Taipei [every month], and through this event I met a lot of local kids, like totally bedroom producers — very young, and very shy, and very nerdy kids. We started to care about [everyone's] work and we helped each other get better, I think.
Do you feel like you've become a mentor figure?
I'm scared of being a mentor or teacher, I think that's when you stop learning things. I met a lot of new friends and they also have the same confusion [that I had] when I was their age so I feel we can share our experiences and that's pretty cool.
As a DJ, you can easily been seen by an audience. But if you're a producer, you make music and people won't even acknowledge you; nobody gives a shit about your music. Once you get on stage, people give a shit about you. Because of that, I think it's very hard for people in Taipei to keep producing music, it's very easy to give up. But I feel like if you have a bunch of friends and we're just purely into producing music, it can help you get [keep trying for] longer.
Musically, what does the city of Taipei mean to you?
I guess it's always the same for artists, that they hate and love their city at the same time. But in Taipei, there's not many people into [underground dance music] so it's kind of easy to spot all the people who are into that. I think it's a good thing; you're not overwhelmed and you can really connect to everyone you know who's doing the same thing. I'm trying to be as positive and aggressive as I can be to encourage people who just started to produce music.
When you're young you always want to compete with someone else but I feel in Taiwan, it isn't really necessary. If we support each other, it can really get us all stronger and better, actually.
Fake Jewelry is out February 3.