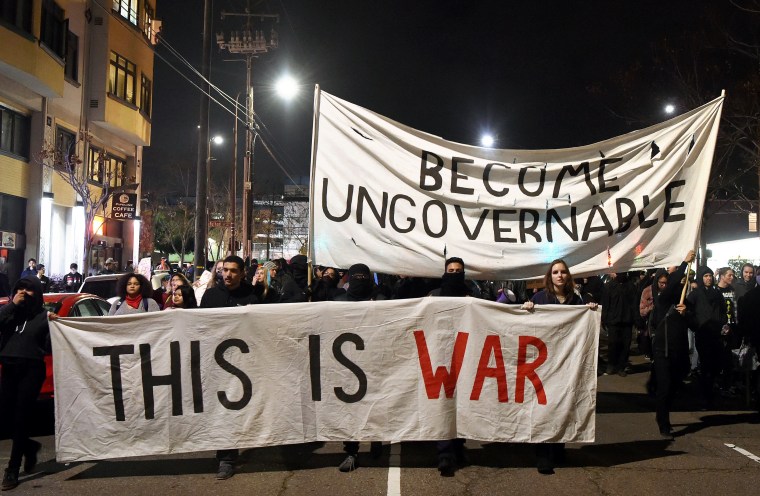 Donald Trump floated the cessation of federal funds to the University of California, Berkeley, after protests stopped a speech from alt-right pundit Milo Yiannopoulos. "If U.C. Berkeley does not allow free speech and practices violence on innocent people with a different point of view - NO FEDERAL FUNDS?" he tweeted on Thursday morning.
Yiannopoulos is an editor at Breitbart News, the alt-right media platform Bannon managed as an executive chair, before resigning to work in the White House.
In a statement, the University said it "regret[ed] that the threats and unlawful actions of a few have interfered with the exercise of First Amendment rights on a campus that is proud of its history and legacy as the home of the Free Speech Movement." It added that "Yiannopoulos's views, tactics and rhetoric are profoundly contrary to those of the campus."
The protests began peacefully on Wednesday evening but turned violent around 6 p.m. Masked demonstrators smashed windows and lit fires outside the student union building on Sproul Plaza, where Yiannopoulos was scheduled to speak. Police in riot gear declared an "unlawful assembly," reportedly attacked non-compliant protestors with pepper balls and paint balls.
The Berkeley College Republicans, the group who organized the speech, issued a statement after the protests, calling the Free Speech Movement "dead." However, the peaceful protestors had a different perspective. "The whole reason we're here is for free speech," UC Berkeley sophomore Jonathan Gow told SFGate.com. "Milo's hate speech is not allowed here. When it's hate speech, our free speech is to shut him down."
For others, the stakes were much higher. "As a black Muslim woman, all three of those identities have been targeted throughout (Trump's) campaign," UC Berkeley junior Fatima Ibrahim said. "To have someone like (Yiannopoulos) come into my campus and affirm those people's beliefs, it's very, very hurtful."
There was violence at Yiannopoulos event in Seattle last week, but not from anti-fascist protestors: A reported fan of Yiannopoulos allegedly shot and wounded a protestor outside of the event.
The Toronto Star's Daniel Dale pointed out on Twitter that for a second time, Trump appeared to repeat the suggestions of a Fox News pundit soon after that pundit had appeared on television. Last week, Trump tweeted that he would "send in the Feds" to Chicago if the city's murder rate did not drop, soon after Bill O'Reilly discussed federal intervention on his Fox News program The O'Reilly Factor.