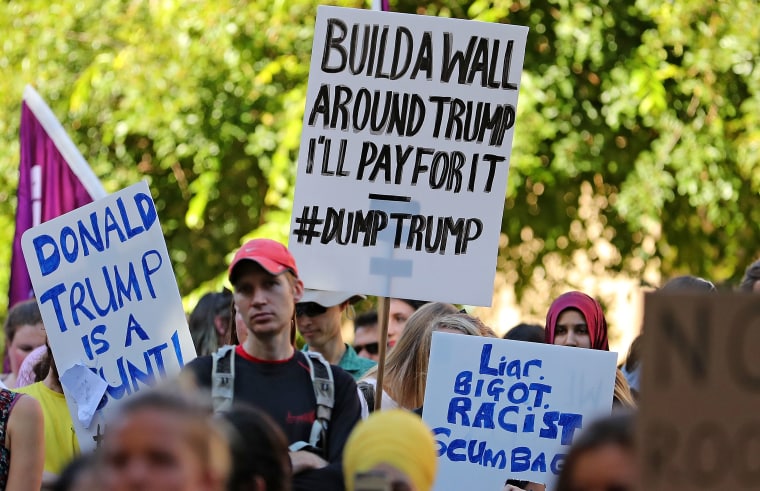 Appointed Chief Strategist Steve Bannon, noted white supremacist, to the National Security Council's Principals Committee.
Also demoted the Director of National Intelligence and the Chairman of the Joint Chiefs of Staff, stating, they "shall attend where issues pertaining to their responsibilities and expertise are to be discussed."
Nominated hyper-conservative Colorado appeals court judge Neil Gorsuch for the Supreme Court.
Held a number of problematic phone calls with important foreign leaders.
Trump's call with Putin, a despot, murderer & war criminal, was friendlier than the call with Australia's PM, a key ally that fights w/ USA.

— Brian Klaas (@brianklaas) February 2, 2017
On Saturday, January 28, Trump had phone calls with 5 world leaders: German Chancellor Angela Merkel, Japanese Prime Minister Shinzo Abe, French President François Hollande, and Australian Prime Minister Malcolm Turnbull.
CNN reported that, "A Kremlin summary of the phone call [between Trump and Putin] talked about stabilizing the relationship between the two nations and several other subjects.."
According to Foreign Policy, following the call, Russia amped up fighting in Ukraine. Curiously, on Thursday Trump told former Ukrainian Prime Minister Yulia Tymoshenko he would "not abandon" Ukraine. Politico reported, "Donald Trump promised a Ukrainian opposition leader that the United States won't lift sanctions on Russia until it pulls out of Ukraine, according to three people briefed on the meeting."
As for Australia, according to the Washington Post, "President Trump blasted Australian Prime Minister Malcolm Turnbull over a refugee agreement and boasted about the magnitude of his electoral college win, according to senior U.S. officials briefed on the Saturday exchange. Then, 25 minutes into what was expected to be an hour-long call, Trump abruptly ended it."
Trump warns US of "bad dudes"
Trump warns Mexico of "bad hombres"
Trump warns UK of "bad chaps"
Trump warns Australia of "bad blokes"

— Dave Itzkoff (@ditzkoff) February 1, 2017
And on Tuesday, Politico reported more rudeness from Trump toward Mexican President Pena Nieto: "'You have a bunch of bad hombres down there,' Trump told Pena Nieto. 'You aren't doing enough to stop them. I think your military is scared. Our military isn't, so I just might send them down to take care of it.'"
Fired acting Attorney General Sally Yates for refusing to defend the travel ban.
A statement from the White House said, "[Yates] has betrayed the Department of Justice." Yates was replaced with Dana Boente, U.S. attorney for the Eastern District of Virginia.
Made a Black History Month statement that seemed to suggest he did not know whether Frederick Douglass is dead or alive.
"Frederick Douglass is an example of somebody who's done an amazing job and is getting recognized more and more, I notice," the president said. (Frederick Douglass died in 1895.)
Declared Iran "on notice" over ballistic missile test.
while Russia escalates violence in Ukraine, Trump WH puts Iran on notice.

— Eric Boehlert (@EricBoehlert) February 1, 2017
Approved a Navy SEAL raid in Yemen, reportedly resulting in the deaths of up to 23 civilians.
Bragged about his "tremendous success on The Apprentice" at the National Prayer Breakfast.
And put Arnold Schwarzenegger, the show's new host, on blast.
Signed executive orders scaling back regulations on Wall Street.
Trump is dismantling Dodd-Frank, which regulated banks and Wall St. after the 2008 financial crisis. So...no oversight. What could go wrong?

— George Takei (@GeorgeTakei) February 4, 2017
Trump plans to undo the Dodd-Frank Wall Street Reform and Consumer Protection Act. According to the Wall Street Journal, "Mr. Trump also plans another executive action aimed at rolling back a controversial regulation scheduled to take effect in April that critics have said would upend the retirement-account advisory business."
Planned to make "Islamic extremism" the sole focus of the F.B.I.'s counter-terrorism program.
Ordered the U.S.D.A. to remove animal welfare and horse protection information from the White House Website.
Including information about puppy mills, zoos, and animal research facilities. The White House stated: "Those seeking information from A.P.H.I.S. regarding inspection reports, regulatory correspondence, and enforcement records should submit Freedom of Information Act (F.O.I.A.) requests for that information."
Why??