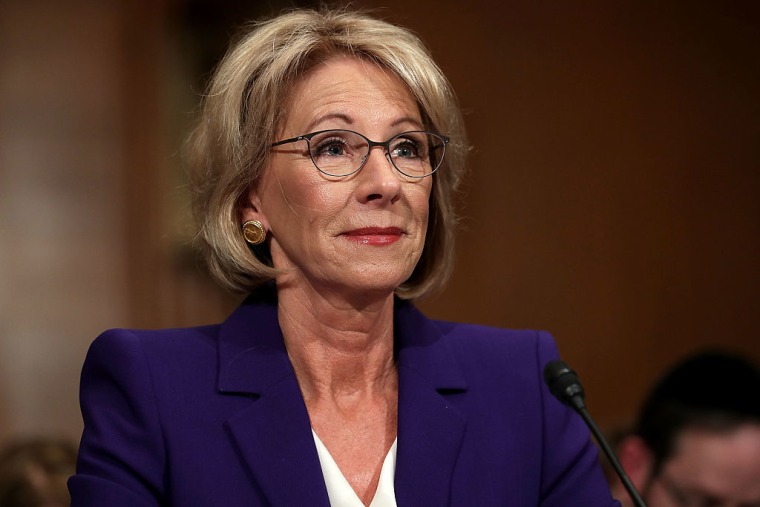 The Senate confirmed Betsy DeVos as education secretary on Tuesday, following a historic vote from Vice President Mike Pence to break a 50-50 tie, BuzzFeed News reports. It is the first time a vice president has voted to break a tie for a cabinet nominee and the first time that an education secretary has ever been confirmed without bipartisan support.
Starting on Monday, Senate Democrats held the floor for 24 hours to protest DeVos, who has drawn staunch opposition over her support of charter schools and school choice, her inexperience, and her conflicts of interest. No Democrats voted to confirm DeVos, and two Senate Republicans also voted against her confirmation.
Republican Senators Susan Collins and Lisa Murkowski both said they voted no on Tuesday in part due to the high volume of calls to their offices opposing DeVos's confirmation. Over the last week, calls from constituents who opposed the nomination nearly doubled the "busiest day in Capitol switchboard history," according to Senator Brian Schatz, a Democrat from Hawaii.
DeVos, a billionaire education philanthropist and Republican megadonor, has strongly supported charters schools and voucher systems that allow students to use taxpayer money to pay for private, religious, and for-profit schools. In 2015, the Dick and Betsy DeVos Family Foundation gave out more than $10 million to a wide range of charter school companies, school choice advocates, Christian-related education groups, and conservative think tanks.