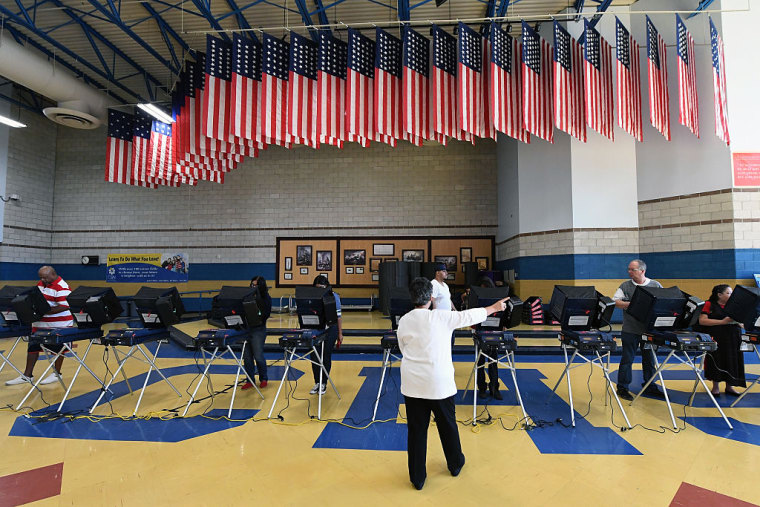 While the confirmation of Betsy DeVos as Secretary of Education got the headlines, another consequential vote spearheaded by the Republican Party took place today: the House voted to kill the Election Assistance Commission, a federal agency that helps run elections and is the only branch tasked with preventing electronic voting machines from being hacked.
The Nation reports that 38 activist groups were strongly opposed to the bill, which passed today in a 6-3 vote on Tuesday by the House Administration Committee. "The EAC is the only federal agency which has as its central mission the improvement of election administration, and it undertakes essential activities that no other institution is equipped to address," wrote the Brennan Center for Justice.
"At a time when the vast majority of the country's voting machines are outdated and in need of replacement, and after an election in which foreign criminals already tried to hack state voter registration systems, eliminating the EAC poses a risky and irresponsible threat to our election infrastructure," said Wendy Weiser, democracy program director at the Brennan Center for Justice, reports ABC News.
The EAC was founded after the fallout from the 2000 presidential election. In 2015, the Brennan Center found that voting machines in 43 states were old enough to run the risk of crashes and related failures. This will lead to "long lines and lost votes on Election Day," according to the report.
Vice President Mike Pence was recently charged by President Donald Trump to lead his task force on "voter fraud," a widely overstated problem some believe is harnessed for political purposes to suppress votes. Trump, who won the election while losing the popular vote by the largest margin in American history, has explained this by saying at least three million people voted illegally.