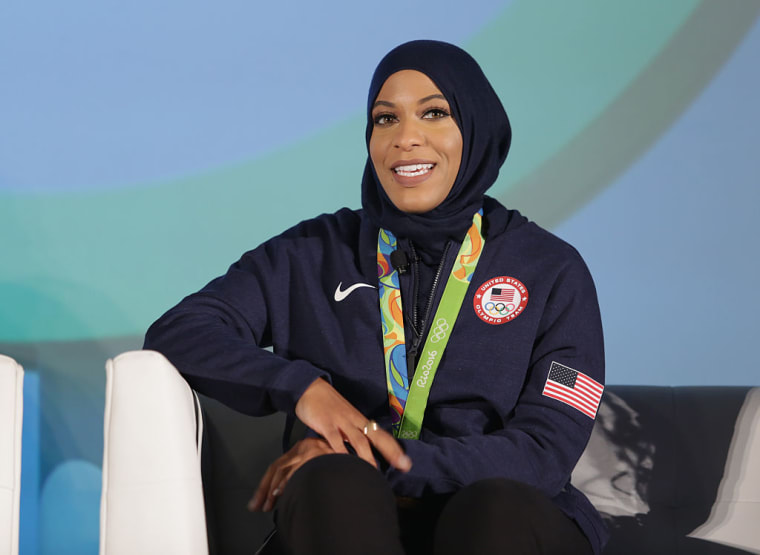 Ibtihaj Muhammad, who won a bronze medal for fencing at the 2016 Rio Olympics, has recalled an incident "just a few weeks ago" in which she was held by U.S. customs for two hours. Muhammad, who is a Muslim and the first American athlete to compete in an Olympics wearing a hijab, spoke about her experience after a speaking engagement at the Makers Conference in California on February 7.
"I don't know why," she told Popsugar explaining that she was unsure if Donald Trump's executive order played a role in what happened. "I can't tell you why it happened to me, but I know that I'm Muslim. I have an Arabic name. And even though I represent Team U.S.A. and I have that Olympic hardware, it doesn't change how you look and how people perceive you."
"My human response is to cry because I was so sad and upset and disheartened, and just disappointed," she added. "At the same time, I'm one of those people who feels like I have to be strong for those people who may not be able to find that strength. I feel like I have to speak up for those people whose voices go unheard.
"It was a really hard two hours, but at the same time, I made it home. I try to remember to be positive and to try to leave all these situations, even if they may be very difficult, with love. I think that we will come out on top as women, as people of color, as Muslims, as transgender people, as people who are part of the disabled community— I think that we'll come out on top."