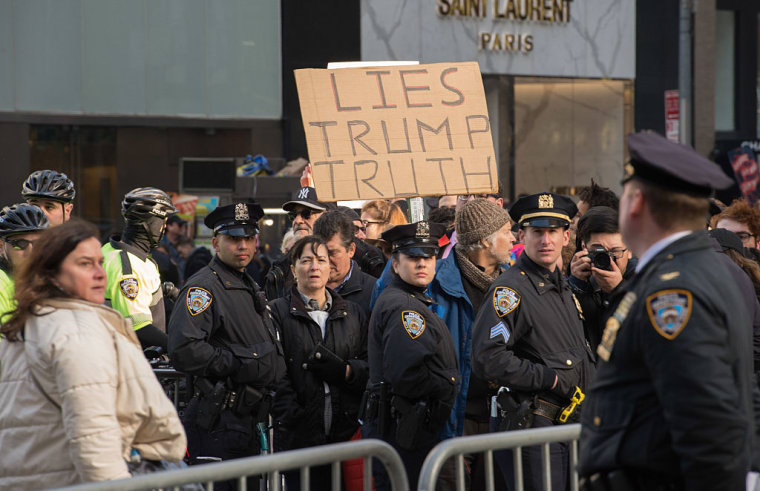 President Donald Trump signed three new executive orders on Wednesday aimed at "public safety." "I am directing the Department of Justice to reduce crimes and crimes of violence against law enforcement officers," he said at the signing ceremony, citing "rising crime" as a motivation for the new orders.
The orders also call for a task force to reduce violent crime, and for the Department of Homeland Security to "break the back of criminal cartels."
"It's a shame, what has been happening to our great, our truly great, law enforcement officers. That is going to stop today," Trump said.
Jeff Sessions was sworn in as Attorney General at the same ceremony, after his nomination passed Congress on Wednesday (and was subsequently celebrated by white nationalist leader David Duke). Sessions was previously nominated to serve as a federal judge by President Ronald Reagan in 1986, but his nomination was torpedoed by allegations of racism.
Sessions said that America "has a crime problem... I wish the rise that we're seeing in crime in America today were some sort of aberration or a blip... My best judgement, having been involved in criminal law enforcement for many years is that this is a dangerous, permanent trend that puts the health and safety of America at risk."
The claims put forward by Trump and Sessions, however, are not true. According to a recent report, criminal activity has taken a downturn. As The Independent notes, the F.B.I. has found a significant decline in the rate of violent crime in recent years.
Sessions added that the "lawlessness" of the country's immigration system "that threatens the public safety [and] pulls down the wages of working Americans."
"I think the American people believe that we need a lawful system of immigration, one that serves the people of the United States," he said.
Sessions is widely viewed as one of the architects of Trump's executive order banning immigration and travel from seven Muslim-majority countries.
Update (2/9 2:23 p.m.): The Guardian's Jon Swaine has pointed to a specific clause in the order titled "Presidential Executive Order on Preventing Violence Against Federal, State, Tribal, and Local Law Enforcement Officers." Read the order in full here.