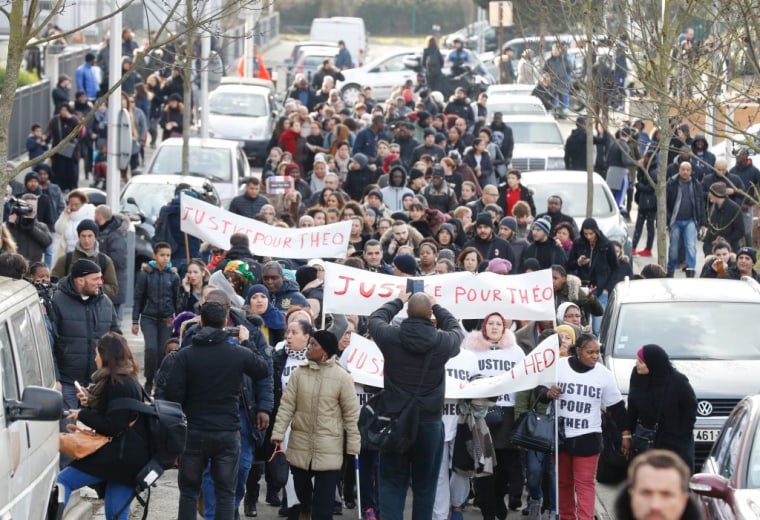 Dozens of people have been arrested in Paris amid protests against the police in the French capital. The protests began after a police officer was charged with raping a young black man from the city with an expandable police baton during an arrest.
Clashes on housing estates in the north of Paris began last weekend and have put a spotlight on police brutality in France. The victim of the alleged rape is a 22-year-old known only as Théo. The unnamed police officer has been charged with anally raping Théo during an arrest after identity checks on a police patrol during the first week of February. The Guardian reports that Théo required major surgery following the attack and may not recover physically for three months.
In addition to the officer charged with rape, three other officers have been charged with assault. All four men deny the charges and have been suspended from duty.
Protests against the police have taken place across Paris since the story came to light. A series of clashes between the public and police in the Aulnay-sous-Bois area of Paris were ended following a televised appeal for calm from Théo. With French president, François Hollande, by his bed Théo urged the people of his neighbourhood to "stay united."
This black man says a French cop raped him. But Théo has a message of peace and hope that he wants to share. #JusticePourTheo pic.twitter.com/MM44EoWExh

— AJ+ (@ajplus) February 8, 2017
There were 26 arrests made on Wednesday, February 8, in the Seine-Saint-Denis area of Paris. Meanwhile, 17 people were arrested in Aulnay-sous-Bois on Tuesday night, after protesters set fire to garbage bins and vehicles.
The day before, on Monday February 6, hundreds of peaceful protesters marched in the same northern suburb that Théo calls home. Demonstrators (pictured above) carried banners reading "Justice for Théo."