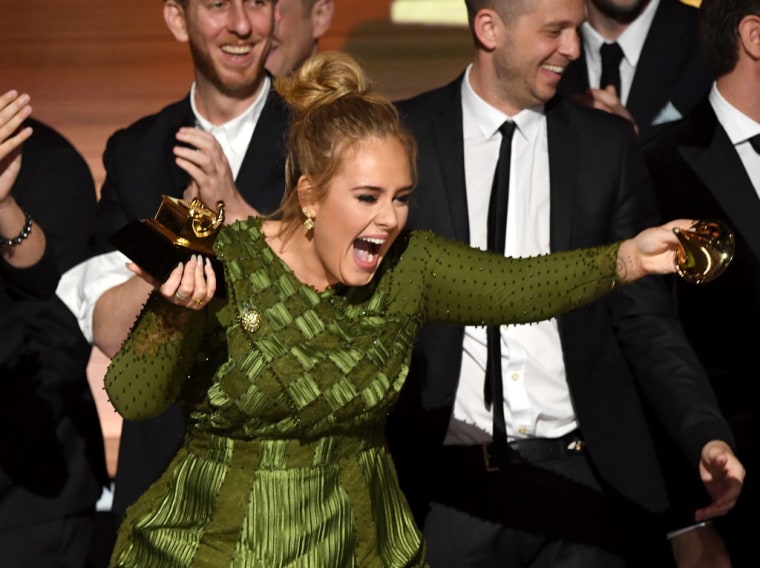 There's no doubting that Adele felt Beyoncé should have won Album Of The Year at The Grammys last night. During her tearful acceptance speech the British singer called Beyoncé "the artist of my life" and described Lemonade as "so monumental." The speech concluded with Adele having broken the Grammy itself in half. It's unclear whether this was by accident or on purpose. The break was not caught by the TV cameras and appears to have come after the speech ended.
Fans on the internet immediately suggested that Adele was sharing her award with her idol. Others pointed to the similarity between this and the scene in Mean Girls where Lindsay Lohan's character Cady Heron is voted prom queen and breaks her winner's tiara to share with the rest of the students.
Adele is really THAT bitch. She broke the fucking Grammy to share with Beyoncé. pic.twitter.com/jUM00qWS4K

— nañi (@pettyblackgirI) February 13, 2017
adele pulled a cady heron pic.twitter.com/d4OO7sHtg3

— kiana (@kianallama) February 13, 2017
ADELE BROKE HER ALBUM OF THE YEAR GRAMMY IN HALF TO GIVE PART OF IT TO BEYONCÉ. I LOVE HER SO MUCH #GRAMMYs pic.twitter.com/tf6Yn630BQ

— SHOOK (@adkinsupdates) February 13, 2017
Adele: *pulls a Cady Heron and breaks a Grammy*
Me: pic.twitter.com/PEmxRDV2z7

— Evan Mays (@evan___mays) February 13, 2017
It's unclear whether Adele was gesturing towards Beyoncé or not with the broken award. A YouTube clip shared by The Grammys organizers shows Adele arriving to speak to the press with both parts of the broken award in her hand. She then hands them to a man who gives her a substitute trophy for the pictures.
Later on Adele posed for pictures with all five of the Grammys she won on the night with every one in immaculate condition.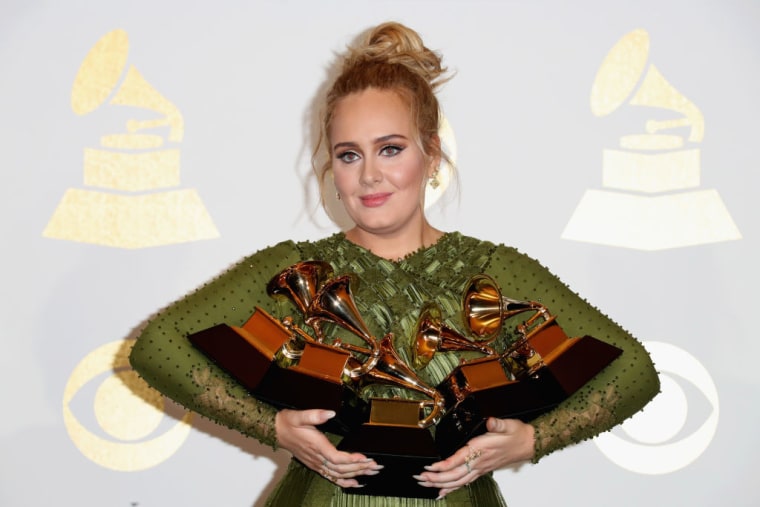 It was during her backstage interviews that Adele continued her comments on the Album of the Year award. "I felt like it was her time to win," the singer said, according to New York Times writer Ben Sisario. "What the fuck does she have to do to win album of the year?" Adele was the biggest winner on the night, taking home awards for Record of the Year, Song of the Year, Best Pop Vocal Album, Pop Solo Performance, and Album Of The Year.