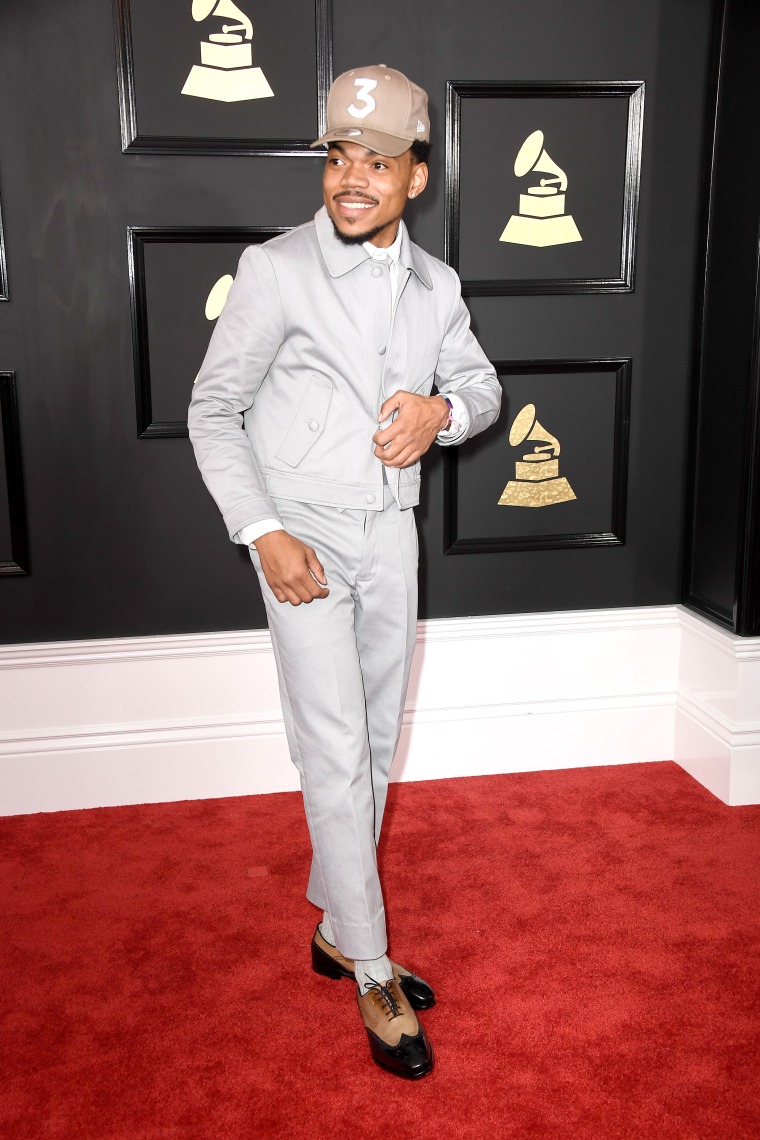 Chance The Rapper is consistently the best dressed guy at awards shows, because he keeps it so real. While most of his male artist peers scrub up in predictable designer tuxedos for the red carpet, Chance always sticks to the style trademarks that he knows work for him: overalls, or boxy jackets with skinny pants. And his "3" New Era cap, duh.
For the Grammys red carpet, and to collect his three awards of the evening — Best Rap Album, Best Rap Performance, and Best New Artist — Lil Chano wore a slim-fit denim suit with a boxy jacket that grazed his hipbone. He paired the pale blue two-piece with a tie in the same color, a crisp white shirt, and a khaki "3" hat. It was a custom look by Thom Browne, a New York designer who's known for his short, shrunken twist on tailoring. Not everyone can pull off Browne's suiting, but on Chance it looked effortless. (For his performance of "How Great" and "All We Got," he wore the same patterned sweater that he rocks in the Coloring Book cover art.)
In an interview with Vogue.com, Chance's stylist Whitney Middleton said that the intent was to put a cool twist on traditional formalwear. She and Chance chose an unconventional fabric and shape, for a "playful spirit to capture that vibe." Middleton also explained that the look was a "casual take on the shape of suiting without sacrificing the precision."
Watch Chance The Rapper's 2017 Grammy performance here, and his acceptance speech for Best New Artist here.