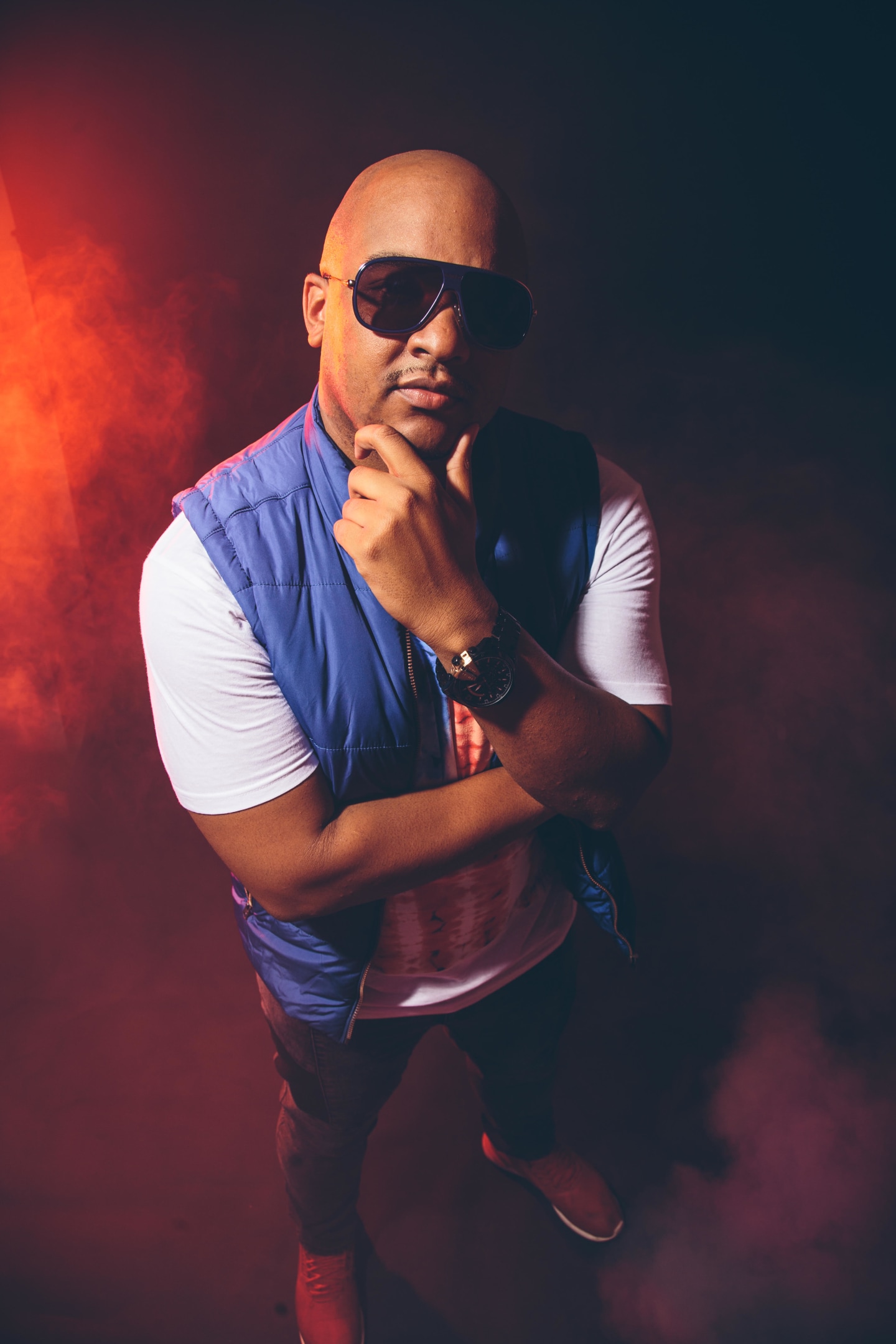 In 2006, a young student named Ryan Alexander uploaded a mix of soca tunes to Facebook from his dorm room in Miami, Florida. Today, the 33-year-old is known as Private Ryan to the global soca community and 80,000-plus followers who faithfully stalk his SoundCloud page. "I started the mixes as a sort of forum for Caribbean people who felt disconnected from back home," he told me in one of numerous phone calls and WhatsApp voice notes that made up our interview. Private Ryan, it turns out, is surprisingly talkative. IRL at his perennially sold-out events, which have taken place in Trinidad, Miami, Barbados, and New York, he rarely touches the microphone. Instead he brings on a rotating cast of MCs, like Major Lazer's Walshy Fire and legendary N.Y.C. soca DJ Back2Basics, to anchor his headlining sets. But on the phone, it's immediately clear that Ryan has been wholly intentional in how he's honed his DJ craft and turned a dorm-room mix into the world's biggest soca festival.

In the soca market, artists release an endless stream of new music from shortly before Christmas all the through to the pre-Lenten festival in February. Every season, Private Ryan's keen ear cuts through the fat to showcase the very best jams in his tastemaking mixes. And he's meticulous with it. On his SoundCloud page, he uploads quickie mixes each week of whatever he's been listening to, ranging from dancehall and soca to AfroBeat or pop. Then, for each major international Carnival, he shares longer, two-hour-plus mixes, the biggest of which he's branded "Soca Brainwash." Released in the final weeks before Trinidad Carnival, Ryan's Soca Brainwash mix has, in the 10 years of its existence, become the go-to mix for getting up to speed for the Carnival season.

Then in 2014 Private Ryan evolved his marquee sound and Soca Brainwash brand into the premiere festival of Trinidad Carnival. Unlike most parties during Carnival that are packed with live performances by artists like Machel Montano, Bunji Garlin, or Destra, Ryan's party is headlined by an international cast of DJs and MCs — and it's quickly become the hardest ticket to cop. Right now, as you read this, would-be attendees are paying steep mark-ups on tickets in the booming scalpers market. With Trinidad's marathon run of BYOB cooler fetes, musician-studded concerts stacked with performers, and sunrise breakfast parties, rising above the fray was no easy feat.

The FADER spoke with Private Ryan as he prepped for the debut of the 2017 Soca Brainwash mix to find out how he made the transition from college scene DJ to an international festival entrepreneur.
During the Carnival season, you're playing a slew of fêtes, headlining your own events — Soca Brainwash and Post Carnival Relief — DJ-ing J'ouvert Morning, as well as Monday and Tuesday on the road for the procession of the bands. How do you keep your sets fresh?

How I approach Carnival changes based on the length of the season, which is different every year because Carnival is determined by Ash Wednesday. In the beginning of the season, my set consists of 90-95% new music because people really have to get accustomed to it. I try to rotate those new songs as much as possible to get audiences attuned to what artists are releasing. It's a lot of new music coming out. You can have like five to seven weeks where you have to learn more than 200 songs. As the season progress and people get into to the new music, then I start incorporating some of the older songs for variety.

By the time the Soca Brainwash mix comes around, I have a bunch of different edits, acapellas and mixes. The way I put together my live show is totally different from the way that I play other sets prior to Soca Brainwash. Every weekend I play around with different mixes to see how my MC and I can work together and introduce the music in new ways. It's one genre of music that you're playing for a couple of weeks. The audience will be going to tons of parties so you don't want your set to feel repetitive.

How did you first get started in DJing?

I've been DJing since I was young, like five or six years old. My father had a vast record collection, so I used to listen to him play music in the house. I was always fascinated with putting music together; how one sound mixes with another. When I was eight years old, we had a record player that played the radio as well. I used to try to match the songs on the radio with some of the records that my father had. Those were my first attempts at making mixes, so I understood the concept from very young. It evolved overtime. By 16, I was playing in clubs professionally.

When did you start putting mixes online?

I started when I was in Florida at school at Florida International University. I started the mixes as a sort of forum for Caribbean people who felt disconnected from home back in 2006. Online radio wasn't as popular back then, so they didn't have access to new dancehall and soca that was coming out.

How did playing in Miami during undergrad affect your DJ style?

DJing in Miami was pretty eye-opening. When I moved there, the city put me in another zone, because I literally had the world as an audience. There were so many different groups there that I couldn't stay in the little box of Trinidadian music. I got exposed to Haitian music and a lot of Southern rap that you would never hear anywhere else. I'd head to South Beach and there was an EDM scene, which was before EDM went mainstream. I became really good friends with Walshy Fire around that time. We'd go to Mansion and Opium and bigger clubs. It was very enriching because it made me more versatile.
"The most important lesson that I learned from the first Soca Brainwash fête was to never be afraid to try. You have to be fearless if you have a vision."
How important is the first song on a Soca Brainwash mix?

The first song on a Soca Brainwash is always strategic. I give it a lot of thought. It might not necessarily be the biggest song at the time, but it could be a song that I think will get bigger, one that I think people should pay attention to, or it can be a twist on an existing song — a version that has my name it.

Have you ever regretted making a song the first on a mix?

No I've never regretted it. I generally don't have regrets about what I do because I know I would've given it thought. A lot of people seem to accept my picks because those songs go on to be memorable favorites.

At what point did you realized that you could take Soca Brainwash from a mix to a standalone event?

I understood that people look forward to the Soca Brainwash mix before Carnival. So I wanted to create an experience that goes hand-in-hand with the mix: a festival-themed event headlined by DJs from around the world that were representing soca music.

The first year in 2013 was when I started thinking I really wanna do this. I chose a day when there was nothing going on — daytime on Carnival Saturday, which was very unorthodox. Saturday is the day when foreigners are picking up their costumes, the ladies are getting their spray tans done — the last day to run around before the start of J'ouvert. It was a day that no promoter wanted to take because they thought that patrons would not come out to party. There were people who tried to deter me from doing it, who said that I should change the time. The most important lesson that I learned from the first Soca Brainwash fête was to never be afraid to try. You have to be fearless if you have a vision. There were a lot of naysayers in the beginning. This is the fourth year of Soca Brainwash. I'm glad I stuck to my guns. It's one of the best decisions I made.
How was it making the transition from being a DJ to major event producer?

This transition was pretty interesting because it's two different sciences at play: creativity in music and creativity in experiences. You have to have a holistic view of an experience for a patron: it's about the services, the ticket, the production, the decor, the screen projections, and staff management. It is a lot of fun for me, because I get to conceptualize ideas and channel my creativity into something other than music. It's a new journey. Since I throw this party globally, I have to reinvent the event each time. So wherever it is it's always a new challenge. That keeps it exciting.

When you announce the ticket date — before you even drop the tickets — the soca internet already starts making the memes. You essentially go from the most-loved to the most-hated DJ in a matter of hours.

In one day! Yes, yes, it happens! [Laughs] They love me before the tickets and they hate me after. The thing is, customers think that these are regular websites. But these are ticket sites that are used to high-traffic sales. On the three occasions that I used a site that wasn't Eventbrite, they sites said they'd never seen anything like that before. Even when I did Governor's Island in N.Y.C., I was told that in the history of the site, they'd never seen so many people trying to buy tickets at the same time. When we launched Trinidad, just to put it in perspective, there were 17,000 people that literally tried to buy tickets exactly at 10 a.m. when the tickets were launched.

The overwhelming response often crashes ticket sites every time. So many people complain when they try but fail to purchase tickets when they first come out. Right now, people are online paying crazy prices in the resale market.

I don't like it. I actually don't like the fact that people are paying twice or three-times the price of the event. When we're planning the event, we always keep the patron in mind. So we price it in a way that, yes, we can give this experience, but we're making sure that it's affordable, and that you're getting good value for your money. I feel guilty that there are people who are paying three times the original price. These are my fans who want to support and be a part of Soca Brainwash. So, I do feel that, but there's nothing I can do about it. Having more guests would compromise the quality of the event that we can produce. It's the quality of the event that I really want to maintain every time.