Milo Yiannopoulos Has Lost His Book Deal Following Child Abuse Comments
Simon & Schuster have pulled the Breitbart employee's autobiography, Dangerous.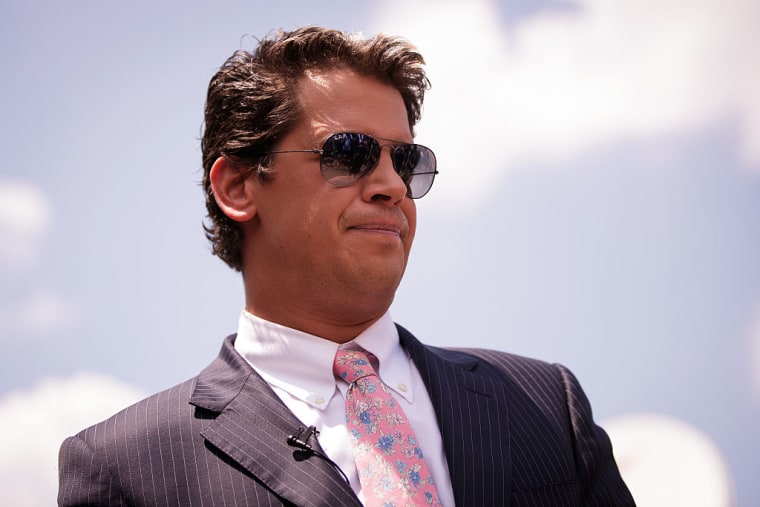 A Milo Yiannopoulos autobiography has been pulled by publishers Simon & Schuster.
A statement from the publisher released on February 20 reads: "After careful consideration, Simon & Schuster and its Threshold Editions imprint have canceled publication of Dangerous by Milo Yiannopoulos."
Yiannopoulos confirmed the news via Facebook, writing: "They canceled my book."
Simon & Schuster's decision follows historic comments made by Yiannopoulos, a Breitbart editor, in which he appeared to endorse sex between "younger boys" and older men. The comments were made during a 2016 livestream and resurfaced in an edited video shared following Yiannopoulos's appearance on Real Time on February 17.
Here is the uncut 5 minute video of Milo Yiannopoulos advocating for Pederasty involving "13 Year old" and "older men." HIS WORDS.@Mschlapp pic.twitter.com/mAgmfpuyvu

— The Reagan Battalion (@ReaganBattalion) February 20, 2017
In addition to losing the Simon & Schuster deal, Yiannopoulos also had a high-profile speaking engagement canceled on Monday. As The Guardian reports, The American Conservative Union pulled its invitation to speak at its annual CPac conference this week over the "offensive video … condoning paedophilia".
"@ACUConservative has decided to rescind the invitation of Milo Yiannopoulos to speak at #CPAC2017." pic.twitter.com/sVWGnPCW7C

— Matt Schlapp (@mschlapp) February 20, 2017
Dangerous was due for a June release after being secured for a reported advance of $250,000. It was to be published by Simon & Schuster's conservative imprint, Threshold Editions.
Yiannopoulous has announced plans to hold a press conference in New York on Tuesday afternoon.