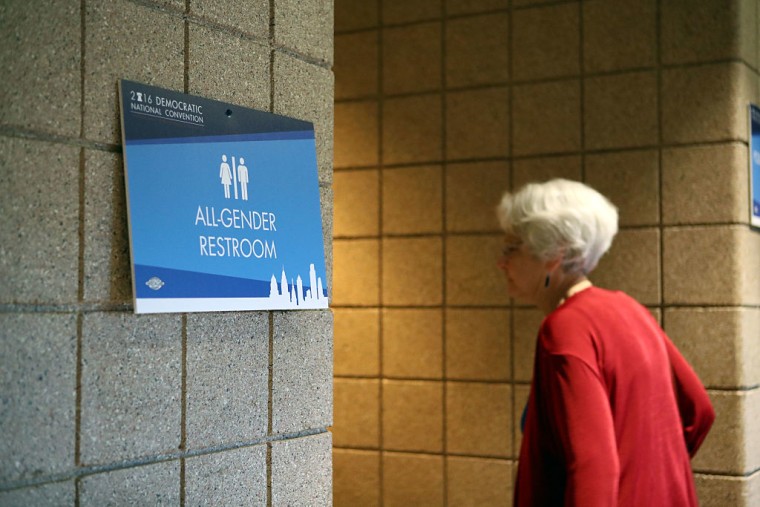 The Trump administration is planning to reverse directives given last year by the Obama administration to protect the rights of transgender students around the country, according to a draft document obtained by Reuters. The landmark guidelines instructed public schools to allow transgender students to use the bathrooms that matched their gender identity. Though subject to change, the reversal could be issued as early as Wednesday.
According to the draft document, the Trump administration cites ongoing legal cases that could challenge Obama's interpretation that Title IX protects gender identity, as well as confusion over the Obama directives, as the reason for the reversal.
"In these circumstances, OCR (the Education Department's civil rights office) and DOJ have decided to withdraw and rescind the above-referenced guidance documents in order to further consider the legal issues involved," the document said. Under the new guidelines, public schools could set their own rules about gendered bathrooms without losing federal funds.
The draft of the order, which must come from the Justice and Education Departments, has caused some disagreement in the White House, The New York Times reports.
Attorney General Jeff Sessions, who has strongly opposed the expansion of LGBTQ rights, is in favor of the order, while security of education Betsy DeVos was resistant to signing, sources told The New York Times. The draft includes language intended to protect transgender students against bullying, which DeVos asked be included, a source said.
Update - 2/22 8:28 p.m. EST: The Trump administration has, as expected, done away with federal directives protecting the rights of transgender students, according to The Washington Post. The aforementioned DOJ letter, instructing public schools to disregard previous letters from the Obama administration, will be circulated at public schools nationwide. The letter includes no additional instruction.
The decision follows what the Post refers to as "stalemates" between the DOJ and the Department of Education in regards to "timing and language." That appears to have been resolved, as DeVos is quoted in a statement as saying the issue is "best solved at the state and local level." DeVos did however claim that the DOE's Office for Civil Rights "remains committed to investigating all claims of discrimination, bullying and harassment against those who are most vulnerable in our schools."
Read the full story here.