Just two years ago, Lucius Bonner, better known as Swag Hollywood, was living in his hometown of Sarasota, Florida, washing dishes and working at Finish Line to fund his music career, "Nobody really got home studios like that. I paid like fifty dollars an hour — that shit got expensive."
Despite the costs and less-than-ideal work situation, Swag persevered, grinding and putting money into studio time. He eventually released "Swoolin With The Loot" in 2015, getting the attention of A&R Noah Zark, who motivated him to relocate to Atlanta to make music full-time. Since then, he's honed his melodic rap-sing through a flurry of fantastic, feel-good anthems like "You Ain't Got It" and "Monday,"and Swoolin Souf, a joint mixtape with producer Richie Souf that premiered today on The FADER.
On a recent trip to New York, Swag stopped by The FADER office to tell us a little bit about himself, how his friendships with UnoTheActivist, ThouxanbanFauni, and Lil Yachty came to be, and the moment he realized a career in music was a real possibility.
---
Why'd you decide to leave your hometown of Sarasota, Florida for Atlanta?
SWAG HOLLYWOOD: It's a small city, everybody does the same thing, but it's a lovely city. We've got the number one beach, you know? I take pride in that. I loved the crib, but Florida, especially where I'm from, is different. They're not gonna support the locals, so you don't get that love at shows. The only shows you're gonna do are when you're opening for someone that's "famous," but people are only going to the show to see that person. It's not love there. But Atlanta — the first time I did a show there, for A3C, it was lit.
Was there a specific moment that sparked your move?
I always wanted to move to Atlanta. I was always listening to Atlanta music. I grew up on Travis Porter, you feel me? That's why I started rapping. Travis Porter. Rich Kidz. When Dro had the "Shoulder Lean" — I was listening to everything. But, when I got older, I kept realizing that the music scene [in Sarasota] wasn't that big. What really made me move [to Atlanta] was when this dude Noah Zark hit me up on Twitter. I had that song called "Swoolin With the Loot" — he liked the song, and was like, "I'm gonna make it pop in Atlanta." That same day, he had reposted "Swoolin With the Loot," and I guess you could say my lil' song was poppin' in the underground scene. Then I told myself I had two months [to move to Atlanta].
What were you doing in Sarasota at that time? Were you working, or trying to make music?
Shit... I was fuckin' working at a damn Lee Roy Selmon's. I was a dish washer. That's where I met my manager, he was a server. I was in the back throwing him dishes. And I worked at Finish Line. I was making music, though; that's all I do. But it was harder in Florida 'cause you gotta pay for studio time. Nobody really got home studios like that. I paid like fifty dollars an hour — that shit got expensive. I was on that Florida wave, just making music, and never really droppin' shit.
What was your transition period like once you got to Atlanta? Was it easy to get your foot in the door?
I already knew Uno [The Activist], and of [Thouxanban]Fauni. That's my boys, I just make music with them. My cousin, Shareef Grady — he skates, he's fire. He introduced me to K-Naan — that's how I made "Swoolin With the Loot" — and then, I'll never forget this, he was like, "You know Playboi Carti?" I was like, "Nah." He was like, "You know Uno?" and I was like... "Nah." He was like, "Oh. You wanna do a song with one of them?" And I was like, "Yeah, I'll do a song." I'm on my cocky shit, like I'm somebody, but I'm not nobody. I'm like, "I'll do a song, but one of them's gotta send me their songs," so he sent me Carti and Uno's [tracks]. Uno's shit was jammin', so I was like, "I wanna do a song with Uno."
After that, me and Uno started to send each other songs — not to do, but just to listen to. When I moved to the A, he was the first person, artist-wise, that I actually knew I'd pull up on. Uno plugged me into this house — we call it the "Trap Mansion" — that had the greatest studio and the greatest kids that I ever met. They all rap. They've got this studio, and that's where we all made all of our fire songs that are out right now, and still do. That house was also where I met Fauni, 'cause he used to stay there, too, and we just started making songs everyday.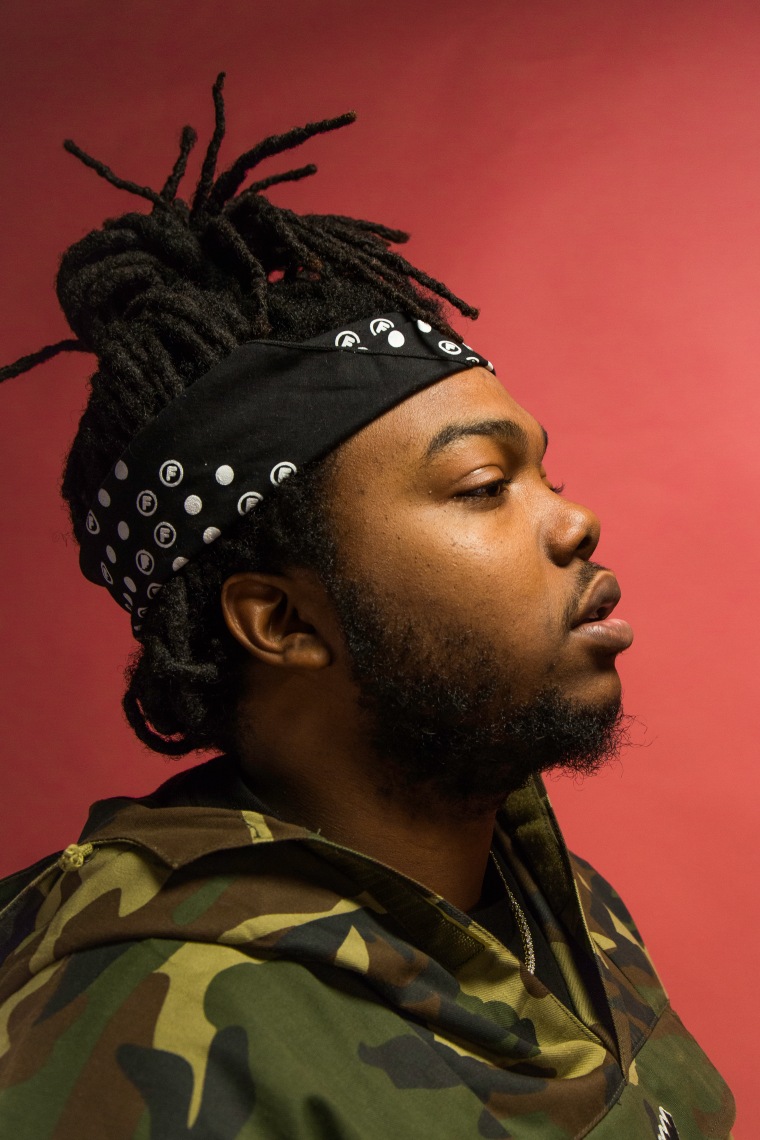 Production-wise, you seem to work consistently with some of the same people. Namely K-Naan and Richie Souf. Why was it important for you to solidify those relationships?
I met K-Naan through my cousin. He was just a lil' jit [when we first met], like, 15, 16. He's in college now. I always knew of Richie because he made the hits, so I'd always wanted to make a song with him. I did a song with Rome [Fortune], and I was like, "You got some Richie Souf beats?" He's like "Yeah." I was like "Cool, damn, we gonna do it on that." So I sneaked my way onto that and sent it to him. Then, one day he sent me a beat. I was like, "bruh, I don't like it." But I knew he was fire, so I was like, "send me something that I can do." He sent me this wonderful little beat that was "Li Moe," and some others [for Swoolin Souf].
We clicked. He was always telling everybody that he actually wanted to build an artist-producer type relationship, and that's what we're doing. You don't ever see a producer and artist flying out together. You know what I'm saying?
You have a song, "Blue Hundreds" with Lil Yachty. How'd your relationship with him come about?
[Lil] Yachty is the fyest person I know. I met Yachty in 2015, the second week after I'd moved to Atlanta. I was with [Kevin] Pollàri, I pulled up to his crib. This was when Yachty was just Yachty — the one with the red hair. He was like, "Yeah I got an Uber." This XL Uber pulls up and all four of us get in and go to the mall, but we don't go in the mall. He's like, "Let's go record." Him and Pollàri were gonna do a song, so we took a Uber to like, 50 minutes away. You know how much that costs, so it was like, "Man, who payin' for this?" So we get to the house. The Uber's still outside, waiting for us. Running up. We stayed there for like an hour, him and Pollàri made a song, we got back in the Uber, and drove all the way back to Atlanta. Then he's like, "We're going to a function." In the same Uber! So, now I'm like, the only thing I'm thinking about is, "Who's paying for this?" He's like, "I got it." And I was like, "Man, you're the fye-est man I know."
Music-wise, while [Yachty and Pollari] did that song, I was like, "He's raw." So I made a song called "Li Gangsta" with him — I made the song and sent it to him, and he did his verse and sent it right back. We dropped it, and it went crazy. Now he's on the "Li Moe" remix.
You had a pretty eventful 2016. What was the big moment when you realized, "Damn, this is all paying off" ?
I'm weird, I just go with everything gradually. But if I were to say, I think it was when I went to L.A. for my birthday. I did a show in a warehouse, and it was my second show [ever], and really my second time going to L.A. The show had like 300 kids there, and they all knew my words! That was the defining moment for me. I was like, "Alright, I got fans, I'm finna really do this." In the middle of the show, I was like — "this is crazy!" Like, I could turn the music off, and they were saying the words. The speakers were all messed up, but [the crowd] was even louder than the speakers.
After releasing Swoolin Souf, what's your plan for the rest of the year?
I'm just gonna stay focused on the goal: getting a platinum record.