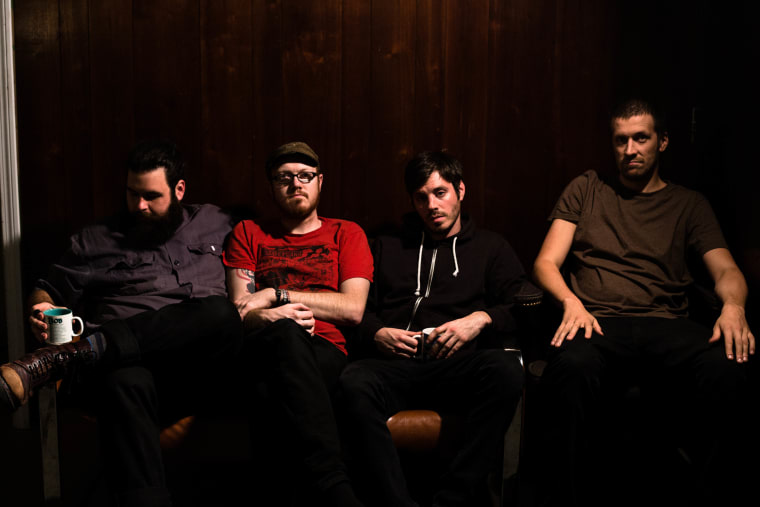 One of my favorite EPs in recent memory is called Steve Hears Pile in Malden and Bursts into Tears, by the now-defunct band Krill. "Did you hear the latest Pile album?/ Not a stinker on it," goes the title track. If Krill is down, then so am I, and that's how I got into Pile.
Pile started as the solo act of lead singer Rick Maguire (who sometimes plays as Rick From Pile). Now a four-piece post-punk band, Pile is releasing its fifth album A Hairshirt of Purpose March 31. "Leaning On A Wheel," the record's third single, throws somber bass lines against sweet and catchy melodies, while Maguire's clear voice gets to self-deprecating: "Getting in our own way/ And blaming traffic/ And a shitty plan."
"I guess it's about the arrogance and self-righteousness of ideas that people espouse to meet their own needs, usually in the face of logic and often at the expense of others," Maguire told The FADER over email. "I don't know if it's about me or other people, but realistically it's probably about both." It's boundless and catchy, and I can't wait until the rest of the record's out. Listen below.
Pile Tour Dates:
3/14 - New Orleans, LA @ Breezy's (solo)
3/16 - Austin, TX @ The Velveeta Room ^
3/20 - Little Rock, AR @ Pine St (solo)
4/2 - Cambridge, MA @ The Sinclair *
4/6 - Brooklyn, NY @ Baby's All Right *
4/7 - Brooklyn, NY @ Sunnyvale *
4/12 - Philadelphia, PA @ First Unitarian Church *
4/13 - Washington, DC @ DC9 *
4/14 - Durham, NC @ Duke Coffeehouse *
4/15 - Asheville, NC @ The Mothlight *
4/16 - Nashville, TN @ Third Man Records *
4/17 - Atlanta, GA @ The Masquerade (Purgatory) *
4/18 - Birmingham, AL @ The Syndicate Lounge *
4/19 - Tallahassee, FL @ Club Downunder (Florida State University) *
4/20 - New Orleans, LA @ Gasa Gasa *
4/21 - Houston, TX @ The Satellite Bar *
4/22 - Austin, TX @ Sidewinder *
4/23 - Dallas, TX @ Three Links *
4/26 - Phoenix, AZ @ The Rebel Lounge *
4/27 - San Diego, CA @ Soda Bar *
4/28 - Los Angeles, CA @ The Echo *
4/30 - San Francisco, CA @ Rickshaw Stop *
5/2 - Portland, OR @ Mississippi Studios *
5/3 - Seattle, WA @ The Black Lodge *
5/5 - Salt Lake City, UT @ The Loading Dock *
5/6 - Denver, CO @ Lost Lake Lounge *
5/7 - Omaha, NE @ River City Star *
5/9 - Minneapolis, MN @ 7th St. Entry *
5/10 - Milwaukee, WI @ Cactus Club *
5/11 - Chicago, IL @ Subterranean *
5/12 - Detroit, MI @ Marble Bar *
5/13 - Lakewood, OH @ Mahall's *
5/14 - Rochester, NY @ Bug Jar *
5/26 - Hamburg, DE @ TBA
5/27 - Copenhagen, DK @ Underwerket
5/28 - Berlin, DE @ TBA
5/29 - Warsaw, PL @ Chmury
5/30 - Zagreb, HR @ Mochvara
5/31 - Belgrade, RS @ MKC Kombinat
^ Rick Maguire solo @ Exploding In Sound SXSW Showcase
* w/ Gnarwhal