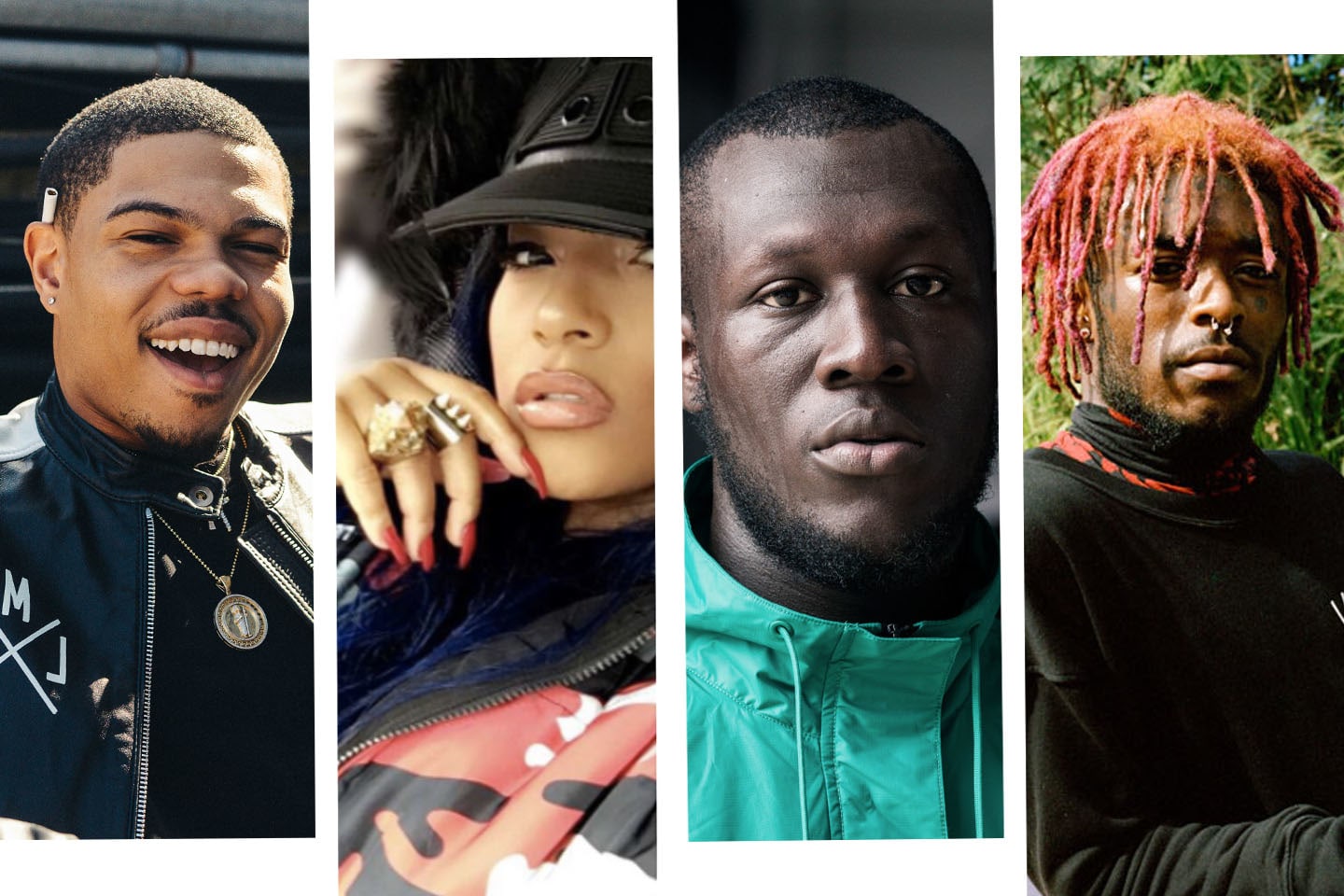 1. Industry expert Calvin Harris and industry eschewer Frank Ocean might seem like an odd pairing, but their collab with Migos, "Slide," somehow highlights the best of both worlds.
2. During the quiet Yeezy Season 5 show, Kanye West played an old demo of The-Dream's version of J. Holiday's "Bed" on loop for almost 20 minutes. The result is an ethereal and cinematic remix that we hope spawns a short film.
3. Contemporary funk leader Thundercat just dropped a load of gems. The goofy, insanely groovy "Lava Lamp" is our current favorite.
4. Stormzy dropped his debut album, and the excellent record's brass-tinged "Cold" is one of the grime MC's fiercest songs yet.
5. Not only did Moonlight win Best Picture, but OG Ron C mangled the film's killer soundtrack, and then some. If we had to choose a favorite it'd be his spin on "Can't Help It."
6. "XO TOUR Llif3" is peak heartbroken Lil Uzi Vert. "I don't really care if you cry," he sings, his lilt all twisted and sad-sounding. We're here for emo Uzi.
7. There's nothing more country than being drunk and also lonesome: Midland's "Drinkin' Problem" is a fun and soothing update on a timeless theme.
8. "Matrimoney," a high-pitched song about being in love with money, comes from Swag Hollywood and Richie Souf's just-dropped mixtape, which goes.
9. Chance The Rapper, with Jeremih by his side, hopped on his lil' brother Taylor Bennett's dreamy R&B track "Grown Up Fairy Tales."
10. The video for Stefflon Don's hot, bouncy "16 Shots" sees the MC on an island in short shorts, getting her money.
11. Creating eerie soundscapes is Arca's specialty, and on "Piel," the first taste of his new album, he forgoes his usual harshness for clear vocals and a mournful atmosphere.
12. "Liquor Store" by Mathew Lee Cothran of Elvis Depressedly and Coma Cinema fame, blends warped vocals with distant-sounding drums and trumpets. It sounds like a cassette single an extraterrestrial buried in a field.
13. Halfway between hardcore punk and harsh noise, NOLIFE's "UNKIND" screeches and careens like a human trying to escape a machine.
14. Ralph's "Tease" is a synthy love-fest of pure-feeling pop; it sounds like a half-remembered daydream of a scene from an '80s dance flick.
15. When he's not at his dentist day job, Sufyvn makes hypnotizing trance tracks out of Sudanese and afrofuturist rhythm samples, like on "Dust," his dark and rapturous new one.