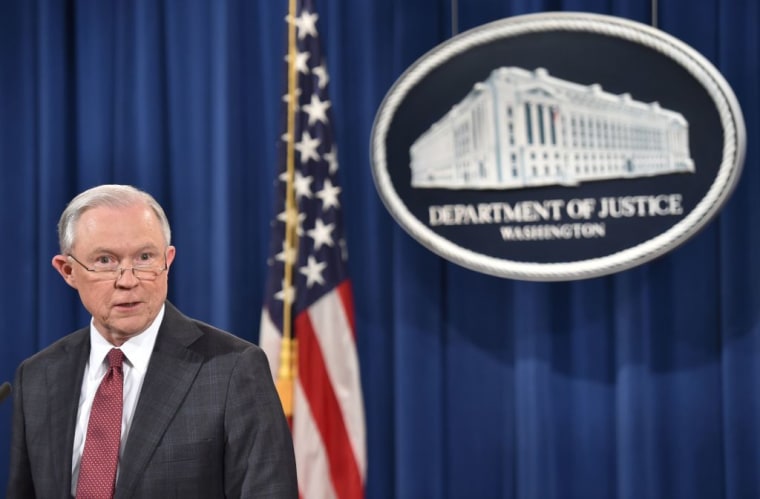 Attorney General Jeff Sessions has recused himself from Russian influence in the presidential election and any future investigations into ties between the Trump administration and the Russian government, The New York Times reports.
Sessions's recusal, announced during a press conference at the Department of Justice on Thursday, came after the Justice Department acknowledged that Sessions had met with a Russian ambassador in 2016. During his confirmation hearing in January, Sessions denied any contact with Russian officials during the election.
"During the course of the last several weeks, I have met with the relevant senior career department officials to discuss whether I should recuse myself from any matters arising from the campaigns for president of the United States," Sessions said in his statement on Thursday. "Having concluded those matters today, I have decided to recuse myself from any existing or future investigations of any matters related in any way to the campaign for president of the United States."
The announcement came hours after Trump's statements of support for the attorney general on Thursday. Trump said that he believed Sessions had told the truth in his testimony and said that he did not believe the attorney general should recuse himself from the investigation.
The Washington Post broke the news of Sessions's meetings with Russian Ambassador Sergey Kislyak on Wednesday night. According to the report, Sessions communicated with Kislyak twice during the presidential campaign, including a meeting in Sessions's Senate office.
Democrats and Republicans alike began calling for Sessions's recusal on Thursday, with some calling for his resignation. "AG Sessions should clarify his testimony and recuse himself." Representative Jason Chaffetz, a Utah Republican who leads the Oversight Committee, wrote on Twitter Thursday.
In February, former national security advisor Michael Flynn resigned after it was revealed that he had misled Trump administration officials about the nature of his communications with Kislyak during Trump's inauguration.