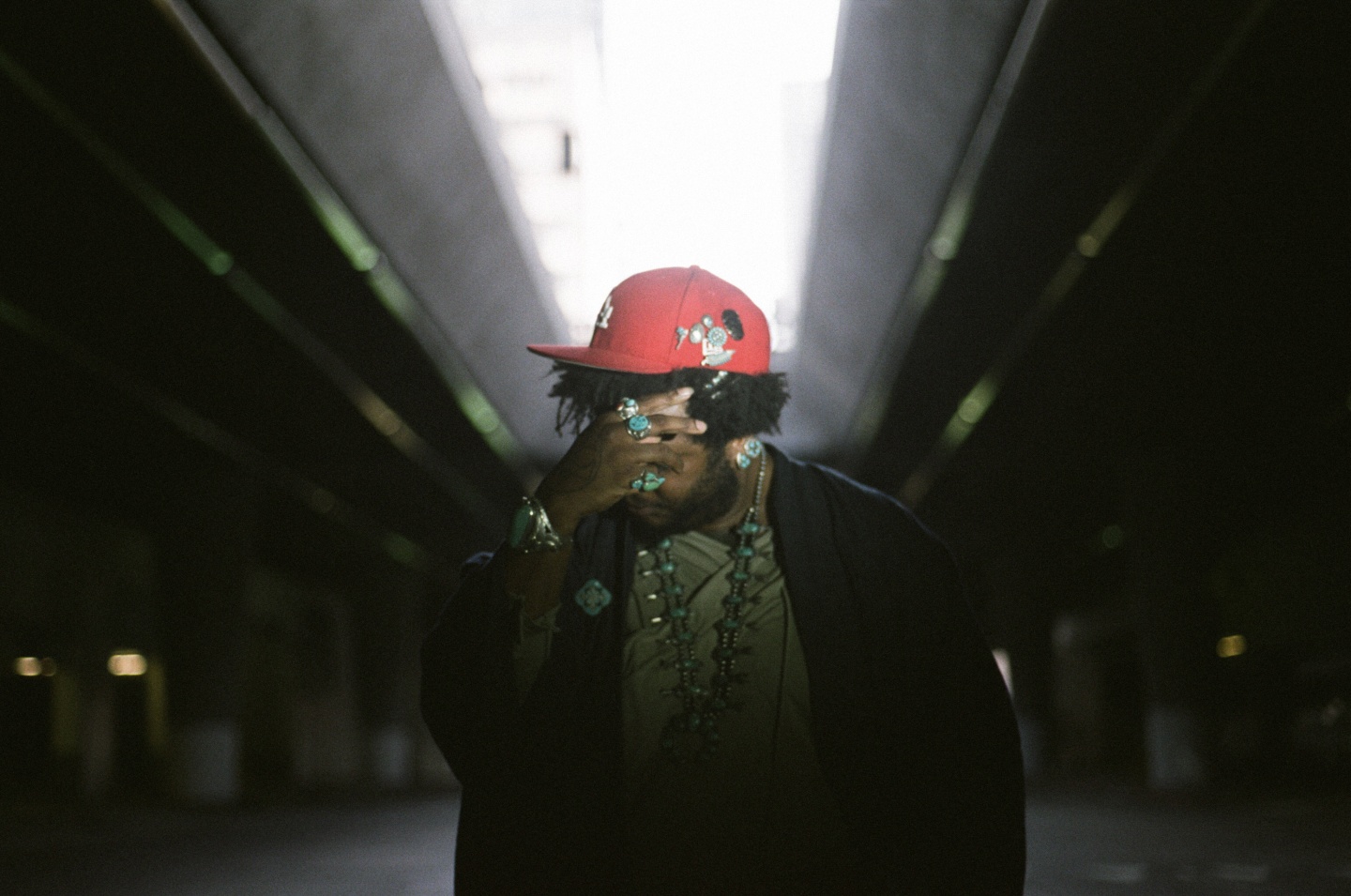 Where do you escape to when your world is too much? Or rather what do you escape through? The confines of a screen? The texture of a controlled substance? The warmth of childhood nostalgia? Thundercat explores these impulses and what drives us to them on Drunk, a figure eight-shaped loop through jazz, R&B, and funk influences that serves as his third studio album. A concept album about distraction as only Thundercat could conceive it, Drunk is as much a meditation on death, loss, and loneliness as it is an exploration of the diversions that we use to try to keep those realities in check.
The album opens with "Rabbit Ho," a simple and melancholy track whose final line — "Let's go hard, get drunk, and travel down a rabbit ho[le]" — sends us on odyssey for emotional escape. Drinking, drugs, and partying are referenced throughout the project, but never so accurately as on "Drink Dat," a slow jam turned on its head. Guest star Wiz Khalifa shares verses about smoking and drinking with abandon, while the track's fingersnaps and sedated synths seem to call for lyrics about sensual sex. But, in a turn from that expectation, Thundercat admits on the hook, "Can't open my eyes, girl, 'cause I'm just too wasted." Partying as a means of distraction from one's troubles can sometimes be futile, and in typical Thundercat fashion, he's not past poking fun at himself for that.
He isn't afraid of skewering his mobile device habits, either. Like many of us, Thundercat often finds himself lost in his cell phone. And he makes a poppy but serene critique of that on "Bus In These Streets." In his smooth falsetto, he laments, "From the minute I wake up I'm staring at the screen, watching the world go insane." Thundercat acknowledges the fear of isolation that comes with stepping away from your phone, but he also recommends listeners take a break from their screens. The joke is that this reassurance — "It's okay to disconnect sometimes" — only comes after he sings, "Where did I lose my phone at?" Disconnecting may be a good thing, but he can't do it without a push.
Drunk is as much a meditation on death, loss, and loneliness as it is an exploration of the diversions that we use to try to keep those realities in check.
His willingness to face the world without technology is limited, too. Especially as childhood nostalgia repeatedly colors the album via one of Thundercat's most enduring distractions: his well-documented love of video games and anime. References to Mortal Kombat, Diablo, and Fist of the North Star will stick out to '80s and '90s babies, and they come to a head on the three tracks at the album's synth-funk heart: "Tokyo," "Jameel's Space Ride," and "Friend Zone." On "Tokyo," he pay tribute to his idea of heaven on earth using game-inspired beats to chronicle a frantic stay in the birthplace of anime — a trip he never wants to end. "This all started when I was a boy/ I went to the dentist and he gave me a toy," he sings on "Tokyo," as if he's telling a superhero's origin story on a theme song. "It was Dragon Ball Z, a wrist slap bracelet/ Goku fucking ruined me." For Thundercat, these childhood pastimes offer a deeper and more satisfying form of distraction than partying, it seems — and sometimes they're even a stand-in for a lover, as he alludes to on "Friend Zone": "I'm gonna play Diablo either way, you could go or you could go."
As introspective as Thundercat gets on Drunk, his humor and honesty about emotional pain keep the album from stooping into self-righteousness. "I feel weird," he croons on "Captain Stupido" before advising himself to "Comb your beard, brush your teeth/ Beat your meat, go to sleep." But for all his self-care efforts, his weird feeling remains. That unnameable discomfort simmers beneath all of the tracks on Drunk, but we only get to see behind the veil when Thundercat finally faces what he's been trying to distract himself from.
On "Lava Lamp," perhaps the album's most mournful song, he looks death in the eye. "I don't judge you anymore, 'cause sometimes I need it, too," he sings to a departed loved one of their chosen means of distraction and escape. It sounds like it could be a sequel to his 2015 song "Song for the Dead" or 2013's "A Message For Austin," which was dedicated to his friend and Brainfeeder label-mate Austin Peralta, who died at the age of 22 in 2012. "Lava Lamp"'s title perfectly evokes the shape and movement of grief, as well as the shape and movement of the album as a whole. Losing someone you love doesn't necessarily get easier with time. Rather, the pain that results in is always with you — a weird feeling that rises and falls within as you make your way through life.
On Drunk, Thundercat explores escapist tendencies with more honesty than we're used to hearing on the subject, switching the focus of the party album from turning up to processing pain. Its songs bounce between sorrow and joy, distraction and unflinching self-examination, while circling through stages of hurting, coping, healing, and hurting again. With the record's bookends — "Rabbit Ho" and "DUI" — Thundercat shows us that that flow is never-ending. "One more glass to go," he sings dreamily on "DUI," which shares the same melody as the album's opener. "Where this ends we'll never know." But we do know, and so does Thundercat. The journey ends where it began: down the rabbit hole of self-medication and back to the same old distractions.
Thundercat's new album Drunk is out now via Brainfeeder. Buy it here.