Meet Nick and Dan, The Hilarious Baton Rouge Friends Who Became Instagram Stars
The "We live, baby!" besties explain how they linked up to spread laughs.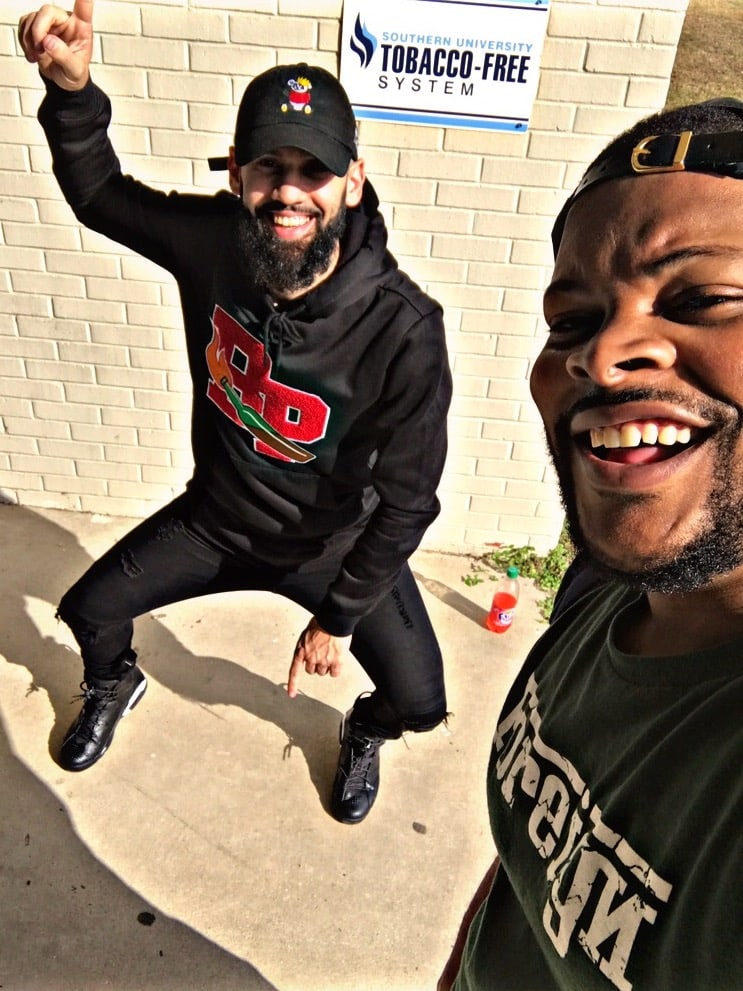 Baton Rouge's Dan Rue and Nick Joseph are inseparable — and hilarious. So funny, in fact, that their antics launched them into viral stardom. You may recognize the duo from a widely circulated video featuring T-Pain, which racked up up 1.8 million views in a week on one meme account alone. The comedians first garnered attention from a video of them goofing off in the Louisiana State University student union building: Dan's knees started gyrating, while Nick acted as his hype man, freestyling a tune inspired by bounce artist P Town Moe and New Orleans MC Big Choo. Sprinkling in catchphrases like "We live, baby!" and "Danielson, that's the one!" they coined their signature skit.
"P Town Moe made a song called 'Peter Piper,'" Joseph told The FADER. "I took some stuff out of the song and made it creatively positive for kids and grown ups to have fun to. If I let you hear the song you'd be like, 'Wow this is actually good. It's vulgar as heck, but I like it.'"
Nick and Dan met in college, when Joseph was a student at Southern University and Rue studied at LSU. "We would always see each other at clubs," Joseph recalled. "Dan was around Odell Beckham before he went to the league. Once Odell went to the league, we were all we had left, so we just started hanging out more." They began collaborating on skits from there, and ended up becoming roommates. "It wasn't even about doing skits anymore," he said. "We just always hung out."
In February, the comedians were approached at a New Orleans All-Star weekend event by T-Pain's manager. "We went to [T-Pain's] room, and T-Pain walked in and was like, 'What's up, you guys are funny. I want to do a video with you guys,'" Joseph remembered. Rue came up with the concept for the resulting skit, which shows the best friends barging into the hotel room, dancing with T-Pain, and Rue running off with his chain.
After finishing the video in just two takes, T-Pain invited the duo to the stage to perform their song-and-dance routine in front of a live audience. "It's nothing for me to get up there and hype Dan up and do it," Joseph explained. "And we did it, two nights in a row, and the whole crowd was lovin' us."
Joseph and Rue said they've got plans to eventually launch a YouTube channel, but more than anything, they hope their videos spread positivity and laughs. "We have everyone from 5 year olds to 60 year olds coming up to us wanting to take pictures," Rue said. "One time a young girl DM'd me with her feedback. She was in rehab, and said she would watch our videos everyday. She wanted to thank us for the positive vibes and the laughter that we have given her. It's pretty neat."