How Joe Freshgoods And His Friends Claimed Chicago's DIY Fashion Crown
The streetwear designer who counts Chance The Rapper as a day-one fan explains how he built his brand and why community comes first.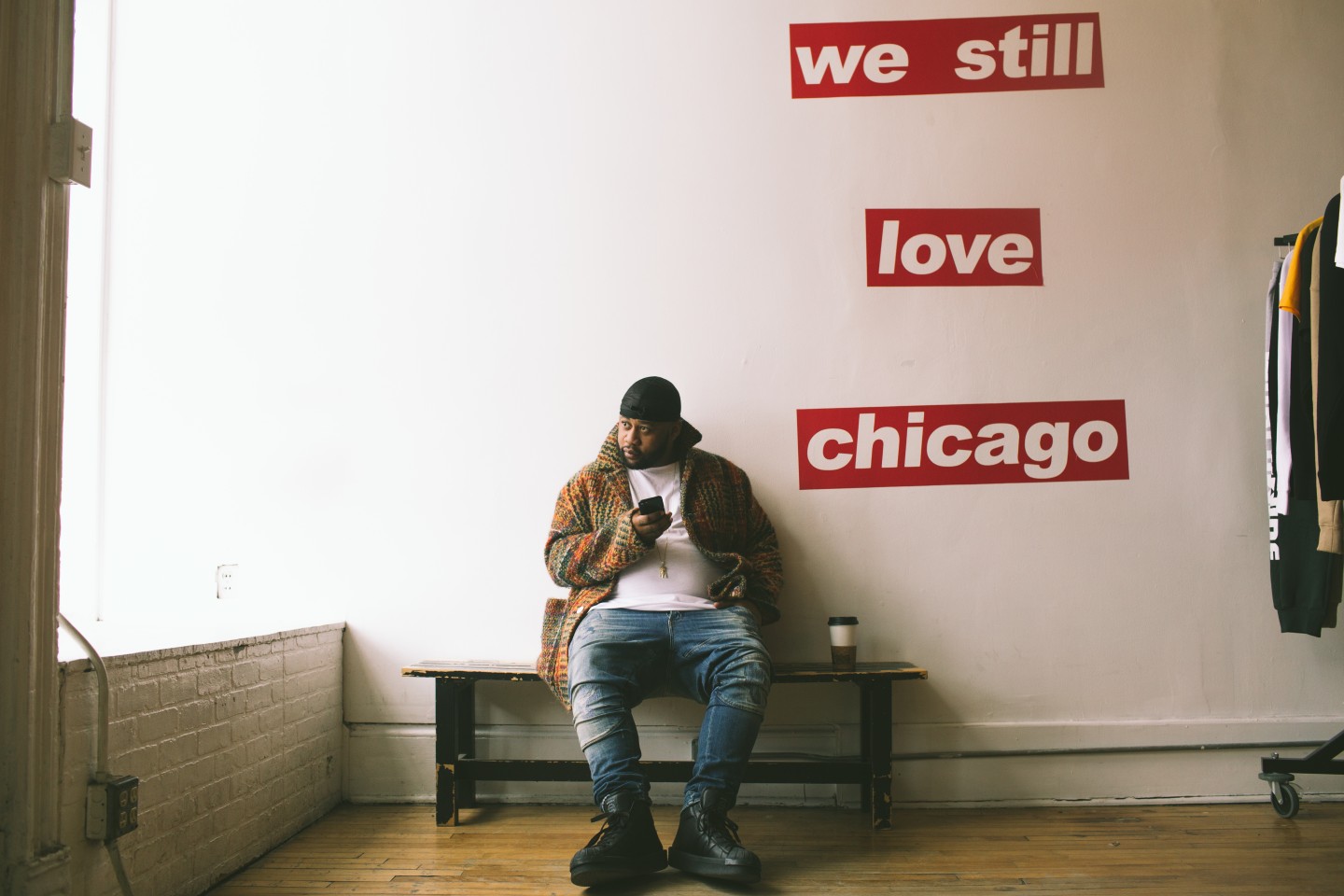 On an overcast day in Chicago, a group of men are crowded around the counter of locally revered clothing store Fat Tiger Workshop, their laughter boisterous as a string of Drake songs filter through the sound system. There's Fat Tiger co-founder Joe Freshgoods in black track pants, a red beanie, tattered grey t-shirt, and his infamous crocs; two of his fellow co-founders, Terrell Jones, in a "Chicago Over Everything" sweatshirt, and Desmond Owusu, in a "Squad" hoodie and jean jacket; and party host and store regular Hustle Simmons, with a black cap snug over his long locs. Freshgoods is trying to ask them a serious question, but his friends take it in turn to flame him, their laughter soaring.
This kind of affectionate ribbing is the nature of Chicagoans, but there's maybe more reason for it today than normal. Freshgoods has just returned from Los Angeles, where he spent the previous Sunday night partying with Chance the Rapper and friends, in celebration of Chance's three Grammy wins.
Though it was untelevised, you might have caught GIFs or footage of Chance accepting the award for Best Rap Performance while wearing a black hoodie that read "Thank You" in small, white lettering on the front, and on the back — alongside a tough-looking bald eagle — "Obama 44," the typeface reminiscent of a basketball jersey. That sweatshirt is a staple from Freshgoods's most recently viral clothing capsule, Thank U Obama, which he released on President Barack Obama's last day in office, January 20. The first drop — which was a small run — sold out in two days. He released a much bigger batch on February 2, recruiting Chance as the model; they've been friends since 2009, when Freshgoods was working at Chicago streetwear staple Leaders. The second release sold out in just five days.
"Chicago needs more love. People love our music. So I wanted them to love our fashion."
Freshgoods got his start in Chicago's DIY fashion scene via a job as a sales associate at the now-defunct streetwear store Fashion Geek in 2005, after graduating high school. It was one of hottest brands at the time, and in his eyes, started a lot of trends in the city. Then in 2006, he and Jones began interning at Leaders, which was known for its iconic phrase "Lead Never Follow," and for being a cultural hub for local hip-hop with in-store performances. "The Leaders era birthed everything," Freshgoods tells me.
During his time there, he found a kinship with Chance, Rockie Fresh, Vic Mensa, and the whole SaveMoney crew; they all came up together. Freshgoods and Jones helped Rockie with his first show around 2011, and local rappers, including Mick Jenkins — who pops by Fat Tiger to hangout during our interview — continue to support Freshgoods's endeavors today.
In summer 2012, he opened what he calls his "first fake storefront" in the garage of the home he shared with notable Chicago photographer Trashhand in the Pilsen neighborhood. Freshgoods sold clothes he designed, which he had made by a local manufacturer, coming out of the gate with some of his more well-known pieces, like the ever-popular "Dope Boy Magic" tie dye hoodie. "Everybody in Chicago used to stop by," he says.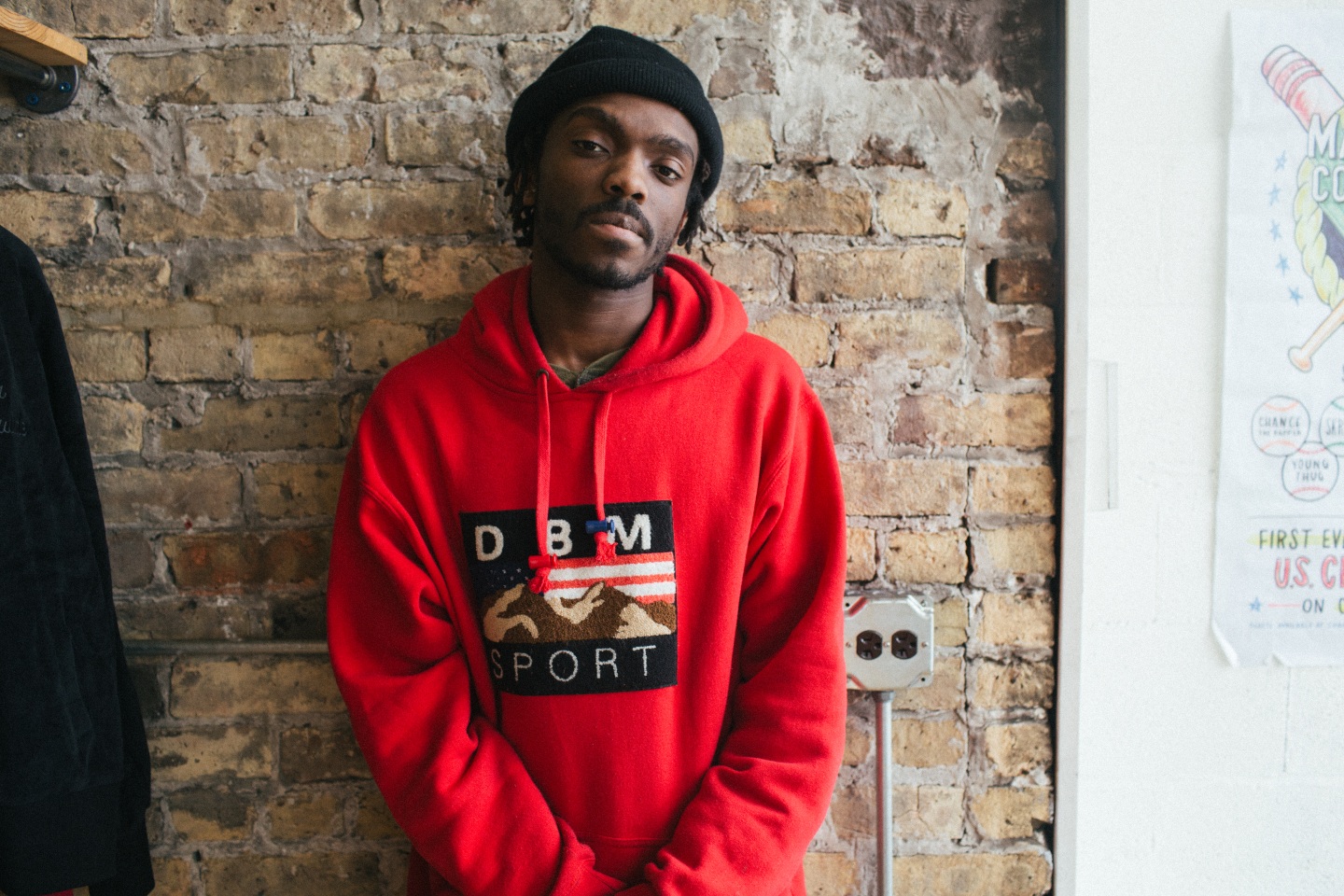 Two years later, Freshgoods, Jones, Owusu, and a fourth designer Vic Lloyd — they all met at Leaders — were in a position to open their first brick and mortar store in Logan Square, calling it Fat Tiger. "After trying to force names, we decided to call ourselves something that would sound like a band," says Freshgoods. The four men became co-founders of the shop, running their individual lines out of Fat Tiger: humorous hoodies from Freshgoods's Don't Be Mad (DBM) line; an East Asian-inspired streetwear collection called Sensei designed by Lloyd; t-shirts and jerseys adorned with Chicago slang by Jones's Vita label; and various items in the youthful line Squad — which often features a reworked Nike logo — by Owusu.
In 2015, the store expanded to their current location in the West Town area, and sometime later this year, Fat Tiger will move again — to an even bigger warehouse spot. "It's just been a story of constant growth," Freshgoods tells me. "Literally from my mom's basement to now."
I sat down with Freshgoods in a corner of the store, sandwiched between ACG and Magnificent Coloring Day posters, to learn more about his upbringing within his hometown's DIY fashion scene, why he continually supports young Chicago talent, and how Fat Tiger has created community within his city.
Why was working at Leaders so important to your development?
It was when the kids were coming by: Chance, Vic [Mensa], everybody. We were just all kids. I was working retail, and we just saw everything happen. Saw everybody now that's in their dreams, following their dreams. Leaders don't get enough credit now; it was the cornerstone for a lot of people. That's why I'm so big on Fat Tiger being like the hub for creatives. I want them to be able to come in and chill.
I started DBM with $80. I used to work at a print shop [as well as] Leaders, so I'd print all the tees and I just put it out. I used to package it up like dope, or cocaine or whatever. And it just sold. There was a point where I was selling a lot of my own clothes under the table at Leaders. I was like, "Hey, I work at Leaders, but you want a shirt?" I'd pull it out of my bookbag. I was doing that, [and it] kept getting bigger and bigger. I came up with this shirt that said "MONEY HOES CARS & CLOTHES" — that was the jumpstart of like, "Wow, I'm making like $60 every two minutes." That shirt went really Tumblr crazy.
I started learning the game. Fast forward a little bit, I end up getting fired because I couldn't focus on Leaders because my own brand was doing good.
Something just sparked and just made me take everything a little more seriously. Shortly after I came up with the Rihanna hat. If I was to write a book, the first chapter of the Joe story would probably start off with the Rihanna hat, because that was the first [time] where I was like, let me try to figure out marketing, let me play off people's emotions.
The first time I really noticed DBM was when Chance wore your tie dye hoodie on the Acid Rap tour.
The tie dye hoodie, I was selling out everyday. It was one point in time where everybody in Chicago had that tie dye hoodie. It was like the thing: I'm from Chicago, I gotta have the tie dye hoodie.
I remember vividly Chance coming to my house five years ago, asked me for a tie dye hoodie. He lost his. I gave him another and he literally wore that shit everyday.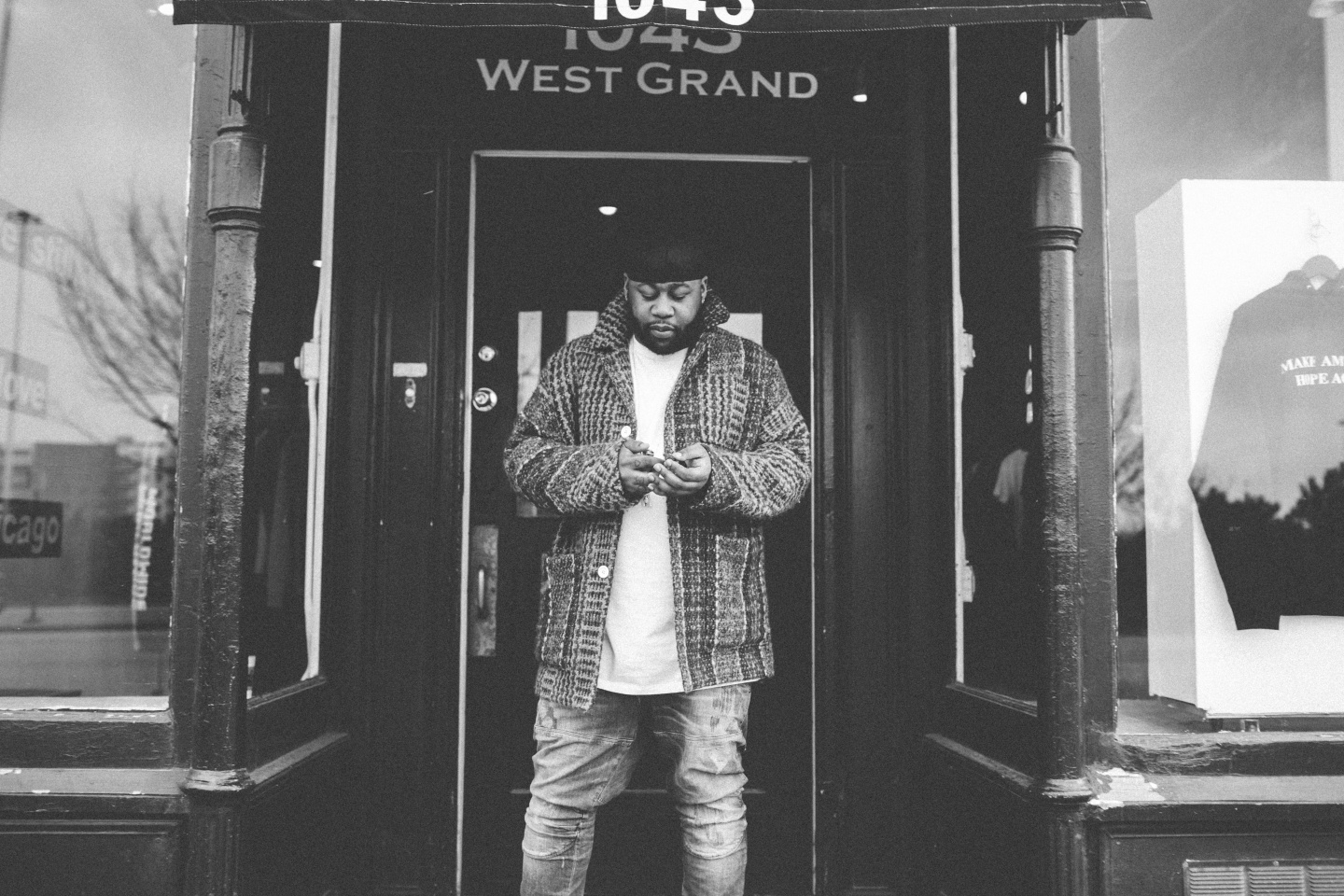 "What we're doing right now in fashion is very unique — we're surviving with our own stuff. No Nike, no adidas, no Raf. We're doing good, we ain't hurt, we straight."
Your brand was Dope Boy Magic originally. Why change it to Don't Be Mad?
I got in trouble with a brand called Dope Couture. He was just sending me letters about wanting me to change my name, blah blah blah. I ignored it but the letters kept getting more and more intense. I thought of the most clever thing in the world, let me just make it Don't Be Mad. It's kind of a diss to him, it's kind of positive.
DBM is so much cleaner, Don't Be Mad. It ended up turning into a global thing that kids love wearing. It's a good, positive message. So everything ended up working for the best, but I really can't put dope on stuff no more because of that. It ended up being a blessing in disguise — shit is super corny.
You've gotten other cease and desists, right?
Got one from Rihanna, Champion, and later on from Kanye, for the 2020 president shirt I did.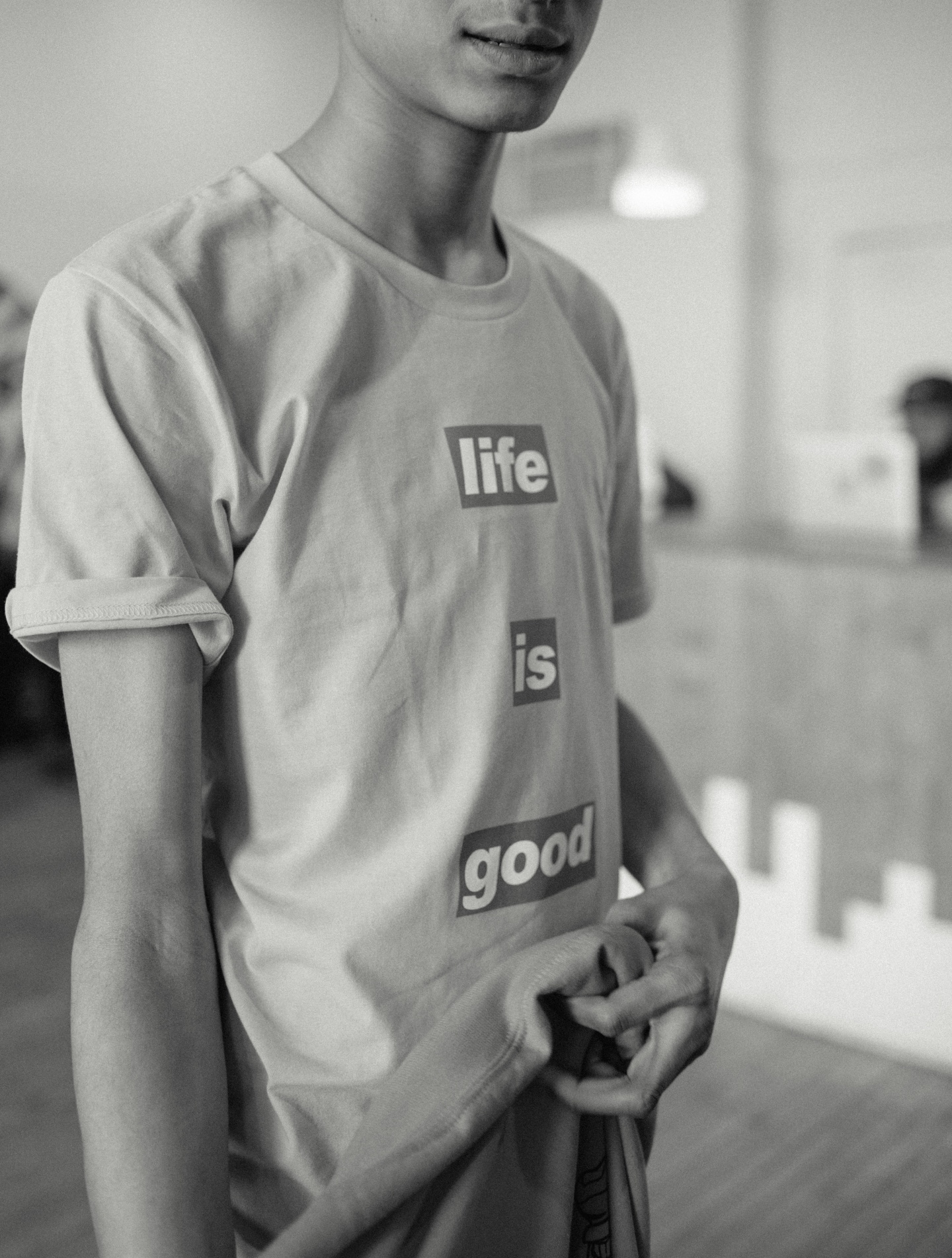 You and Jones are from the westside, and Lloyd and Owusu are from the southside. How does Fat Tiger brings those areas of Chicago together?
We're a community store, we're like a barber shop. That's what I like to call my store — you're gonna see that with the new store — but I want people to feel relaxed coming in here. I want to give back to a lot of kids. We do a lot of stuff that people don't know about, helping people out. I know that we do it because we got so many kids from all parts of the city that mess with us. But I don't think when we did this, we had the intention to bridge the sides together.
What role do you think fashion plays within Chicago's artistic and musical renaissance?
We've seen each other grow up. I think a lot of stores like Leaders, we been behind artists from the first steps. We go hand-in-hand. Like us giving Chance and Vic and all the other kids tour stuff, even merch. I secretly help out a lot of artists with their merch now.
Fat Tiger undeniably supports young Chicago talent. What about that is important to you?
That's what keeps us alive. I don't really make a living off 30-year-olds — the youth keep me afloat, so I have to make sure what I do is to give back to the youth because they give to me. That's my main goal: to make sure that we do our workshops, we talk back to Chicago youth and help them out. And not even just Chicago youth, but people that need help. With our workshops, we get people that's 14 and we get people that's 38. We're like a community store, we pride ourselves in just selling our own products, so at the same time, I just want to make sure that we're giving people our flavor of how we do stuff.
What we're doing right now in fashion is very unique — we're surviving in almost downtown Chicago, with our own stuff. No Nike, no adidas, no Raf [Simons]. We're doing good, we ain't hurt, we straight. We make all the blogs. Not a lot of people around the world doing what we're doing. A lot of kids look up to that so we want to tell our story. It's history.
Why is it crucial that Chicago have its own brands?
Chicago need more love. I made a jacket that says "Made In A Chicago Hood" — I wanted to have people that have never been to Chicago wearing Chicago stuff. That's all. People love our music, that whole Chief Keef era where everybody was like using our slang, loving our music. So I wanted them to love our fashion.
You really banked on a moment with your Thank U Obama collection. What pushed you to create it?
Sometimes I look at myself as the CNN of clothing. Sometimes when somebody pass away, when something crazy happens, I be like, Nobody else going do it, lemme do it 'cause I'm going to do it correctly.
With the Obama's being from Chicago, I remember how I felt the day Obama won. The night Obama won was the litest night in the city. I feel like a lot of people don't know that. It was like hugs, kisses everywhere — love. I never experienced that energy like that, that was mind blowing.
I remember going to sleep that night like, a black man became president, I can do anything. I kept that philosophy — I'm doing what I want to do. [Terrell and I] had this vision in grammar school, and I was just like, I had to do it. So I dropped a flyer in October — I didn't know the clothes I was doing, I just said Joe for Obama. It got a lot of traction, people taking this serious. So I put it out and it did good, it sold out.
A lot of stuff be jokes that I don't be thinking will take off like that. I don't take a lot of stuff serious like that. I don't go into stuff knowing it's gonna go this crazy. I ended up making every blog. Every blog. I feel like I have more eyes watching me, what I'm doing. I know the Obamas saw it. I heard they like it.