Botanica's New York Collection Covers The City In 18K Gold
Designer Nic De La Paz discusses the definitive influence of the concrete mecca and the brand's tributary collection, on sale March 11.
The stylistic influence of New York City has stretched far beyond its five boroughs, almost to the point where the mecca's definitive style has been formative in the fashion offspring of other cities. That said, New Yorkers are deadass still wearing Timbs my guy, Paid In Full and Killa Season belong in the National Film Registry, #Knickstape forever, and a casual reminder that the Yankees still have 27 rings.
Jewelry designer Nic De La Paz is cut from this same wavy cloth. For her brand Botanica's upcoming New York collection, she pays homage to her home, with 3D-printed classic insignia enveloped in a 14-18 karat gold sheathe. The Yankees team logo gets turned into a diamond-dazzling championship-style ring, Nike's Air Force One shoelace tag becomes a bracelet tab, while the New York Times's notable header becomes a thin-linked lustrous chain.
Over email, De La Paz detailed the inspiration behind the making of the New York collection, which officially goes on sale March 11.
What was the driving inspiration behind this collection?
NIC DE LA PAZ: It was inspired by the first time I watched the video's for Ma$e's "Feels So Good" and Jay Z's "Hard Knock Life," and telling my cousin, I wanna dress like that! The feel of the first mixtape I ever bought with my own money on Fulton while the bootleg guy plays Hot 97 reggae mixes from the Sunday show. It's drinking a malta outside the bodega when someone pulls up playing Nas's "Hate Me Now." This collection is all about New York City in the summer.
Aside from growing up here, was there another reason why you felt the need to homage the city's style?
When I attended Central Saint Martins in London in 2015, I started to notice how much New York style wasn't just a local or national thing, but something people would emulate internationally. Being at CSM really inspired me to own who I am and where I come from. While I was there I thought about the concept and how I would go about executing it.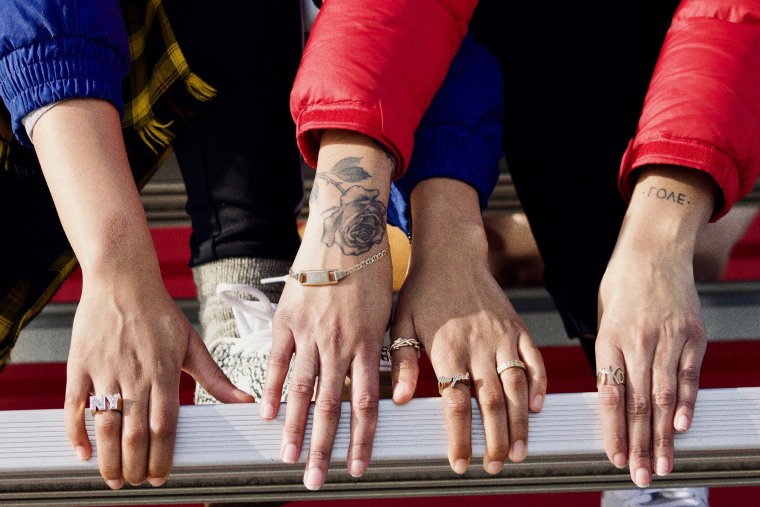 The pieces in this collection all revolve around late '90s and early 2000s New York iconography. Why did you choose these symbols?
I'm really influenced by early Nas, June Ambrose, Hype Williams, and Puff. Despite the shiny suits, furs, and diamonds, you would see the mixture of high fashion and street done well. Watching your favorite artist mix their favorite New York sports team with something expensive was common growing up here. It was cool to see it in the videos, but even more in real life.
How were the pieces in this collection made?
NIC The pieces were all 3D printed in wax, then cast in 18K gold. Some pieces like the New York ring, have diamond cut details that were done by hand. The diamonds and detail in the some of the rings were set and done by hand.