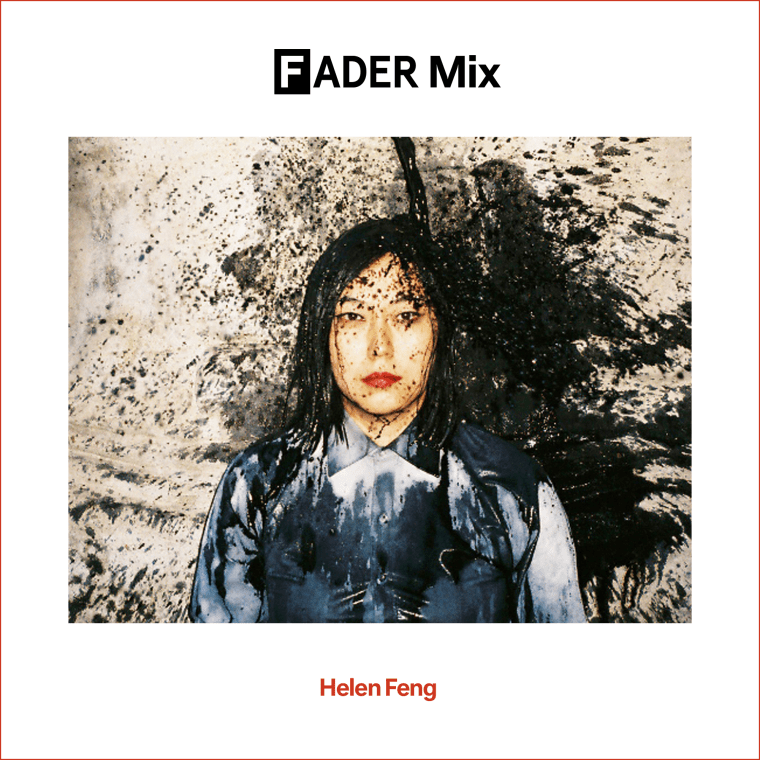 I first heard Helen Feng's voice back in 2014, although I didn't know it at the time. It's Feng who's behind the emotionally accurate rendition of Sinead O'Connor's "Nothing Compares 2 U," delivered in artfully scrambled Mandarin, on Fatima Al Qadiri's song "Shanzhai" from her album Asiatisch. Later, I learned from FADER contributor Juliet Liu that Feng was one third of Beijing band Nova Heart, who make grungy electro-pop with a kick to it. Then, in December, I met Feng by chance at a dance music conference in Tokyo and we got to talking about the similarities and differences between the music industry in America and China.
Feng's a jack of all trades, it turns out: she's lived a dozen creative lives, from hosting a music show to managing artists to being one herself. Who better placed, then, to provide a musical snapshot of China's underground scene? Her FADER Mix is a thrilling tapestry of moody electronic soundscapes, organic percussion, delicate melodies, jagged synth-pop, and pounding noise. And you might notice Beijing producer Howie Lee and recent RBMA grad Pan Daijing on the tracklist, too.
Dive in below, and scroll down for an in-depth and hyper-insightful interview with Helen Feng, pictured above in a photo by the late genius Ren Hang.
Where are you right now? Please describe your surroundings.
I'm on the patio of my apartment, nine stories up overlooking a park. The windows are dirty from a long winter, but the park is full of willow trees and they are starting to grow the yellow buds of new leaves busting through around a large manmade lake. Old people are doing their morning walk in the park; they are wearing colorful jackets and speed walking. I can hear the sound of nearby construction and traffic noises from the freeway nearby. It's a good air day, you can see beyond the jungle of concrete buildings to the line of the nearby mountains in the horizon. I'm sitting on a dark blue velvet coach.
Tell us a bit about this mix — what do you imagine people doing while listening to it?
I tried to avoid the post-punk sound, because that's kind of become a cliche of the typical Beijing/China band. That means I had to leave out some good people, but maybe the next mix. This one is full of some rarer unreleased stuff, some demos, some released tracks, pretty much people I know from all over China, some places you haven't probably heard of. Some experimental stuff from a girl from Guizhou, some gritty electro-pop from a band in Yunnan, a messy mix of stuff from Beijing, Shanghai, etc. Some weird Chinese style lyrical hip-hop. You shouldn't be having a picnic or lying on the beach listening to this music. You should be in your workshop tinkering away at your world-conquering robot while sipping on absinthe.
What's your earliest musical memory?
Watching the CCTV Spring Festival Gala and dancing around to the Peking Opera performance round age 3 in my grandmother's living room.
What is the music scene in Beijing like?
It's just big and grungy. Lots of punk, post-punk, cock rock, and metal. There's a lot of venues now, mostly centered around the Gulou Area which is hipster central. Gulou is a bit of cliche, like living near there automatically labels you as a microbrew-sipping, vintage-wearing hipster. Yes, China has those too — infested. Lots of venues. Some venues shut down a few years ago due to high rents, but in the last two years tons of new venues have been opening. There's a healthy experimental scene, and a lot of labels and events just happening. The Beijing scene is much more revolving around live music, live bands, but there's a couple of significant clubs doing dance music and a rising hip-hop scene, but no straight hip-hop clubs yet except the really commercial kind.
The main dance music here is techno, techno, techno — and then some house. There's smaller pockets of people doing trap, hip-hop, breakbeat, drum and ass, gaba, and even a very small trance scene. But the trance people eventually go out west where there are mountains or nature, or to some beach city with easier access to psychedelic drugs. For d-related anything, Beijing is not an easy place. While Shanghai is much more influenced by the London bass scene, Beijing always feels much more a mix of Berlin and Manchester in its tastes. There's definitely exceptions to the rule.
All the big bands pretty much used to come out of Beijing. Almost all the media, and labels used to be centralized out here, so bands would move here to get exposure from other parts of the country. But now that's changed and you have more interesting stuff happening out of more locally based labels all over the country. Most interesting is Chengdu, Wuhan, Guangzhou, and, of course, Shanghai. There are parts of the scene in Beijing that kinda feels trapped in 2005. But there's always a small venue or bar somewhere where some new kids are congregating making new shit. The whole scene is so vast that you can't comprehend one "Beijing" sound other then maybe stuff that's post-punk or punk. But there's just so many things going on that you can't coin it to one sound other then everything sounds a bit darker a bit more dystopian coming out of China in general. Probably 'cause we've a had a dark past. Rainbows and unicorns would seem trite.
What challenges do independent artists face in getting their music heard in China?
Generally the mainstream media in China couldn't give a shit about most underground music in China. But China is all about digital! There are something like four powerful local digital streaming platforms, and a ton of websites. Also a huge number of new labels coming up hungry for content. For a young locally based artist, if your stuff is GOOD, it's actually not that hard. I also run a label out here, so I know everyone is looking for talent, looking for artists. But the way that the education system is set up means that truly creative people are a rare thing, and creative people that can sit down and produce a good track and put on a good live show even rarer. So for getting signed, getting a album deal, or getting a chance to play China is not so bad. It's actually great for bands 'cause you get snatched up early. But if you're doing truly interesting stuff don't expect to get on the radio or the TV. But that doesn't prohibit you from getting big and headlining festivals in front of 40 or 50 thousand people. TV and radio are becoming more and more insignificant every day.
Censorship is really not as a big deal as people think it is. Frankly, you don't get censored if you're not noticed. That means that only nicely PC artists get to the big leagues of playing TV shows and CCTV Spring Festival Galas but because China is so vast, you can have a nice career without even registering on the radar of any MSM.
The biggest problem right now is good producing talent, getting producers willing to come here to work, record, and polish tracks up to a certain standard. Because most producers in China were brought up to make money in the SUPER SHIT pop world, most of them cannot produce anything out of a Grade A cookie cutter SUPER SUPER SHIT. I put in the caps because I actually don't hate pop music, but the pop for most of China is third tier pop songs bought from these international song portfolios that nobody in the west wanted to pick up. Or some K-pop clone. There is nothing on this planet that I hate more then K-pop.
You're an artist as well as a manager. What has this multitasking taught you about music and the music industry?
And I used to be a media personality that did music shows, promoter, and label head. Hmmm, it taught me that trust is something that is easy abused in the music industry, and as a result this is an industry of very, very low trust levels. Which means that 50% of my job is about figuring out how to mitigate that. Either figuring out ways to protect myself and my artist, or trying to build up trust so I can get shit done.
Build your fan base! You have to work to build your fan base. That means performing, interacting, and communicating, and caring about your audience and the people that support you. There's a lot of media that can jump on one hyped artist and refocus the next day and poof, you're gone. There's a lot of kids out there that follow these trends very quickly and they come to the shows, but if you don't put on a good show and you don't interact with them later, then poof, they bounce when the trend shifts. The digital age has made these trends move faster and faster, so hot-to-not is a very fast ride if you don't spend the time building up an audience that's loyal to you.
There are so many people that work very hard to get an artist to the point where you see them as being a relevant artist — it's never 100% the brilliance of the artist themselves. Appreciate your friends, your family, your fans, and try to build the best team around yourself of competent people. In other words, try to hire or work with people that know their craft, that don't flatter you but who will tell you the truth. Do not align yourself with sycophants. One, they will not help your career, and two, they will only teach you to be a bigger asshole. Start saying more "we" and less "me" and you would be surprised what happens.
What projects do you have coming up in 2017? Will we hear more from Nova Heart?
We are working on a new album with old collaborator Rodion and also Tim DeWit who has been cool in transforming our ideas about where the album was going. It's a slow process 'cause I've got to find time to squeeze recording into all the other work I'm doing with the label which is a shit ton of work. Also, Nova Heart got a chance to work with Meng Jinghui, a brilliant experimental theatre director in China, and we loved it. This year, we wanted to maybe work on a bigger, slightly more visual and theatrical work. I started learning musical theatre at a young age, and I kinda love it still. I want to do something that's both entertaining and challenging for the audience with new music that we're writing, and if budgets and interest allows maybe take that on the road. Frankly, I'm getting a bit tired of the old performance formats and want to try something new. Hopefully it doesn't become too much of a vanity project, and actually is something cool for people to watch.
And what lessons from 2016 will you be taking into this new year?
You can't force anything. If it happens, it happens; if it doesn't, give it room. Don't expect the world to bend to you, but you can be more flexible for the world. Also, the mainstream media is getting less and less relevant, not just in China but everywhere in the world. And the most important thing for everyone moving forward is to put dignity ahead of clicks.
What's the last book you read that had a big impact on you? And why?
If I had to say big impact, it would be Malcolm Gladwell's The Outliers. There are a few rules that kind of make sense, especially when applied to aspects of seen in my life. Success is a combination of opportunity, timing, luck, and work. I find myself often quoting the 10,000-hour rule. I'm a person who has clocked over 10,000 hours of stage time throughout life. It makes sense: practice, and practice in different circumstances, makes for a better athlete, then why not anything in life.
I tell that to my artists: keep performing keep writing, you clock in the hours of doing something and eventually you get good. But when you're good, then everything else has to align to get you to greatness. Then, it's luck and timing.
What's your favorite dish to cook and how do you make it?
Dumplings. It takes me about 2-3 hours because I make everything from scratch, but it's impressive if you can do it alone, so I like proving I can do it. In the old days I used it as a form of payment for giving us free place to crash on tour.
The simplified description is you make the filling, you make the wrap, you wrap the filling, and you cook it. But yeah, it's not something you can learn in a cook book, you can only learn that stuff by doing it with someone, and it takes some skills. If you give me a place to crash with a good kitchen, I'll teach you how to make it.
Tracklist
Howie Lee - Currency Exchange
South Acid Mimi - Nunudugu demo
Pan Daijing - Encounters
Tzusing - King of Hosts
Chui Wan - 夏眼 (SHAO remix)
Duck Fight Goose - Horse (Soulspeak remix)
SHAO - Bubble demo (unreleased)
Earsnail - Ants
Duck Fight Goose - 无差别
J Fever - 通宵酒