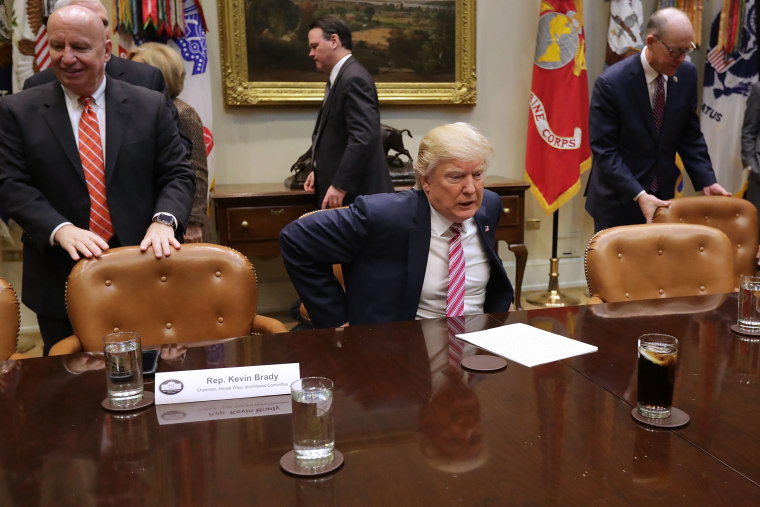 1. Accused Obama of wiretapping him during the 2016 campaign.
With no evidence, obviously. Also, any POTUS doesn't have authority to order wiretaps.
2. Had a really rough, rage-filled weekend. Poor guy!
The Washington Post reported, "When Trump ran into Christopher Ruddy on the golf course and later at dinner Saturday, he vented to his friend. "This will be investigated," Ruddy recalled Trump telling him. 'It will all come out. I will be proven right.'
"'He was pissed,' said Ruddy, the chief executive of Newsmax, a conservative media company. 'I haven't seen him this angry.'"
8. Held lunches and a bowling soiree as pseudo marketing for the ACA replacement.
There have been "evening dinners and sumptuous lunches — even a White House bowling soiree," the New York Times reported.
11. Invited Palestinian President Mahmoud Abbas to the White House.
12. Approved 40 airstrikes on al-Qaeda targets in Yemen over a five-day period.
"The weeklong blitz in Yemen eclipsed the annual bombing total for any year during Obama's presidency," Foreign Policy reported. "Under the previous administration, approval for strikes came only after slow-moving policy discussions, with senior officials required to sign off on any action. The Trump administration has proven much quicker at green-lighting attacks."
This comes after the botched Navy SEAL mission in Yemen, which Trump claims was "very successful." It was actually a bloodbath for civilians, The Intercept reported.
13. While his offspring's businesses boom.
Eric Trump spoke to The New York Times on Thursday: "'The stars have all aligned,' Eric Trump, who as executive vice president of the Trump Organization oversees all its golf properties, said on Thursday morning, while sipping an iced tea at the restaurant inside the Trump International Hotel before appearing at a promotional event for the Memorial Day tournament. 'I think our brand is the hottest it has ever been.'"
14. Is very much enjoying being shut up in the White House.
"He has long been a creature of comfort, eschewing some of New York's glitzy balls and galas to instead stay at home, watch TV and dine in his apartment, while watching sports and calling friends. After winning the presidency, he largely stayed in his apartment or at Mar-a-Lago, venturing out once in New York to the 21 Club for dinner. He is happy to not go outside," Politico reported.