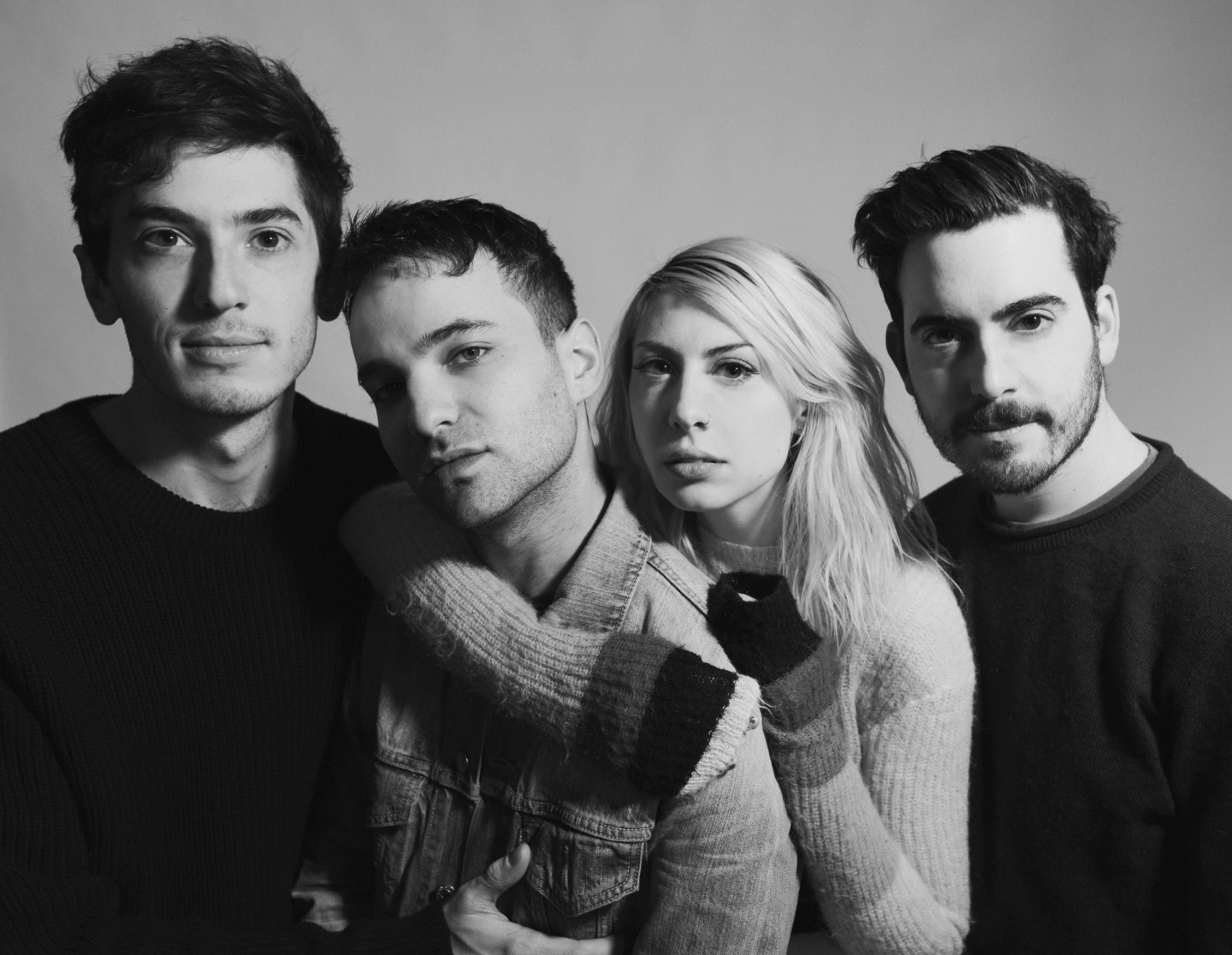 Before I knew Eva Hendricks as the bubblegum-voiced frontwoman of rambunctious, comic book-penning rock band Charly Bliss, she was the gleaming, bottle-blonde barista at my local Brooklyn coffee shop. When I met up with Eva, her gangly older brother Sam, and their handsome, bespectacled childhood friend Dan Shure at a cozy dive bar called Matchless, she yelped, "Oh my god! I know you!" It was a weirdly hot February afternoon, and the four of us — the band's guitarist, Spencer Fox, couldn't make it — chatted about humor, hard work, and Guppy, their debut album of brutally honest pop-punk.
Eva, who's 24 and chatty, is clearly the nucleus of the band — the spark that starts the fire. But Charly Bliss have been honing their chemistry for decades: "My taste in music was influenced by Sam growing up," Eva told me as we sat by the window, drinking 2-for-1 drafts. "He introduced me to Weezer, Sum 41, and Blink 182. Sam and his best friend would play covers in our basement, and I would listen by the door, wanting to be a part of it."
All of Charly Bliss went to high school in Connecticut, but first met when Dan introduced his summer camp buddy Spencer to Eva at a Tokyo Police Club show in the Big Apple. Eva was into musical theater at the time, hitting every note on Broadway numbers like "Suddenly Seymour" from Little Shop Of Horrors, and Rent's "Take Me Or Leave Me" on her high school stage.
Guppy is smart, cute, and angry; the album's narrator often reminds me of Kat in turn-of-the-century teen flick 10 Things I Hate About You — the type of spunky outcast who reads The Bell Jar while Spiderbait's "Sunshine On My Window" plays. "I can't cum and I can't lie/ I can't stop making myself cry," Eva sings on "Glitter," the record's explosive first single, which sounds ripped straight from that movie's still-classic soundtrack.
There are beautiful things that come from airing out self-loathing, and sometimes putting feelings into words can help you appreciate yourself more. But there's also something noble in what Charly Bliss does on Guppy: making music about insecurity that others who feel the same can jump around to.
You all grew up together, but when did you start making music with each other?
SAM: When [Eva and I started making music together] for the first time, our parents were stoked. Growing up, we never really made music together because they wanted it so bad, and we wanted to spite them.
EVA: My dad's favorite song of all time is "Mmmbop" by Hanson, so he loves a family band. And we have an older brother who plays guitar, so they were always like, "Come on guys, make a band!" I never imagined we'd be doing this. Growing up, we could not have been closer, but there was something about our parents wanting it so bad that made us be like, "No, that's too cheesy."
SAM: Eva was studying musical theater, and I was studying classical percussion. There wasn't really an avenue for us to do something like this, and it wasn't until later on that we both got into writing music.
EVA: Dan and Spencer went to summer camp together when they were super young.
DAN: Like 10. We were in bands at camp, and we'd do covers of Green Day and Red Hot Chili Peppers. There are a lot of recordings of us doing Radiohead. It's like, really embarrassing.
EVA: Our biggest influences.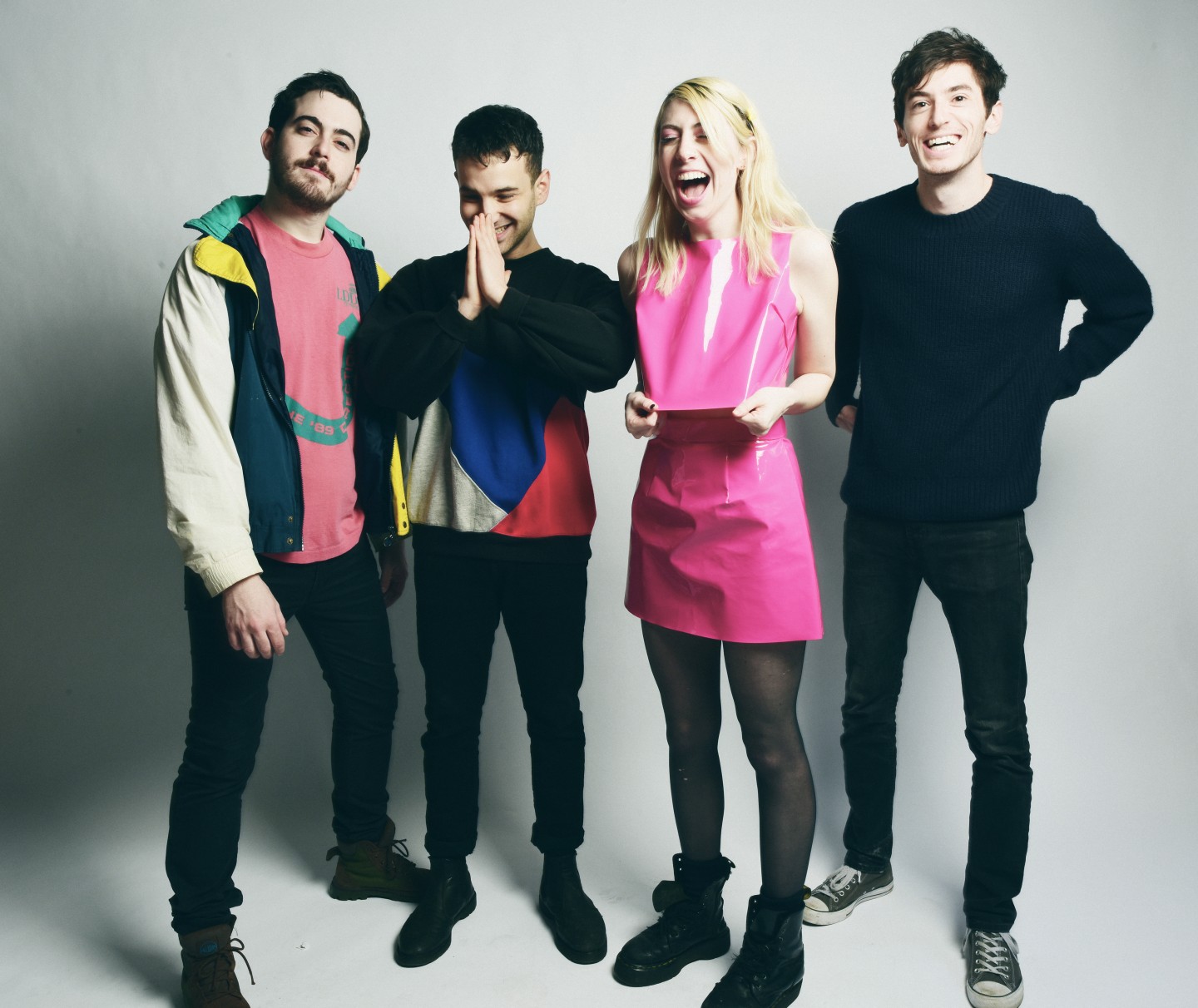 "We're four old friends who have known each other forever. We're together all the time. We know what our best sounds like."—Eva Hendricks
EVA: I feel like it's worth mentioning that Dan had a huge influence on my taste in music, because we dated when I was 14. I turned him gay.
DAN: I remember the first time you showed me Bon Iver and of Montreal. I went to college at Skidmore, and everyone was listening to dubstep, which I was not down with. You guys helped me learn about rock bands I was missing.
EVA: [Dan and I are] only a year apart, so we were in college at the height of the dubstep moment. I went to school for music production and I remember feeling like, What am I doing here? When we're on tour, no one in our van listens to headphones alone. Touring that way, listening to the same music over and over again, and turning each other on —
DAN: — And turning each other off.
EVA: [Laughs] Yes, totally. But, yeah — listening to the same music together has really affected us communally.
DAN: 95% of the time we agree on what's bad, and that affects our writing. We're all able to be like, "This is a bad band." It comes down to the fact that we hold our songwriting to a high standard. That's one of the things that makes us unique as a band: we focus on songwriting as opposed to trying to sound a certain way.
What's your songwriting process like?
EVA: I write all of the lyrics. We're really collaborative in our songwriting. We all really fuss with the song before it's complete. Certain songs more than others — "Glitter" is a complete collaboration: I came in with a demo of just the pre-chorus and the chorus, and the only thing that stayed the same throughout all of the rounds of editing and arranging was the pre-chorus. It's a Franken-song.
We recorded Guppy twice. Our first go was two years ago, about a month after Daniel joined the band. It was trial-by-fire: I had graduated from [NYU's Clive Davis Institute] a couple of weeks before, and we heard the record and it just wasn't what we were hoping for. It brought to light a lot of stuff we wanted to highlight more in our music — that we're more of a pop band than anything. We wanted this recording to sound as fun as our live show, but also different from our live show. We've learned a lot from looking to bands that are more poppy. Like, Is this as catchy or concise as it can be? Is this a banger?
DAN: Or is it filler?
EVA: And we are very hard on each other. We're four old friends who have known each other forever. We're together all the time. Part of being a super collaborative band, and having written together for so long, is that we know what our best sounds like. It's so awesome when we have that moment, like, Yes, this is it. But it's hard to get to that point.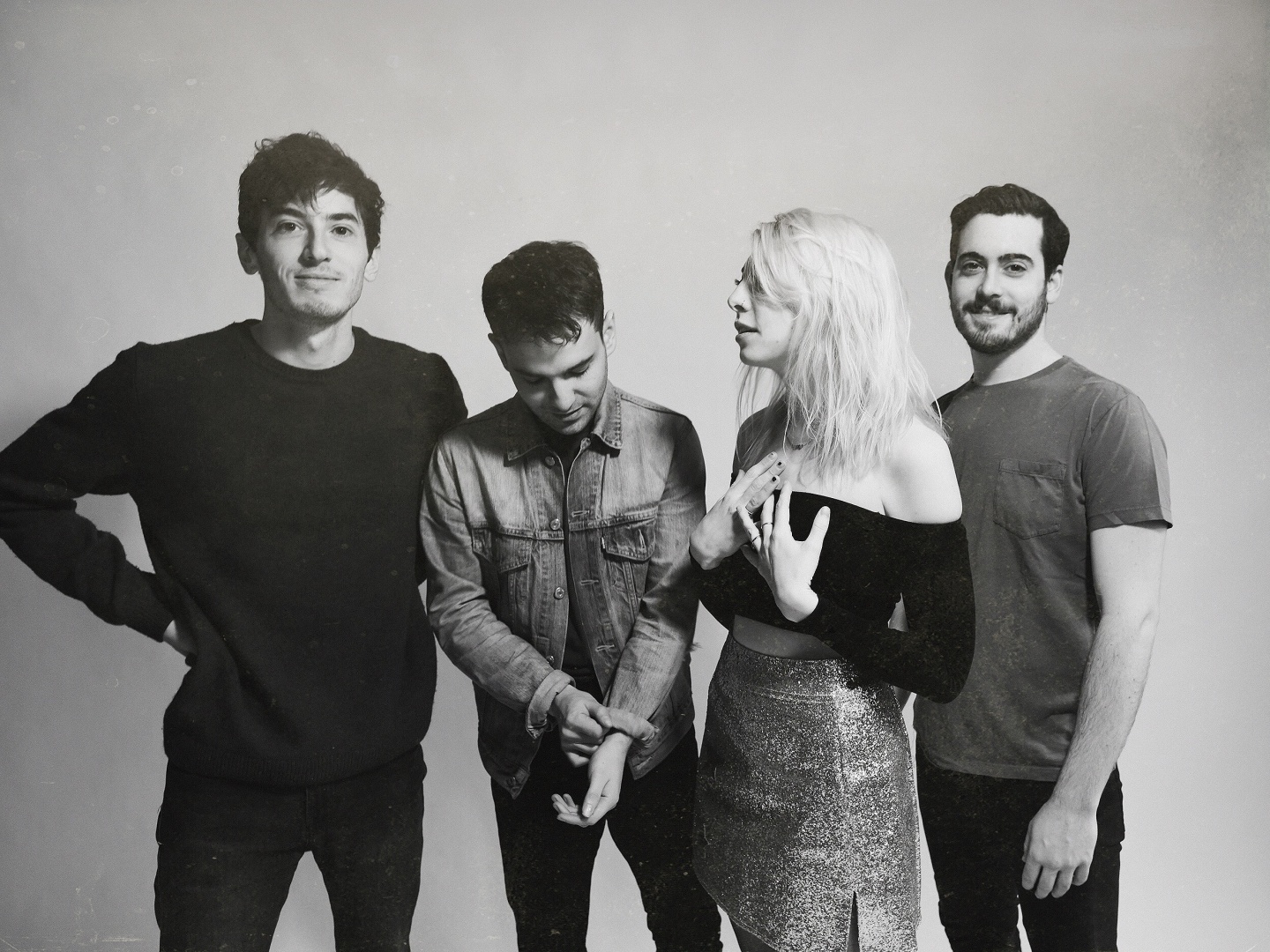 Do you fight a lot?
DAN: A lot of bands probably fight more and have more problems on the road than we do.
EVA: We're really good at laughing. Sam was the only one who had toured before this band. I remember before the first tour we ever booked, Sam said, "When it's good, it's fun, and when it's bad, it's funny." We've played so many horrible shows — like, to two people in a basement in SUNY Oneanta. You have to laugh!
That's kind of what Guppy is about — taking yourself with a grain of salt.
EVA: Totally. Growing up with older brothers, we're constantly teasing each other — especially with Sam, I'm about 70% more emo than Sam. Songwriting forces me to self-reflect, and brings out my emotionally-all-over-the-place part. But also a huge part of who I am is laughing at it, and being like, So what?
Lyrically, [the album] feels like growing up. Throughout the record I keep making references to my boyfriend: "my boyfriend this, my boyfriend that." I was trying to make fun of this teeny-bopper way I have of talking. I tried to write about myself in the perspective of the things I like and dislike about myself in the most extreme way. I think I was trying to make myself laugh. I'm super hard on myself, and a lot of the lines in "Percolator" are me being like, Fuck it. I was trying to make fun of myself for being super overdramatic. I'm either 0 or 100 about everything.
"I tried to write about the things I like and dislike about myself in the most extreme way. I think I was trying to make myself laugh."—Eva Hendricks
To me, Guppy is like radical vulnerability — "I cry all the time/ I think it's cool/ I'm in touch with my feelings." It's cool to have feelings!
EVA: Exactly. "Ruby" is about like, loving my therapist. A lot of the record is about emotional vulnerability. Because I'm super hard of myself, I'm always wishing that I was more one way — quieter, or less clumsy, or whatever. "Percolator" felt like this really awesome wave of, I guess I can't change it. I have to figure out how to like myself this way, or at least laugh about it. My whole life, people have been like, "She's so outgoing. So happy!" And it's not like I'm not. I'm either flipping out happy, off the walls, and stoked, or miserable, freaking out, super neurotic, and anxious. The record sounds like that, like me careening between those extremes in my personality.
Did making the record make you like yourself more?
EVA: I don't know. It's funny to be doing interviews and talking about all this stuff so much. Right now, I feel more light-hearted about all my problems. I'm happy they paved the way to something I'm proud of.
DAN: And that people can identity with and talk about instead of just bottling it up.
EVA: Exactly. That part of my personality, even though it makes day-to-day living quite difficult sometimes, it's also the reason I feel moved to write songs and think about all of that. I can accept it today.
When we were in Buffalo, we met a group of 15 year old girls who came to our show, and they reminded me so much of what I was like in high school. They drew a portrait of Dan, and after the show, they were like, "How do you take your coffee?! What's your favorite movie?!" I had a very funny moment with them, I was like, "You guys have such good taste in music, I'm so humiliated by the music I listened to when I was 15." And they were like, "Like what?" And I was like, "Panic! At The Disco." And they were like, "We love Panic! At The Disco!" I ended up giving them my address, saying we could be penpals. One of them sent me this amazing package of zines she made and a list of songs they liked.
So are you guys already teen idols?
EVA: [Laughs] To three teenagers in Buffalo!
DAN: It's starting.
Charly Bliss Tour Dates:
3/11 - Savannah, GA @ Savannah Stopover
3/14 Austin, TX @ SXSW (CLIF Bar Bash @ The Blackheart - 12 pm)
3/15 Austin, TX @ SXSW (C3 Party @ Lamberts - 3 pm)
3/16 Austin, TX @ SXSW (SprATX & Covert Curiosity Party @ Scoot Inn - 10 pm)
3/17 Austin, TX @ SXSW (Austin Oasis 2017 @ Hole In The Wall - 8:30 pm)
3/17 Austin, TX @ SXSW (Official Showcase @ Lamberts - 12 am)
3/11 - Savannah, GA @ Savannah Stopover
3/14-3/17 - Austin, TX @ SXSW
3/29 - Kingston, ON @ The Grad Club *
3/30 - Ottawa, ON @ Zaphod Beeblebrox *
3/31 - Toronto, ON @ Horseshoe Tavern *
4/1 - Montreal, QC @ Bar Le Ritz *
4/3 - Allston, MA @ Brighton Music Hall *
4/4 - Brooklyn, NY @ Rough Trade NYC *
4/5 - New York, NY @ Mercury Lounge *
4/6 - Baltimore, MD @ The Ottobar *
4/7 - Pittsburgh, PA @ Club Café *
4/8 - Columbus, OH @ Ace of Cups *
4/26 - Richmond, VA @ Strange Matter
4/27 - Raleigh, NC @ Neptune's Parlor
4/28 - Atlanta, GA @ The Masquerade
4/29 - Nashville, TN @ The High Watt
4/30 - St. Louis, MO @ Off Broadway ~
5/1 - Omaha, NE @ Reverb Lounge ~
5/2 - Denver, CO @ High Dive ~
5/4 - San Diego, CA @ Soda Bar <3
5/5 - Los Angeles, CA @ The Echo <3
5/7 - San Francisco, CA @ The Rickshaw Stop <3
5/8 - Portland, OR @ Mississippi Studios
5/9 - Seattle, WA @ The Vera Project
5/12 - Minneapolis, MN @ 7th Street Entry ~
5/13 - Chicago, IL @ Schubas ~
5/14 - Lansing, MI @ Mac's ~
5/15 - Cleveland, OH @ Beachland Tavern ~
5/17 - Philadelphia, PA @ Boot and Saddle !
6/15 - Washington, DC @ Black Cat !
6/16 - New Haven, CT @ Cafe Nine !
* with Operators
~ with See Through Dresses
<3 with Upset
! with Yucky Duster