FADER Mix: aCeb00mbaP & Mister Wallace
Turn up the heat with this flawless back-to-back mix from the Banjee Report and FUTUREHOOD founders.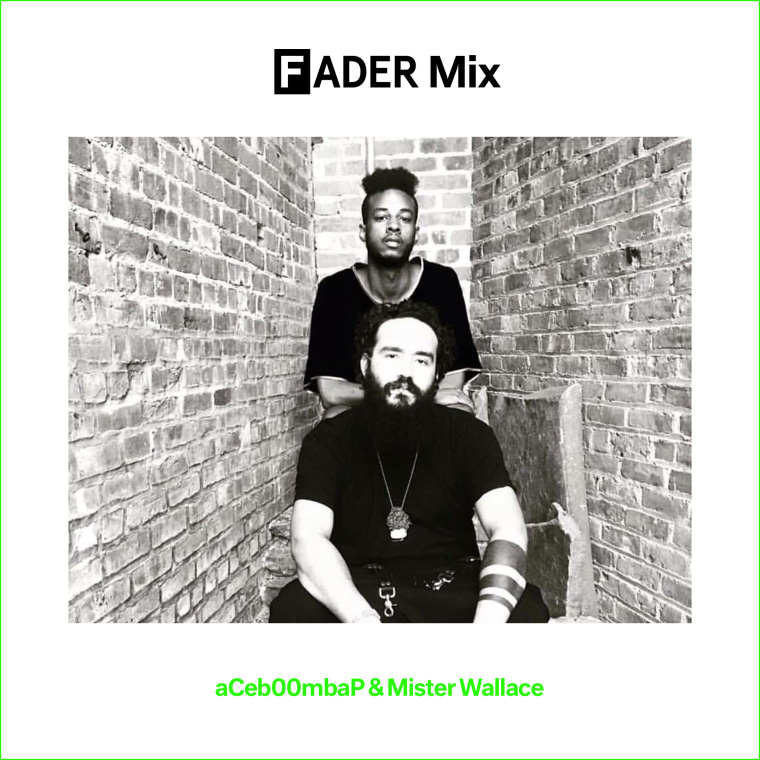 In 2011, rapper Mister Wallace and producer aCeb00mbaP met in a small bar called Wang's in Chicago. Together, they dreamt up their music collective Banjee Report, through which they curated nights, ran a podcast, and honed their respective sharp-as-nails sonic crafts. Today, the pair are based in Brooklyn, where they run their label FUTUREHOOD, which counts Mister Wallace's own fearlessly frenetic debut EP, FAGGOT, amongst its catalog.
Back in December, I saw them DJ on a tiny but cute basement dancefloor somewhere deep in East Williamsburg's rabbit warren of industrial outhouses. There, I caught a glimpse of their chemistry: they joined the dots between the extended family of club music styles with flair. The two friends went back-to-back for this week's FADER Mix, which flawlessly knits together sweet grooves, wary synths, carnival drums, and the stirring words of poet Linda LaBeija's anti-transphobia anthem "Urgency." Stop whatever you're doing and dive in below.
Where are you right now? Please describe your surroundings.
Mister Wallace: A parallel existence not unlike your own.
Tell us a bit about this mix — what do you imagine people doing while listening to it?
aCeb00mbaP: This mix is in Banjee Report's tradition of being an audio periodical, reporting live from the scene.
Mister Wallace: This mix is designed to be a functional device for deconstructing your mind and purging toxins. Best consumed while drinking hydration beverages while lounging in wearable fabrics.
What's your earliest musical memory?
aCeb00mbaP: My mother playing Hector Lavoe, Gloria Estefan, and Gloria Gayner Records while she cleaned the crib on Saturday mornings, waking me up with the music.
Mister Wallace: Biggie blasting in my ears with the sun on my face.
Why did you start FUTUREHOOD and what are your goals with it?
aCeb00mbaP: FUTUREHOOD is the structural beginning for a self actualization within a community who needs to represent its own voice.
Mister Wallace: For the girls. So I could book the girls. My daughters.
How would you describe each other's approach to sound?
aCeb00mbaP: Wallace is a musical maniac who plays fearless and holds true to the Chicago house music DJ-ing style of long blends. We both take pride in acquiring this particular trait from Chicago.
Mister Wallace: aCe is a wealth of knowledge on music and our history. His approach to music is similar to his approach to life; free of labels and full of spirit and truth.
What projects do you have coming up in 2017?
aCeb00mbaP: We are super excited to be releasing a lot of new music this year from the FUTUREHOOD family this year, including projects from Banjee Report, Seraah, Rozay Labeija, COOL MOM, Captain Black & The Maiden, Hijo Prodígo, Skyshaker. It's a big year for us releasing.
Mister Wallace: I'm just focusing on being a COOL MOM and nursing the children, like Seraah who will be releasing the album CHROME TEARS this Spring with FUTUREHOOD.
And what lessons from 2016 will you be taking into this new year?
Mister Wallace: Become a legend before you die.
What's the last book you read that had a big impact on you? And why?
Mister Wallace: Chimamanda Ngozi Adichie's Half of a Yellow Sun. She painted such a vivid picture for me of a world I had not yet considered as valid as my own. It left me feeling alive.
What's your favorite dish to cook and how do you make it?
Mister Wallace: Breakfast in the nude.
Tracklist
Hijo Prodigo - FAGGOT OG Techno remix
Nobel - Vocal Sniper
Linda LaBeija - Urgency ( Prod. By Byrell The Great)
Jasmine Infiniti - Hapocalypse
Skyshaker & Jack Mizrahi - Shiken Battle Zone (SVA Style)
Cory Hall - Suck Dick
Jeremiah Meece - Out of the Cold
MM - QBT16
Carry Nation - Breakwater (Banjee Report Remix)
DJ Phil & Banjee Report - Pump the Beat
DANNN - Silent Spellcasting
Jay Boogie - Dreams & Nightmares Freestyle
Wasted Fates - Fuck Bosses
Bushido - Clouded
Lotic - Glittering
Seraah - Black Love