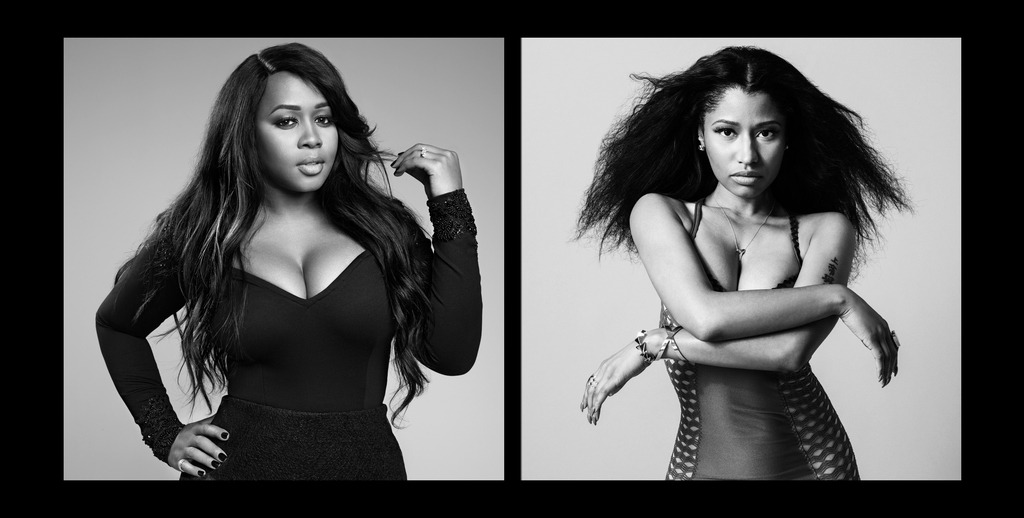 In 2017, if you're trying to maintain a career in hip-hop substantial money isn't in the music: it's in metrics. This means follow counts, Soundcloud plays, Spotify listens — basically, the numbers. The corporatization of Black music and culture means we play the game differently. In terms of reach, hip-hop is as close to Hollywood than ever before and when you're playing on that level, PR — the tactical pursuit of metrics — can make even more things happen than not.
Over the better part of the past decade during a time when hip-hop settled firmly into the mainstream, Nicki Minaj built a career without major competition. Onika experienced an enviable, meteoric rise, but she's taken many forms to get there. And we're not just talking about her physical transformations or alter egos. Beyond three studio albums and a steady stream of singles and remixes, everything that could be branded by Nicki Minaj is — from clothes to perfumes to beverages. A consumer buy-in and trademark that's usually only afforded to the Taylor Swifts and Kardashians of the world, was extended to a Black woman from Baisley with a fanbase vast enough to ensure that even gargoyle radio personalities couldn't keep her music out of rotation.
While Minaj was ascending to rap supremacy, another New York artist, Remy Ma, had stalled her own career well before its peak. There's no way of knowing what Reminisce may have pulled off had she not spent 2008 to 2014 in prison at Rikers Island but very quickly upon her release one thing was clear: she was ready to reclaim success. Now, there is actual money to be made and Remy, privy like the rest of us to Nicki's trajectory, was hip to game. Almost immediately joining the cast of Love & Hip Hop New York post-prison with her husband Papoose was nothing short of a coup: she quickly took over Yandy's top love story plot. The couple also became a pillar of #BlackLoveGoals memes, giving Remy a taste of pop culture relevance and accessibility that wasn't even remotely available when she went away.

"And unlike the entire history of rap beefs, Remy isn't just trying to be crowned winner; the title only polishes her image. It's not the goal."
And "Shether," Remy Ma's diss track directed at Nicki, is perfect PR: a classic beat that immediately recalls one of hip-hop's greatest beefs playing under a seven-minute rant that positions Remy as "more street" than Nicki, and more grounded with the common fan. Listening to the track, you'd think that Remy would rather a Funk Flex shout out than a corporate contract. Its genius is in Remy playing to her demographic: older rap fans that remember her run and who still buy albums. And in the press that has followed the "Shether" drop, specifically her interview on The Wendy Williams Show, Remy revealed that she only recorded the song because Nicki was trying to freeze her out of red carpets and events — a move that's more Hollywood than rap. Many questioned why she even did the interview, but she's not underestimating her opponent. The two aren't just playing in the field of lyricism. They're playing for cash.
And unlike the entire history of rap beefs, Remy isn't just trying to be crowned winner; the title only polishes her image. It's not the goal. Which is why Nicki's response, "No Frauds," works so well. She reminds us of how established she is within rap, the unlimited resources she has to expound against Remy, and how much ground Remy has to lose with even one misstep. The glorious queen is basically saying, You rapped for seven minutes and I rapped for two but only one of us is on the radio. Lyricism is great if Remy's just trying to add to her Wikipedia page, but she said it herself: she's coming for her bag. A diss track that makes no money is surely a sore point for someone trying to make all the money she can. Remy isn't chasing hollow opportunities and is instead building a brand, following the familiar steps of a well-oiled image machine: TV appearances, podcast interviews, women's magazine features.
To be crowned Queen of New York rap — or rap, in its entirety — is much broadly defined in this era. Even in the late '90s and early 2000s, Foxy Brown and Lil Kim were posing for fashion ads, inflating their chesticles, and walking red carpets — all while backbiting each other on wax! But today's game is far more advanced, thanks to the crossover efforts of the ladies of '90s rap. Today, women who rap can enjoy the full effect of of pop domination, and the players are no longer fools of companies that bet on Black cool.
The greatness of Nicki Minaj and Remy Ma's rap battle is in proving that we've reached levels where women in rap both have metrics and PR machines to boost their numbers. It takes more than enough talent to get any awards as a woman in rap, even to this day, so the bars will never be lacking. But Remy is six years behind Nicki feeding audiences, dominating the industry, and setting the commercial standards. She might have a different narrative to sell but she still has a greater goal, and though they'll continue to face double standards as women working in rap, it is quite refreshing to see the bad bitches in the game cruising on another level.