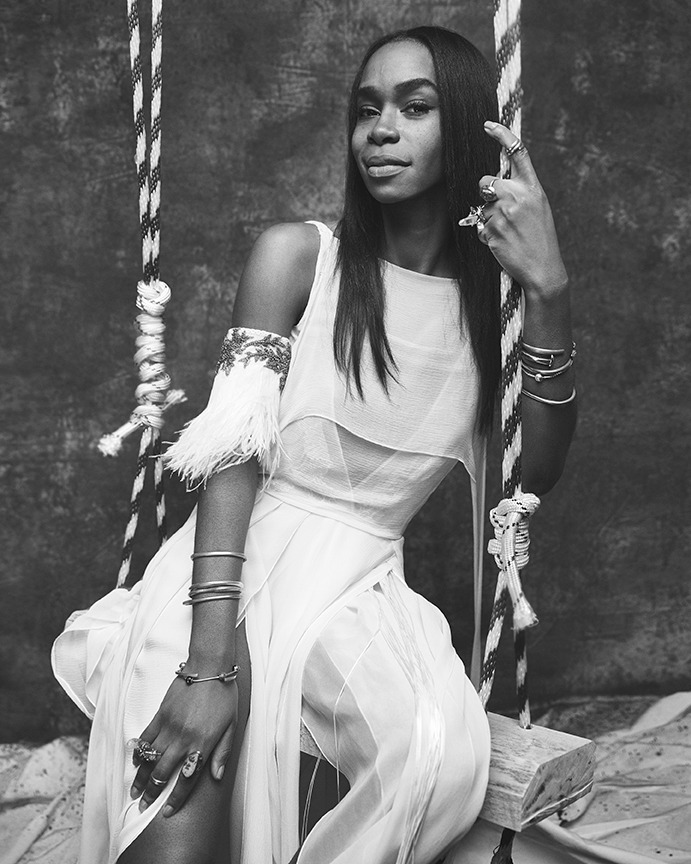 Azede Jean-Pierre is your next favorite fashion designer. Her self-titled label is the perfect blend of free-spirited and sophisticated with closet staples for every aspect of adulting. For a night out, there are strappy linen dresses with pops of punchy colors and quirky patterns. Then there's silk blazers and matching trousers in crisp colors and tailored fits that you can wear to work and straight to happy hour afterward. For those seeking something on the casual side, there are separates like a flesh-toned ribbed knit pullover with big bell sleeves to throw on with sneakers. In other words, Jean-Pierre's line covers all bases with a bohemian vibe that's heavily influenced by the rich fabrics and free-flowing garments of her Haitian heritage.
A former refugee who settled in Atlanta, Jean-Pierre discovered a knack for sketching as a child, which led her to enroll in a local art school, Savannah College of Art and Design. After she graduated, she headed to New York City, where she honed her skills as an intern at local brands Ohne Titel and Ralph Rucci, and eventually launched her own label in 2012. Last year, Jean-Pierre made her Paris Fashion Week debut with her Spring 2017 collection, which is an ode to Caribbean culture with delicate separates in a bright-meets-stark palette.
Through her clothing, Jean-Pierre seeks to honor the multicultural experience of a black immigrant in America. "I think any barrier can be broken and being of African descent adds some value to your perspective," she told me over the phone while on the ferry headed to an engagement on Valentine's Day. Despite the noise, her voice was low, steady, and calm. "It should be thought of that way because it's cool to have a different perspective."
In the interview below, Pierre told The FADER about why she got into fashion and how being a first-generation American influences her line.
When was your big aha moment, that fashion design was your true calling?
It was when all of my sketches just naturally turned into clothing. I used to draw little characters growing up and the clothing [I drew for them] just became much more interesting so I was like, Oh okay, I'll keep doing this.

Who was your first really big client?
Mayor Shirley Franklin. She was the Mayor of Atlanta at the time.

What is your design process like when you're creating a new collection?
I can be inspired by anything. It can start from a sketch, color, or a mood, most likely — or an idea or concept. So, it can really start from anything and from there I start drawing. I do about 100 sketches and then I look at it all. Then I go back to inspiration, try to blend it, and try to make sure that it's cohesive. Fabric comes next and from there we're in the pattern-making stage. So everything is kind of re-done and refined as you get to the final sample.
How does being a first-generation American influence your perspective and your line? Do you consider yourself one?
I'm not quite American yet. I am a Haitian citizen still, but I am, in many ways, first-generation or could identify with being first-generation. It brings on an interesting perspective because I understand clothing and culture from multiple points of views, even how you wear things or what is considered classy or good or what is traditionally acceptable for a woman or a man. It influences it, but I also like to turn things on their head and do things that are polarizing. That said, the last collection and even the fourth collection was inspired by my home country. I travel back there, meet people, talk to artisans there and I'm just inspired by the general allure of Haiti — the population and the beauty. So, it definitely influences me. There's colors and embroidery in the collection that I take from Haiti.
"My background means I understand clothing and culture from multiple points of views, even how you wear things or what is traditionally acceptable for a woman or a man."
What was your experience like when you first came to the United States?
Well, I was with my family of seven siblings and I was a refugee. We first came to Guantanamo Bay, Cuba and we stayed there in a camp for a couple months until we were stationed in the U.S. Then we went through a process and got green cards, but the transition was easy because I was only five. I picked up English easily through television and just trying to understand people. So I pretty much grew up in America, but I had multiple cultural pulls. I think my childhood was a cool one because I had all those different influences.
What are some of the challenges you've faced as both a woman of color in the fashion industry as well as an American immigrant? How do you feel about what's going on right now surrounding Donald Trump and his immigration ban?
I think it's unfortunate that the situation has escalated to the point that it has. I find it disturbing that people can be targeted in such a way. That said, I feel that America is only where it is because of immigration. It's illogical to ban groups of people that would make the country truly great. So, that whole situation is just a troubling one, but the challenges I face as a woman of color are just points of entry [to] things that are traditionally reserved for non-people of color. That said, I think any barrier can be broken and being of African descent adds some value to your perspective. It should be thought of that way because it's cool to have a different perspective once you bring something new to the table. We, as people of color, have that to offer so I don't look at it as a negative. I look at it as an opportunity.

If you could say something to your fellow refugees in this country, what would it be?
Being a refugee, you come to this country with a much more open mind about the American dream. I think that being a refugee, you have parents telling you you have to be a doctor, you have to be a lawyer. But if you are truly creative and you wanna go down that route, society's barriers don't necessarily apply. So you should take your experience and consider it a blessing. I would say just to work very hard because you do have your own hindrances like learning a new language or understanding a new culture and fitting in, even though that's not necessarily the best thing — I don't want people to feel like they have to conform — it can be a challenge. I would just say, be yourself 150% and work just as hard as you would in another country or harder because you have challenges here. And keep your head up.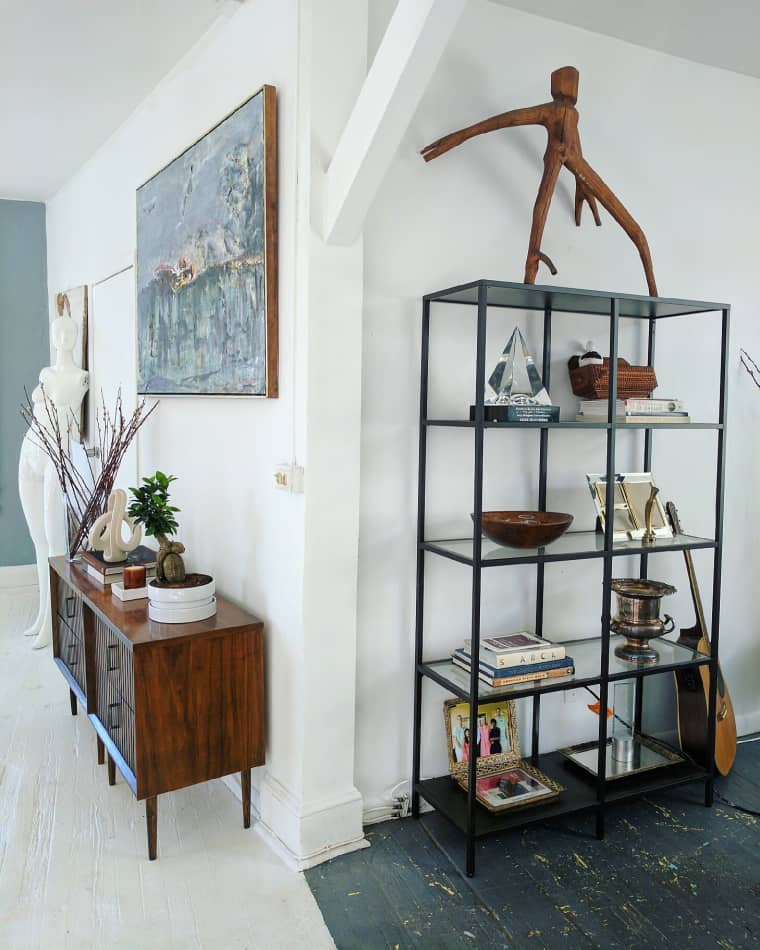 How does your clothing empower the women or men who wear it?
When women design for women, it's automatically empowering because women tend to be less restrictive in the things that we design. We understand women's bodies, we understand what looks and feels good so we design clothes that are most likely things that people can live in, rather than just clothing that is more for art or one-time wear. We think about how you can actually live in [a piece of clothing], and [that] naturally has its timelessness. It's empowering to have clothes relay your personality.

What are the most rotated songs on your playlist as of late?
Right now, I am playing Solange's album. A Seat At The Table is very cool, definitely of the zeitgeist. I've been listening to old-school Wyclef. I listen to a lot of R&B. I have some Yelawolf on my playlist, B.O.B., and this girl named Kat Dahlia who I think is super cool. I have some Chance, I have some Kendrick, I have some Frank Ocean. I like lots of mixtapes things — I like Tink right now. Yeah, it's a little bit of a mix going on.

How important is it for you to give back?
Super important. I just came back from Haiti and I went there to try and work with artisans to see if I can tie it into my collection, but I'm also working with a couple charities. I went for the Clinton Foundation to talk to women that are entrepreneurs and encourage them about how to market and about how to grow a brand. I went to work with students at a couple of schools in my hometown [Pestel, Haiti]. In the future, I'm going to be designing uniforms for the schools and then they're gonna all be made in Haiti. That's a way to bring awareness and exposure but also, it gives these kids something that will help them go to school because then their parents won't have to worry about paying for uniform. That's one aspect that connects directly with my brand and my company but, on another note, I am working with an agricultural company to try and help students learn how to plant things at school that they can actually eat and help smallholder farmers plant things that are really native to Haiti or crops that were really popular there but they have fallen by the wayside due to deforestation. It's really important to me and I'm doing lots of things like that in Haiti to give back.

What does freedom mean to you?
Freedom is the ability to do what you want when you want and have no barriers. Nothing is stopping you, nothing is hindering you, and living your full life; being truly happy with what it is you're doing and if you're not happy, being able to change things so that you are happy.