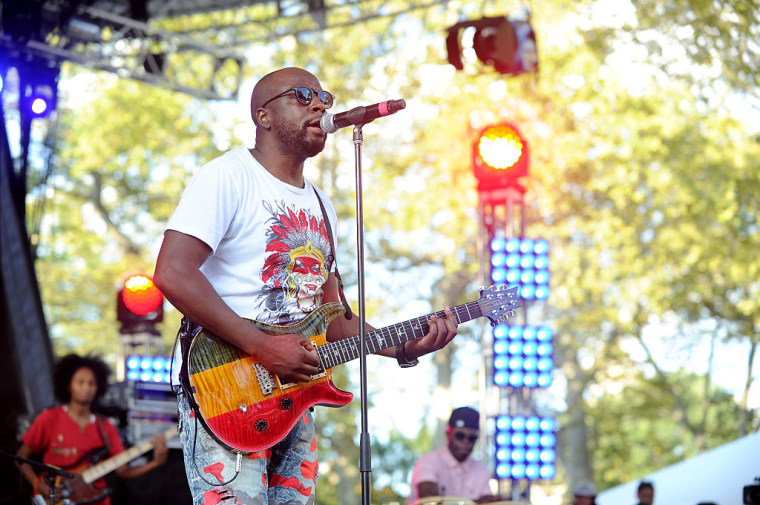 Wyclef Jean was detained and placed in handcuffs early Tuesday morning in Los Angeles after being mistaken for a suspect in a nearby robbery, CBS Los Angeles reports. In a video of the incident posted to his Twitter account, Jean can be seen standing against a police patrol car with his hands behind his back.
"L.A., right now, coming from the studio," he said in the video. "Y'all see the police have handcuffs on me. They just took off my Haitian bandanna. That's what's going on right now with Wyclef in L.A. right now. The LAPD. have me in cuffs for absolutely nothing."

LAPD another case of mistaken identity. Black man with red bandana robbed a gas station as I was in the studio working but im in handcuffs? pic.twitter.com/vjRfJUkooA

— Wyclef Jean (@wyclef) March 21, 2017
A sergeant on duty at the West Hollywood station, where the case is being handled, confirmed that Jean had been detained to The New York Times. Following reports that a suspect had robbed an individual at gun point, police stopped the musician at around 1 a.m. at a gas station on Sunset Boulevard. A sheriff's sergeant told CBS that Jean's vehicle matched a description of the vehicle involved in the crime. After Jean was briefly detained, police determined that he was not the suspect.
"I was asked by the police to put my hands up," Jean said in a written statement provided to The FADER. "Then I was told do not move. I was instantly hand cuffed before being asked to identify myself and before being told why. In the process I said my name and told them they have wrong person. They proceeded to ignore me and I was treated like a criminal. I am sure no father wants his sons or daughters to see him in handcuffs especially if he is innocent. As some one who has law enforcers in my family, I was appalled by the behavior of the LAPD."