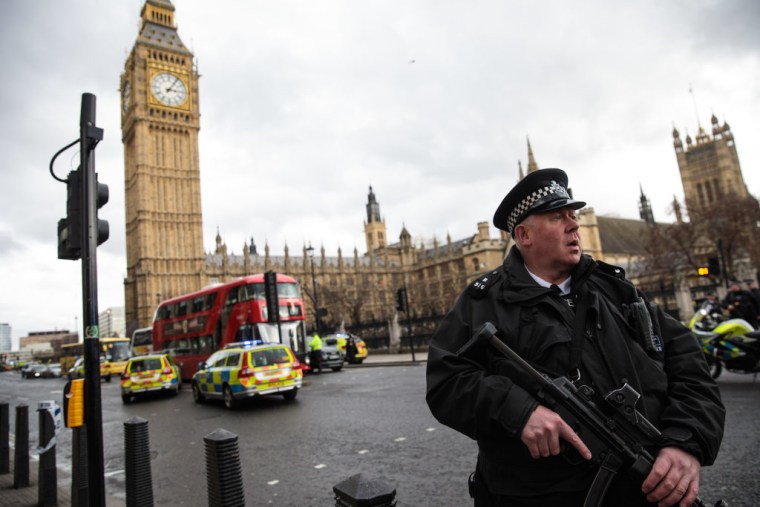 Britain's Parliament was placed on lockdown on Wednesday afternoon, after an attacker stabbed a police officer in the Houses of Parliament and was shot by police. Witnesses also reported that a car hit pedestrians on the Westminster Bridge before crashing into the railing. There have been multiple casualties and several people sustained serious injuries, according to BBC. The Metropolitan Police said that they were treating the violent events as a "terrorist incident."
David Lidington, the leader of the House of Commons, told lawmakers that they should not leave the chamber in a statement broadcast on BBC. "What I am able to say to the House is that there has been a serious incident within the estate," he said. "It seems that a police officer has been stabbed; that the alleged assailant was shot by armed police. An air ambulance is attending the scene to remove the casualties. There are also reports of further violent incidents in the vicinity."
Witnesses described seeing a man armed with a knife running into the Parliament complex. Multiple witnesses said they heard gunshots and Jayne Wilkinson from Birmingham, England, who was standing near the statue of Winston Churchill in Parliament Square, said she saw the man on the ground, according to The New York Times.
London mayor Sadiq Khan issued a statement following the attacks. "There has been a serious incident near to Parliament Square this afternoon which is being treated as a terrorist attack until the police know otherwise," he wrote. "I have spoken to the Acting Commissioner. The Metropolitan Police Service is dealing with the incident and an urgent investigation is underway. My thoughts are with those affected and their families."
According to the BBC, Prime Minister Theresa May was escorted safely away from the scene. The Westminster Underground station was also on lockdown and the public being instructed to avoid the area.
The New York Times and BuzzFeed News have up to the minute live-updates.
This story is developing and will be updated as more information becomes available.