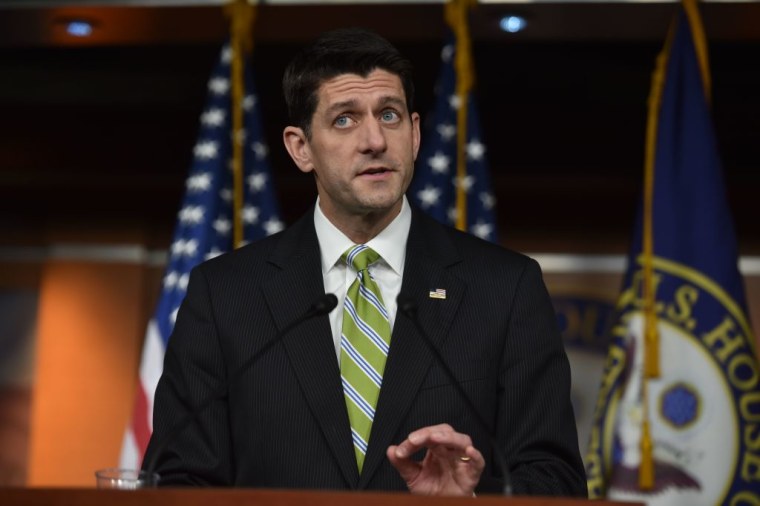 The House of Representatives convened on Friday afternoon to hear arguments before a scheduled vote on the GOP replacement for the Affordable Care Act. After hours of debate on the House floor, House Speaker Paul D. Ryan (R-Wis.) held a press conference to announce that the American Health Care Act had been pulled because Republicans lacked the votes necessary to pass the bill.
"Moving from an opposition party to a governing party comes with growing pains," Ryan said. "We're dealing with those growing pains today." In response to a question about a future health care bill, Ryan said the nation will be "living with Obamacare for the foreseeable future."
In a phone interview with The New York Times shortly after the bill was pulled, Trump said that he blamed Democrats, rather than Ryan, for the bill's failure. The president also said that he expected Democrats to seek a deal on health care within the year after "Obamacare explodes."
Hours before the scheduled vote, Ryan visited the White House to inform President Trump that Republicans lacked the voted needed to pass the bill. Speaking to the press before the vote on Friday, Sean Spicer informed reporters that, despite the lack of support, the bill would proceed to the House floor.
Congressional Republicans introduced the American Health Care Act at the beginning of March, following a long-held Trump campaign promise to repeal the Affordable Care Act and introduce sweeping changes to the health care system. On March 13, the Congressional Budget Office submitted a report on the bill, projecting that 24 million Americans would lose health care coverage over the next decade under the plan.