The Luxury Of A Loose Fit
Mainstream fashion likes to squeeze curves into body-con dresses. New Zealand designer and model Georgia Pratt just wants room to move.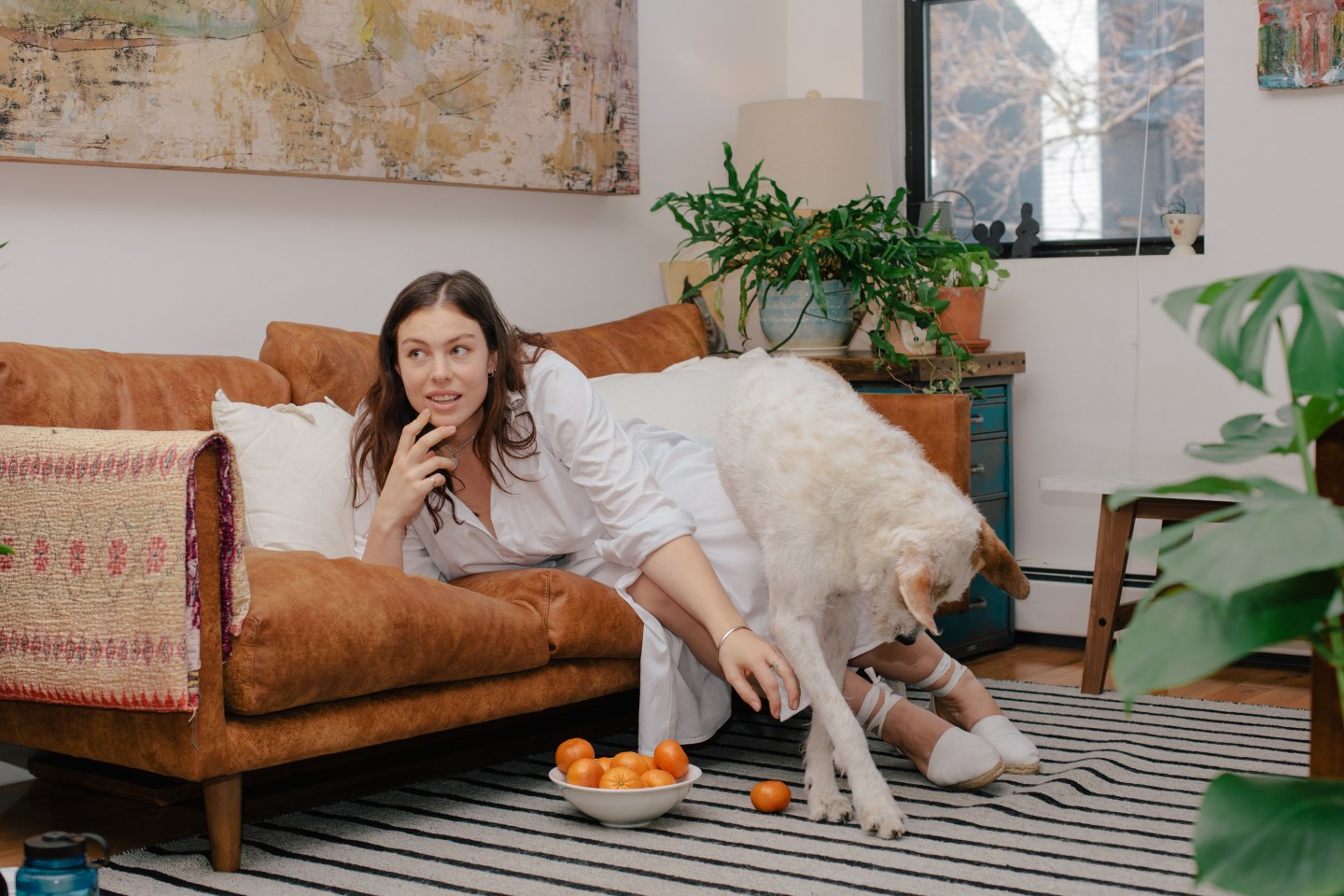 "It started to occur to me that what I wanted was space. Room to move in my clothes," says Georgia Pratt, sat at the living room table in her Brooklyn apartment, a ripe red strawberry in hand. The New Zealand designer and model's eyes dance as she recalls her university years studying fashion design where she learned to unpick society's rigid rules for dressing women's bodies. Wearing loose-fitting clothing can feel freeing in the face of the stuck-record mantra of beauty magazines: "nipped-in waists," "form-fitting dresses," and "skin-tight leggings" are designed to minimize the space that your figure takes up — the butter-wouldn't-melt descendants of the corsetry that, 100 years ago, would leave women short of breath with bad digestion.
In the years since moving to New York in early 2013, Georgia has found success as a model (she's currently signed to IMG Models) and as something approaching an icon to young women worldwide, who shower her Instagram posts with hearts. While on the job, so-called "plus-size" models are often harried into a high-glamor, hyper-sexualized aesthetic; in her own time, Georgia opts for clean skin and flowing fabrics that feel good to touch, and it's that sensory-focused approach that's won her hundreds of thousands of fans.
Last year, Georgia and two fellow models — Katy Syme and Candice Huffine — were hired by direct-to-consumer fashion brand Universal Standard, not to model but to design a piece for a new collection called Tria that launched in February. (Georgia designed a crisp cotton shirt dress that falls elegantly above the ankle; she's wearing it in the photo above with her pup, Vito.)
It was a smart move by Universal Standard co-founder Alex Waldman. "Models are the great underutilized resource in the fashion industry," Waldman tells me over the phone. "The avant-garde of what's happening is definitely in their palm." It was Universal Standard's attention to detail in engineering their clothes that attracted Georgia, as it's a design philosophy that she shares. "It's not just about something that looks different," agrees Waldman, "it's about something that feels completely different."
I sat down with Georgia to find out what shaped her sense of style, and how she approached the design for her Universal Standard collaboration and her own collection — pieces from which she models in the accompanying photo shoot.
GEORGIA PRATT: When I was about six years old, my dad [took me] to the hunting and fishing shop and I stole a lead sinker because I wanted to have my own like him. I showed him in the car and he got really upset, took me back to the shop, and I had to give it back and apologize. I remember looking down and thinking about what I was wearing. I had blue bike shorts on and a yellow swing top and it had polka dots all over it. I never stole anything again but I remember what I was wearing and I kind of associate that outfit with that weird feeling I had.
When you're a pre-teen, [getting dressed] is a bit different. Obviously the internet wasn't around yet, so it was about what your friends were wearing. I went to an all-girls Catholic school when I was 12 and there was definitely, between our friends, about four or five different body types that I could see. But at the time it was like, you're skinny or you're not skinny. I didn't have a negative body image. My parents are both really tall, my mum has a really similar body to me, so I think it was just like, oh, that's you, and this is me. [But] I remember thinking, "Okay, I can't wear a miniskirt because I just don't feel good in it. I can't wear shorts."
Jeans were quite a big thing at that point because they were a garment that symbolized being older. You knew that they were something cool, but if they didn't look cool on you, what were you supposed to wear?
I got a pair of flared jeans from a store called Urban Angel that had a lace-up closure. They were quite cool, but I don't think they fit me properly and I never really wore them. And then one day I worked out how to turn them into a skirt, and I remember clearly thinking, "Oh, that was quite easy." I showed my mum and she was like, "Oh, I wondered what you were doing in your bedroom." I must have got out her sewing machine — I remember cutting the center inseam of those pants and putting in like two different pieces of fabric. We had family coming over for dinner that night, and my cousin was like, "Look at your cool skirt."
I got quite high off the idea that I'd made something. I think that was my first memory of actually making a piece of clothing. Which now, when I think about it, is how I think I worked out that I was good at problem-solving.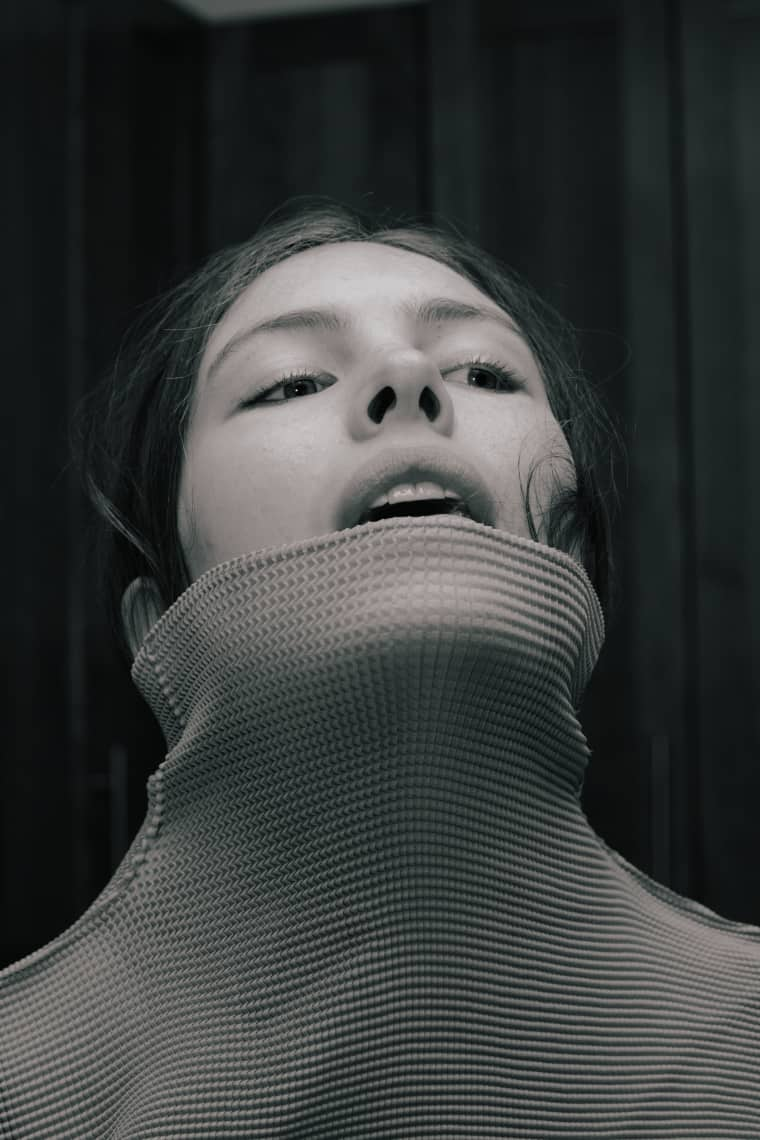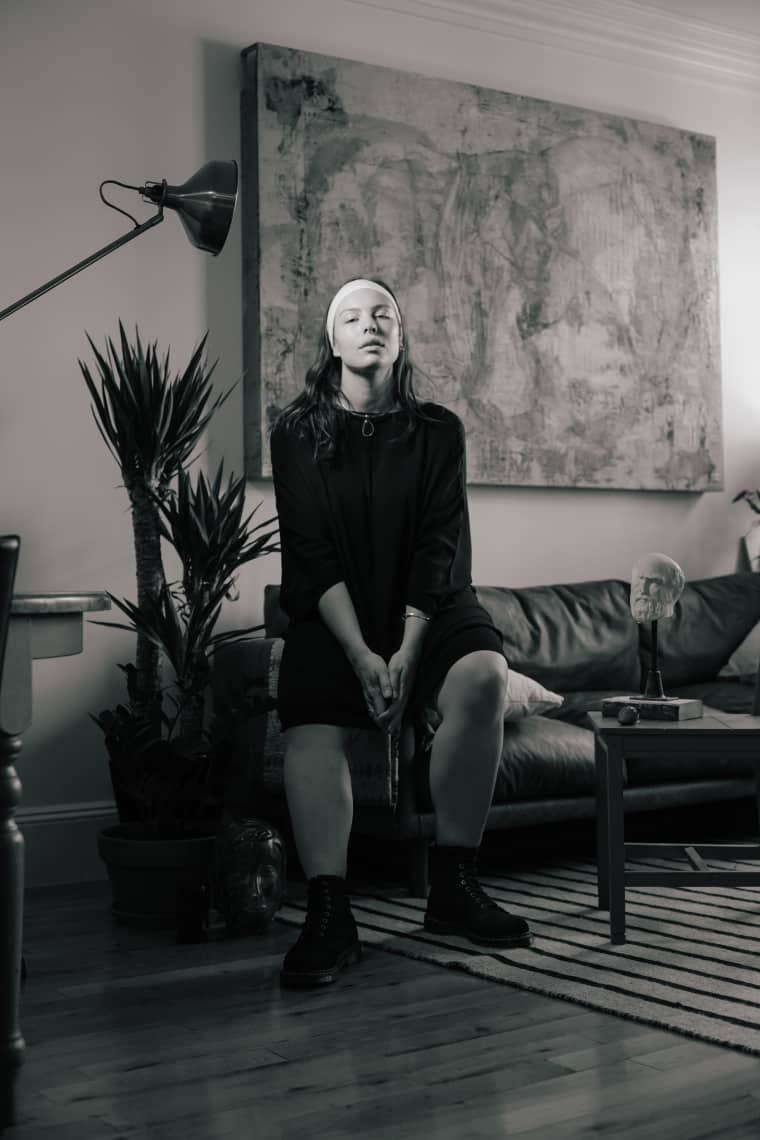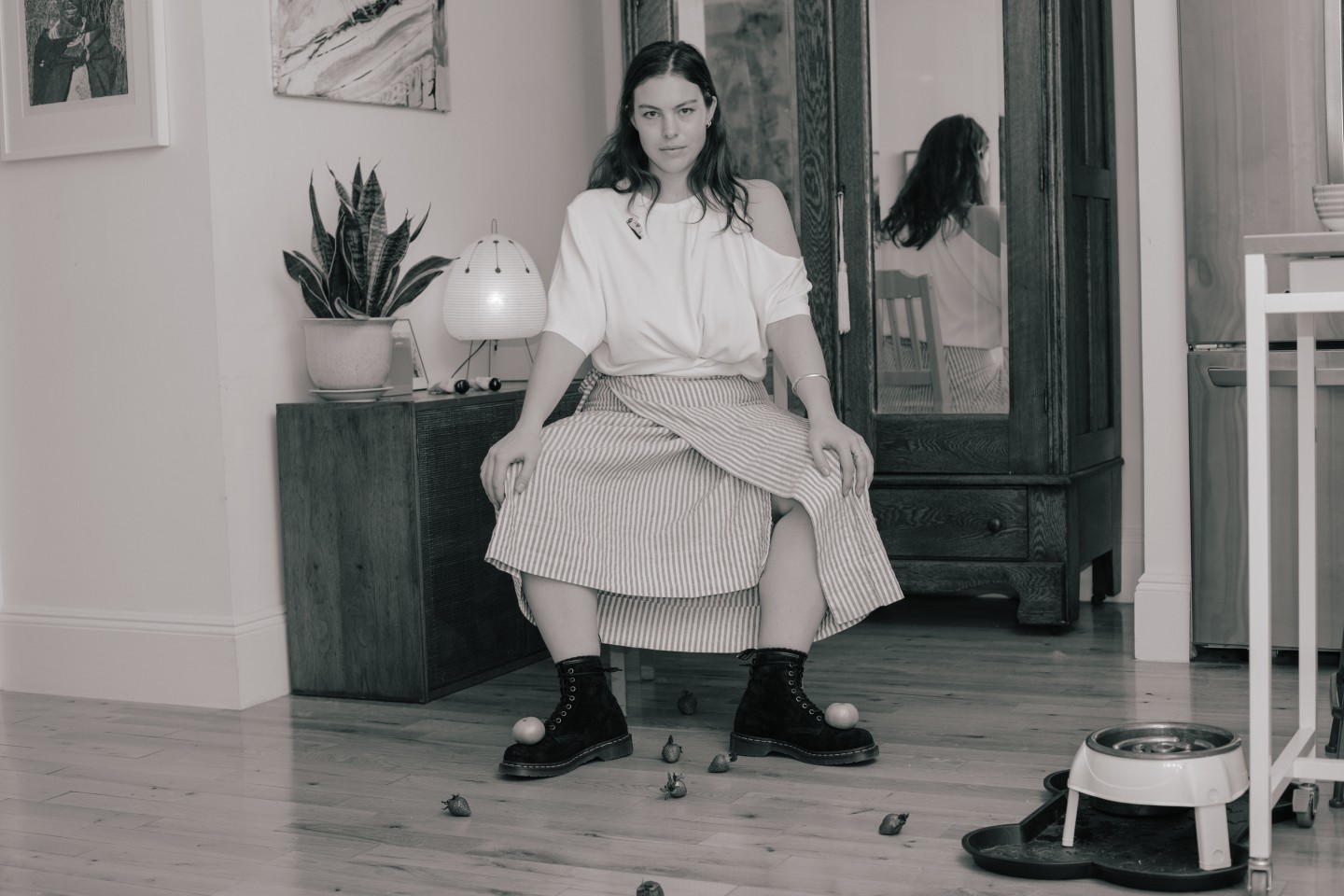 "It started to occur to me that what I wanted was space. Room to move in my clothes."
When I got to 16, 17, 18, I was making these big shift dresses. They were oversize silk t-shirts that came down to just under my knee, and I would wear those everywhere. Then I went to university and studied fashion design. I was learning how to make clothes really nicely, and how to make patterns. But I was also getting changed everyday and realizing that I actually didn't own anything I loved. At that time in my life, I had just stopped playing sports, probably put on a bit of weight, and I remember my body completely changing shape. And all of a sudden I had really big hips and really big boobs, and a small waist, and no-one else I went to university with kind of looked like me. It wasn't a bad thing, it was just something that I was really aware of all of a sudden. That's when I started to think about, like, "Why is everything that I own quite fitted?"
At the time in New Zealand the sizing wasn't [very good]. I remember always having to buy the biggest size, even though I wasn't that big. Then, when I was learning about pattern-making and aesthetic preference, it started to occur to me that what I wanted was space. Room to move in my clothes. I didn't want everything to be tight; I like things to be kind of big and a bit boyish and practical.
For my last year of university, I was making womenswear — it was my major — but I was in the menswear tailoring class. I wanted to learn how to tailor and I also wanted to make men's clothes for women. I'd recently started a time wearing men's trousers because they were nicer, but also getting a men's trouser and tailoring it to fit me seemed easier than trying to find that same thing but in womenswear. Which is another issue that I have with womenswear. For some reason, the quality always gets knocked back for womenswear, while menswear in the same stores has that integrity in how it's made — it goes back to military-wear.
At university, everyone was making clothes for the sample size girl. I spent my last year of university investigating how to make clothes for different bodies. I street-cast five different girls who were all different sizes. I wanted to make a wardrobe that was basically my dream wardrobe, but also what I thought that you couldn't find for a curvier person. For designers, it's a totally different challenge to produce an equal amount of clothing for anyone who falls above a size 12. You can basically take a size 2 garment and grade it up 5 sizes, but then anything above that, all the shapes change and all the body proportions change.
I felt like I'd learned to look at things in a completely different way. All of my references were coming from designers like Yohji Yamamoto, who uses that kind of space in fabric. I would look at his stuff and want to wear it because the shapes were really beautiful and you couldn't really tell anything about the body. He would cut a really beautiful dress, but it was clever; it wasn't like, this is a tight body-con dress and we're celebrating the woman figure. I wanted to design really clever stuff.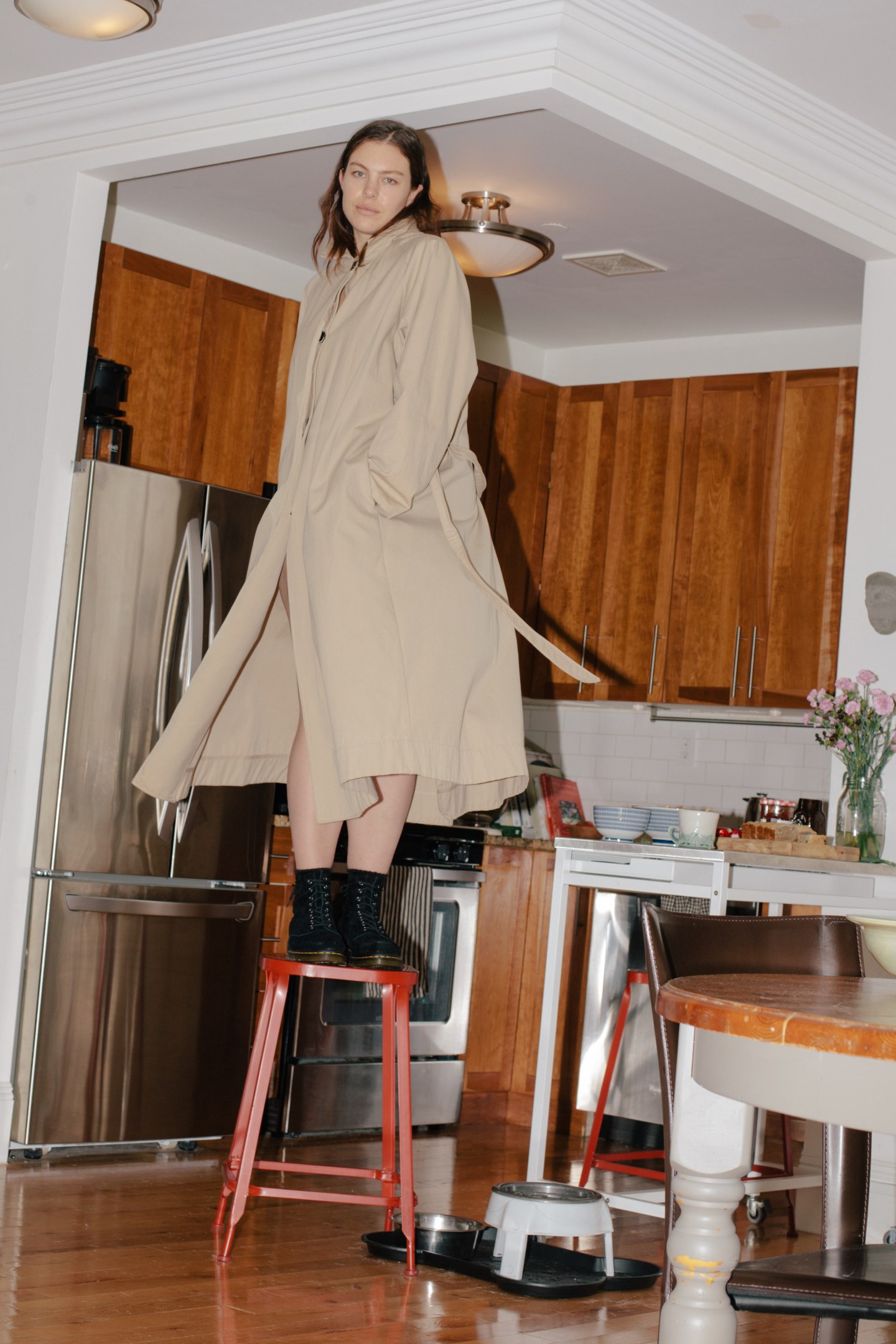 After I left university, I went and got my dream job for a designer in New Zealand, Kristine Crabb. Her brand, Miss Crabb, was the label that I had always bought clothes from and looked up to. She made lots of free-form stuff, but she was also a clever designer. A little bit like the Vivienne Westwood of New Zealand.
I managed her production and work crew, and helped her design for a year. During that year, I had a little collective going with some friends of mine from university and we each put a collection together and showed it. Which is really ballsy when I think about it, because you're fresh out of university and you haven't even found your ground in the industry yet. The whole thing was so well executed. If we did that now I feel like it would be so hard. But I think the adrenaline was still going for us. We got lots of amazing press, and my boss was like, "Why don't you produce your stuff from the show and put it in the store?"
I always wanted to do that, but hadn't planned on it happening so soon. I think I had six pieces or seven pieces that I put into production. I picked out all the pieces that I knew would work for most people. I knew the kind of customers and clients that were coming into her store. I knew there were all sorts of women that had different bodies and [worked in] different kinds of occupations. Kristine's stuff was always really beautiful, super simple, but amazing. Like bright silks that she always does in amazing colors. At the time I was like, "I'm not really sure about color yet." My palette was really neutral. [So my collection] was all the stuff that was missing in the store: a few basics, a really nice coat, a couple of really good skirts that would just wrap around, a really nice silk dress, and a silk t-shirt. Just things that I wanted to wear at the time that I put in my show. So I put the collection into production and then sold it all.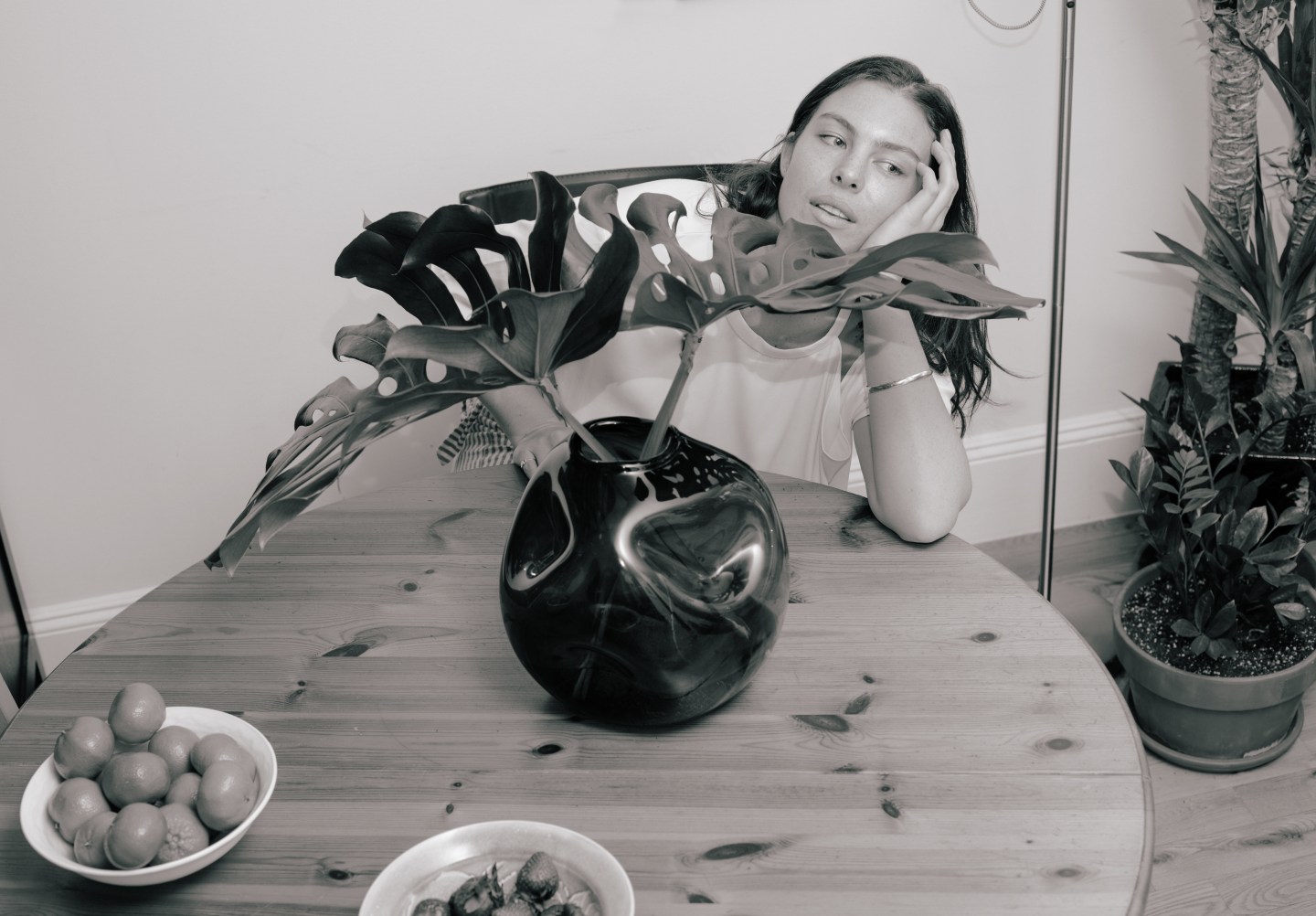 "I want everyone to be able to say, 'How do I want to wear it? Do I want it to fit me in the traditional way? Or do I want it to fit with all this room and movement?'"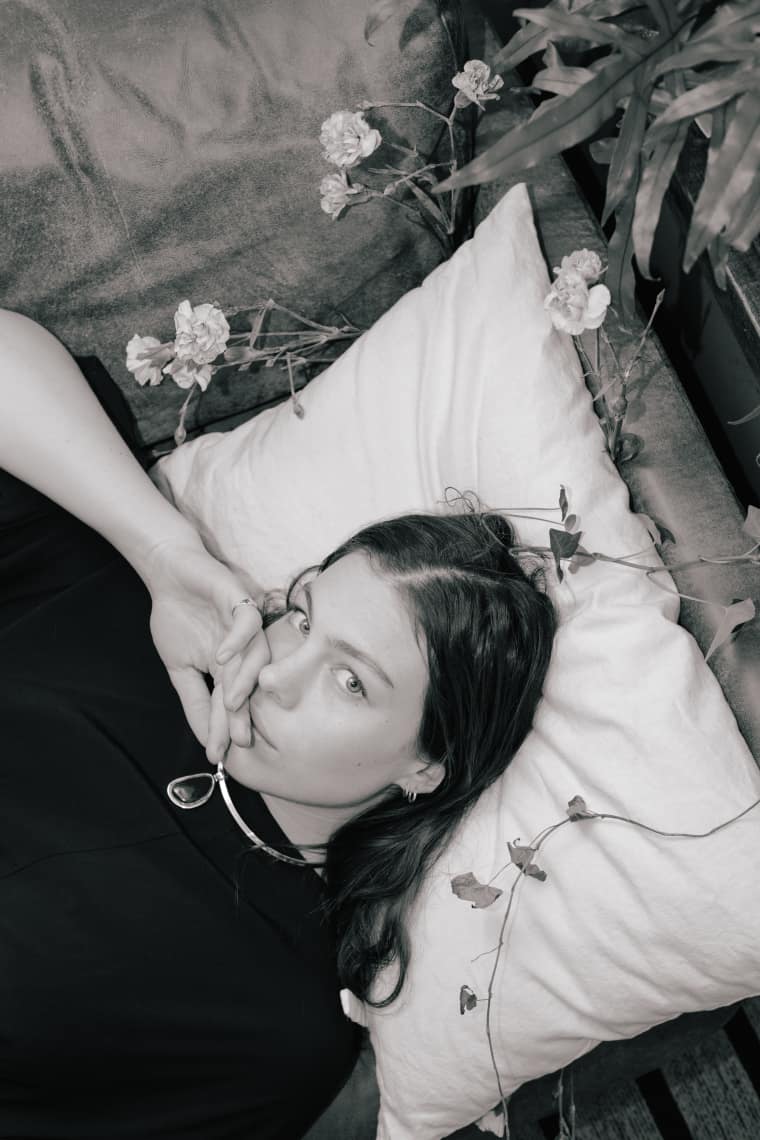 [Behind the scenes,] I was modeling for a brand in New Zealand, but I didn't really place it in my head as a career. It was always like, "I'm gonna be a designer." In New Zealand, being a model is really hard, the industry is not very big and the money is not really there, so you always have to have it as a side job. Then I worked with a photographer who had been in Paris for 10 years and she was like, "You should go overseas. Honestly, it's happening." I was like, "What are you talking about?" And then I was furiously on the internet for weeks being like, oh my god, she's right, these girls exist. I could be one of them. I think in my head I was like, how am I gonna make enough money to start my own brand?
I honestly thought I'd move to America and all my clothing issues would be solved. I was like, "America has everything. I'll probably never design again." But it took me a really long time to work out where I should be shopping. Even the stores that sold basics, for example Uniqlo, weren't making anything that I or anyone bigger than me could wear.
There's a few designers that go to full size range but then you're spending so much money. One time a friend and I walked into Dolce & Gabbana, which is not a shop I shop in nor is it my aesthetic, but I was talking to the woman there and asked what size the dresses go up to. And she was like, "Oh, a 50 Italian," which is actually a size 16 in America. So I tried on the 48 and it fit me and I kinda had this moment of like, oh my gosh, should I just buy all Dolce & Gabbana now? My friend was like, "I think you're getting a bit too excited." But that feeling of I can have this — it was almost one of those moments where I was like, I'm gonna change my whole wardrobe for this brand. The sales associate was like, "All of our size 14s and 16s sell out before anything else."
[The Universal Standard collaboration] came about when me and Katy [Syme] were on set shooting for them. I was like, "That would be like a really amazing long dress," and Alex [Waldman] was like, "Ah, that's a good idea." Then a month or so later, we got an email from Alex saying, "I've been thinking about what you said and I actually would really like you guys to come on board and be involved in designing something for the brand."
Katy, Candice [Huffine], and I put our heads together and came up with three pieces that we thought would work with the brand and the customer, but also things that we would be proud of ourselves. It was pretty much in our full control.
The shirt [I made for Universal Standard] was designed to fit me in a traditional way, but the way I actually want to wear it means that I'm wearing the size large, rather than the small. That's a point of luxury — I have the option to have the biggest size, whereas [in other brands] the bigger size often isn't available so I'd have to just handle a size smaller that's maybe a little bit tight over the shoulder or something like that, where you're compromising.
I want that freedom to be there. I want everyone to be able to say, "How do I want to wear it? Do I want it to fit me in the traditional way? Or do I want it to fit with all this room and movement?" That's a totally different feeling to me. You know, it does a different thing if you put it on in a size small and it's a little bit more fitted, it's a bit more restrictive. Your posture changes, everything is different.
Right now, I'm in my studio for sanity purposes. I think I physically need to be pushing myself to make something new all the time. I'm not planning to do a huge collection 'cause I think that's over my head right now, but it would be nice to do a few pieces that I feel really strongly about that I think deserve to be worn by people. I've made a really beautiful coat that I'd like to perfect and make a really awesome new version of it. I think it'd be cool to do a couple of dresses and a really awesome pair of trousers. I'm working out a way to make sure that what I'm producing is right and what I want to be putting out there. Hopefully it's not too far away, but it'll probably be small runs of things to begin with. For me, it's got to be about zoning in on design integrity because that is how clothes should be made — there should be problem-solving. It should be about making things fit the way they would fit anybody else.