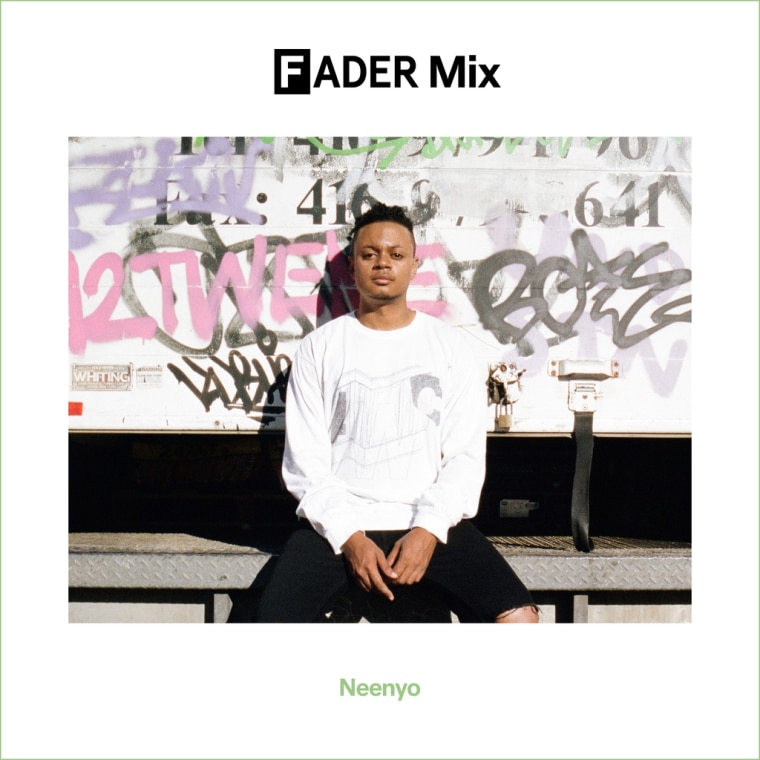 Drake might be Toronto's most visible hype man, but what will truly keep the city thriving is finding champions at new and different levels of its cultural industry. They might be the party bookers who constantly put on emerging artists, the artist manager who looks inside the city for talent, or the producer who treats his collaborators as legends in the making.
That's Neenyo, the Mississauga, ON beat maker behind glowing beats for tracks like Drake and Future's "Plastic Bag," or PartyNextDoor's "Sex On The Beach." Below, he tells The FADER about being around Drake and Party in their early days and watching the two artists rise to change the vibration of modern music. And in his FADER Mix, Neenyo takes listeners through the modern R&B textures that have inspired those sounds — and his productions the most — from artists like Sango, They, and Abhi Dijon. He also treats listeners to a couple of premieres, from London producer Fwdslxsh and a Toronto R&B singer I've been a fan of for a minute, Rochelle Jordan.
Where are you right now? Describe your surroundings.
I'm in the studio, like always. We're setting up a grand piano with four simultaneous mics to play on this song with my G Blackbear and 24Hours. I love to go in on elements people may not always catch off the bat; most people would have skipped this for a simulation software piano. I'm putting the process on my Instagram story, so people know I don't play around.
Tell us a bit about this mix — what do you imagine people doing while listening to it?
It's for people with good taste, who want to discover music just not through a Spotify playlist. I went into making this with same idea as producing an album; it's about creating an atmosphere and mood. People talk about it being "a PARTYNEXTDOOR type of night" and you know exactly what that mood means and feels like. That being said, a lot of people say they put on my mixes during sex because it has the perfect rhythm and progressions!
What excites you most about R&B today?
A few years ago R&B was very routine and stagnant; there was nothing new being innovated. It was all R&B my dad likes to listen to, like Trey Songz, Tank, Miguel, or Usher. They are all amazing and have contributed so much, but there wasn't anyone new and exciting. Now after Frank Ocean, Party, and the Weeknd there are all these young people making insane strides and defining what the genre means to a new generation. We were all tired of the bright glossy/pop R&B, so decided to do something about it and discovered this deep, expressive texture of music.
If you could produce for a legend of hip-hop or R&B, dead or alive, who would it be and why?
I'm in love with the history of urban music, I've just nerded out on that stuff since I was a kid. However, I have no wish to work with the old legends I grew up on — they're already legends. I find it so exciting being part of making new legends. Being around Drake from the pre-Wayne days, and really believing he was the best when not everyone saw it. You know how rewarding that is? Working with him since his first tapes, and to now where he's the biggest artist in the world. I feel the same thing is happening with Party. Not everyone saw it when we first started but watch how he turns into a living legend as well! So I'm excited for the next artist that I'm able to work with and watch them become legendary; that's what fucking drives me.
What's the last book you read that had a big impact on you? And why?
I've been really into photographers lately like Nobuyoshi Araki, Wolfgang Tillmans, and Ren Hang. People that push boundaries and take you out of your comfort zone. I feel like that's a place where what I'm creating is heading toward; just raw emotion, colors and stories.
And finally, what's your favorite dish to cook and how do you make it?
I wissshh I could! So the dish I always ask my mother to come by and make is a traditional English shepherd's pie. She's British so I grew up eating all the food she did before moving to Toronto. That's my comfort food and I feel like it ruins it if I see how it's made — I need it to remain magic.
Tracklist
Side A
Whereisalex - We're going down
Fwdslxsh - Details (Premiere)
They (Ozzie Remix) - Back it up
Sángo (Ft. Elhae and Esta) - Sò Você
Dreamchild - Both Sides (Chanel)
Ski Mask The Slump God (Ft. Lil Pump) - Where's the blow
Madeintyo (Ft. Tommy Genesis) - BIWIA
Side B
HER ( Dpat Remix) - Focus
Brent Faiyaz - Allure
Abhi Dijon - Often
Braeden Bailey - Open your eyes
Ozzie - Come See Me Edit
Neenyo/Rochelle Jordan - Return to Sender (Premiere)