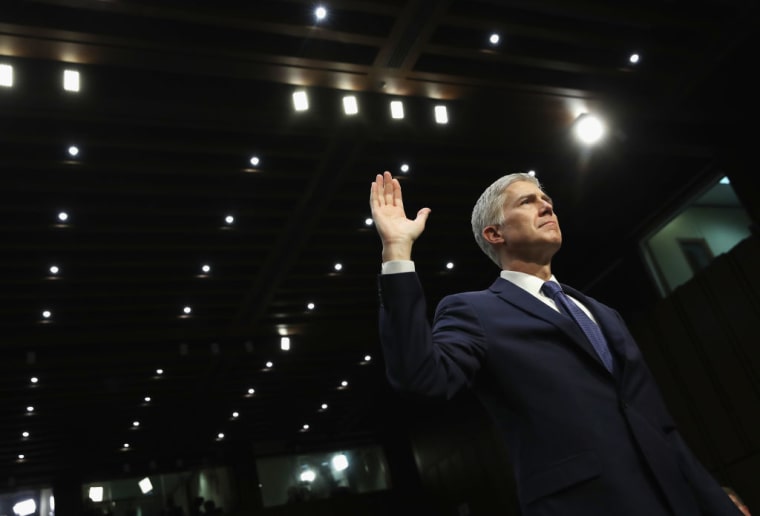 Following the announcement of Coachella's 2017 lineup in January, The FADER and other outlets reported on festival owner Philip Anschutz's recent history of donations to anti-LGBTQ organizations. Anschutz, who made his fortune as an energy executive, and now owns a major portion of the live music business through Anschutz Entertainment Group (AEG), has now become a relevant figure in the contentious confirmation hearings for Trump's Supreme Court nominee Neil Gorsuch.
As The New York Times and Pitchfork reported, Gorsuch first represented Anschutz and a businesses he owned in 2004, successfully arguing in favor of an Anschutz-controlled company that was being sued by The Teachers' Retirement System of Louisiana for providing Anschutz, who owned a 58 percent share in the company, a $373 million payout. Gorsuch again represented Anschutz the following year during an insider trading scandal at his Qwest Communications company. Auschutz settled for $4.4 million in the suit but was not found guilty of any wrongdoing in the case.
Anschutz also played a role in Gorsuch's nomination to a federal court seat. In 2006, a top lawyer for Anschutz wrote a letter to George W. Bush's White House legal counsel on Anschutz's behalf. The letter, written by Bruce Black, who now serves as the executive vice president and general counsel for The Anschutz Corporation, recommended Gorsuch for a seat on the 10th Circuit Court of Appeals.
During his tenure as an appeals court judge, Gorsuch recused himself from a number of cases involving Anschutz, according to a list he gave to the Senate. He was asked directly about his ties to Anschutz during his confirmation hearings. When Senator Patrick Leahy of Vermont asked Gorsuch if he would recuse himself from Supreme Court cases involving Anschutz, Gorsuch did not answer directly, instead saying that he would refer to refer to the law and his colleagues before making a decision.
New York Senator Chuck Schumer brought up Gorsuch's controversial career ascension during a news conference on March 29. "Let's look at how Judge Gorsuch got to this point," he said. "He was recommended for the federal bench by Philip Anschutz, a hard-right special interest billionaire. Then he was handpicked for the Supreme Court by the right-wing special interest laden Heritage Foundation and Federalist Society."
Schumer continued: "Now, millions of dollars in undisclosed special interest donations are being used to prop up his nomination. Americans deserve to know who is funding this effort to get Judge Gorsuch on the highest bench in the land."
Trump chose Gorsuch as the nominee to the Supreme Court in January, after Republicans declined to meet with Obama's choice for the court, Merrick Garland. Senate Democrats have called Gorsuch's nomination into question due to his past rulings on hot button issues, as well as his overwhelming support from The Federalist Society and the Heritage Foundation, two organization that receive funding from Anschutz, as well as the millions of dollars in donations from undisclosed donors that have gone towards supporting his nomination.
On Monday, Senate Democrats secured enough votes to filibuster Gorsuch's nomination when it comes to floor for a vote later this week. Republican leaders in the Senators have promised to override the filibuster, even if that means changing Senate rules to allow for Gorsuch to be confirmed with a simple majority of 51 votes.
A representative for Philip Anschutz was not immediately available for comment.